Lyme disease, sustainable food systems, pond health, community integration for Brazilian immigrants and new models for elder care will all be subjects for deep study this year thanks to the Martha's Vineyard Vision Fellowship which announced its 2017 fellows this week.
The fellowship has named 13 recipients this year. The list follows.
Casey Blum is a graduate student pursuing a dual degree in social work and kinesiology and outdoor education at the University of New Hampshire. She has the distinction of being the first female captain of the Black Dog Tall Ships. Her mentor will be Nat Benjamin at Gannon and Benjamin in Vineyard Haven. Her project involves preserving the unique sailing culture on Martha's Vineyard and to pass down maritime arts to the next generation.
Kevin Brennan is a two-time vision fellow who will continue his work at Island Grown Initiative Food Hub's orchard, which he originally designed and planted in 2014 and 2015. The orchard is an example of regenerative agriculture. His project will include education and outreach to farmers, homesteaders and backyard gardeners on regenerative systems. His mentor is Keith Wilda, IGI Farm Hub manager.
Irene Bright-Dumm is pursuing a master of science degree in yoga therapy from Maryland University of Integrative Health. She is working to develop yoga therapy to support addiction recovery, Lyme disease and chronic pain. Her fellowship will include several series of yoga therapy group and individual sessions. Her mentor is Diane Finlayson, the program director of the yoga therapy program at Maryland University of Integrative Health.
Danielle Cleary earned a dual bachelor of science degree in marine science and environmental studies from Eckerd College in 2015. She graduated from the Martha's Vineyard Regional High School in 2011. Her fellowship will focus on water quality research and education to complement research already in progress through the Great Pond Foundation. Her mentor is Emily Reddington, director of science and education for the foundation. After completion of the project, she plans to study for a master's degree in marine chemistry or a related field.
Lorena Crespo is pursuing a master's in education in curriculum and teaching through Fitchburg State University on the Island, affiliated with ACE MV. She is a Head Start home visitor for Martha's Vineyard Community Services, where she will continue her work with Brazilian families, helping them to be part of the greater community. She came to the United States from Ecuador 11 years ago with her young children and spoke no English. Today, she teaches Spanish to Islanders. Her mentor is Lynn Ditchfield.
Lynn Ditchfield will earn a Ph.D. from the European Graduate School Arts, Health & Society Division. Her doctoral research and thesis will examine the impact of arts and education in motivating social change movements. Her mentor is Rebecca McCarthy. Lynn founded, and served for seven years as executive director of, the Island's adult and community education program, ACE MV. She taught Spanish at the Martha's Vineyard Regional High School for 24 years.
Daniel Gaines, a senior at the Martha's Vineyard Regional High School, plans to study biochemistry and molecular biology in college. He is an active member of the high school's chess club and won third place in the 2016 Massachusetts state science and engineering fair for Styroads' porous plastic sidewalks made from 100% recycled Styrofoam, for which a patent is now pending. He plans to intern with the Lyme disease eradication project overseen by Dr. Kevin Esvelt at the Massachusetts Institute of Technology.
Joshua Gothard is studying for a master's of architecture at Parsons School of Design. He graduated from the Martha's Vineyard Regional High School in 2006 and earned a bachelor of fine arts degree in architecture from the Massachusetts College of Art and Design in 2010. He will work to develop an architectural language to increase the coastal resiliency and sustainability of the Cape and Islands. Mark Hutker of Hutker Architects will be his mentor as he develops an architectural language.
Victoria Haeselbarth is pursuing a master's degree in health care administration at Southern New Hampshire University. For the past five years, she has served as the outreach worker for the Edgartown Council on Aging. Her project focuses on bringing the Green House model in senior care to the Island, among other things. Paul Mohair, administrator of the Edgartown Council on Aging, is her mentor.
Richard Johnson is an environmental consultant and field biologist for the Martha's Vineyard Tick Borne Illness Reduction Initiative, sponsored by the boards of health of the six Island towns. Dick's project will focus on the "big picture" effort to reduce ticks and tick-borne illnesses Island-wide. His advisors will be Matt Poole, the Edgartown health agent, and Dr. Sam Telford, an internationally renowned tick expert in the division of infectious diseases at Tufts University. Previously, Dick served for 18 years as executive director of Sheriff's Meadow Foundation.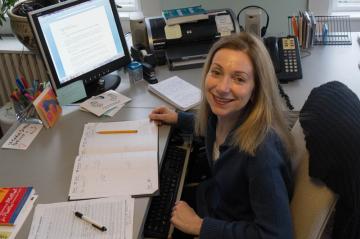 Camilla Prata, a senior at the Martha's Vineyard Regional High School, will study pre-med in college. She attended the Martha's Vineyard Public Charter School from kindergarten through 10th grade and moved to the regional high school as a junior, where she played varsity tennis on the 2016 state championship team. Camilla has been a volunteer at the Martha's Vineyard Hospital and hopes to work there this summer as an intern to Dr. Karen Casper. Her project will focus on data collection and analysis of the use of naloxone by Island first responders to reverse opiate overdose.
Allison Roberts will pursue a master's of clinical social work at Boston University. Since 2015, she has served as assistant to the executive director at the Martha's Vineyard Center for Living Her mentor is Leslie Clapp, executive director of the center for living.
James Robinson, a senior at the Martha's Vineyard Regional High School, plans to enroll in a five-year program to earn a master's in elementary education. His hope is to also study theatre. He plans to intern with the Martha's Vineyard public schools this summer, under the mentorship of assistant superintendent Richard Smith.
The Vision Fellowship was founded in 2010. For more information, visit vineyardvision.org.