On Thursday morning hundreds of trout, glistening in the morning sun, were transferred from tank, to bucket, to Duarte's Pond in preparation for the 43rd annual Kids Trout Tournament. The event takes place on Saturday, May 6 and is sponsored by the Martha's Vineyard Rod and Gun Club.
Not all the trout made the journey gracefully. "They're jumpy today," said Keith Wilda of Blue Stream Aquaculture located in West Barnstable, which provides the fish for the competition.
Wrangling an errant fish, Cooper (Coop) Gilkes 3rd admonished: "Hey, stay in the bucket!"
Eventually all the trout—rainbow, brook, tiger, and brown—made it into the water. The stocking will conclude on Friday morning, after another delivery. Due to the limited capacity of the two stainless steel tanks that travel in Mr. Wilda's truck bed, it is a two-day affair.
For now, the pond is off limits to fishing—for the most part. Eyeing two osprey circling in the sky, Mr. Gilkes explained that staggering the delivery, and saving the biggest fish for the second day, also serves an important strategic purpose. "If we put them in now, we're asking for it from the osprey."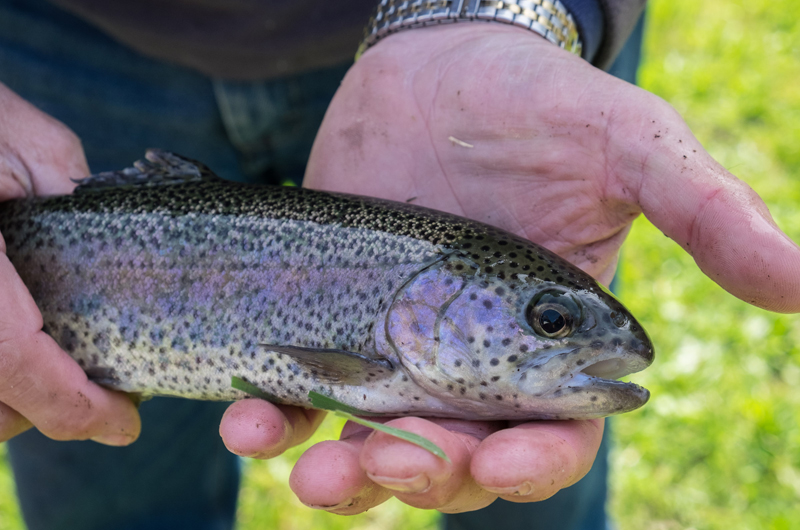 Mr. Gilkes organizes the event with his wife Lela Gilkes. He said that this year the tournament will feature special, large fish, including an eight-pound "monster" nicknamed Charlie, and huge trophies to match. He also had some advice. "I would say it's either going to be nightcrawlers or Powerbait that take it," he offered.
It's not just about the bait, though. "The secret is to be patient," Mr. Gilkes said. "Put the rod down on a v-stick and let the fish come to you. And it works. It's just a matter of time till those fish swim over and eat the bait."
The pond receives some stock from the state as well—the Massachusetts Division of Fisheries and Wildlife, which is part of the Executive Office of Energy and Environmental Affairs, stocked Duarte's on March 22 and April 12 with Eastern Brook, rainbow and tiger trout.
The first year the tournament occurred, the venue, Mill Pond, was entirely state-stocked. Later, after the change in location, Mr. Gilkes and other volunteers went door-to-door soliciting donations to purchase fish. "If we made $20, we were so tickled," he said.
Things eventually picked up momentum. This year, Duarte's Pond is being stocked with $2,000 worth of fish, approximately 600 potential catches in all. Reflecting on this growth, Mr. Gilkes said, "Martha's Vineyard is Martha's Vineyard. Once the people got behind it, it was incredible."
Fishing on Saturday begins at dawn for children 14 and younger, but many head to the pond well before that to get prime fishing spots. For tired parents there is coffee. For kids, hot dogs, donuts and a big fish on the line keeps them from nodding off.
The event takes place rain or shine.