At around 5:45 a.m., half an hour into the 43rd annual Kids Trout Tournament, Grace Cotton, age 9, caught a 16-inch rainbow trout. She saw a few nibbles, "waited for a big one, and then reeled it in."
"It was pulling hard," she said. "I didn't think I was going to catch it."
Two hours later, at the awards ceremony, Grace learned she had won the tournament. Arriving at 4:06 a.m. at Duarte's Pond to stake out one of the best fishing spots had paid off.
Grace was casting with four other children and their parents. Before the clock even had struck 6 a.m., all five had caught fish and were optimistic about the prospect of catching more. Why wouldn't they be? On their team was Caleb Nicholson: former Kids Trout Tournament champion and current parent to Wyatt and William Nicholson, who have both won the tournament in past years.
"I got it pretty down out there," Mr. Nicholson said. He explained his trade secret: "the honey hole."
Without giving away too much, he revealed: "There's a trench out there where the fish all congregate, and we know it because we've been fishing it our whole lives. So, you have to put the right weights on so you can cast out far enough to get to that spot."
The hole yielded sweet rewards for the gang. Wyatt, 11, caught a 13.5-inch brown trout. He described the thrill of the pursuit: "I like the way that you're waiting for the fish to come in and when it finally hits you're like, Yes!, and you catch it. It's really fun."
The event means more than just fun to Mr. Nicholson. "To get out there and shut the phone off and get up early with the kids and teach them the stuff that my father taught me... I love that experience."
For the past six years, Mr. Nicholson has paid further tribute to his father by providing the funds to stock the pond in his memory through Contemporary Landscapes, the business he co-owns with Jack D'Arcy.
Cooper (Coop) Gilkes 3rd, who organizes the event, said that family and having a good time is what the tournament is all about. With his granddaughter, Audrey Polleys, 11, just a few feet away, Coop reported the tournament was, "Slow, but we persevered. It was tough for the kids, with a headwind coming down the pond."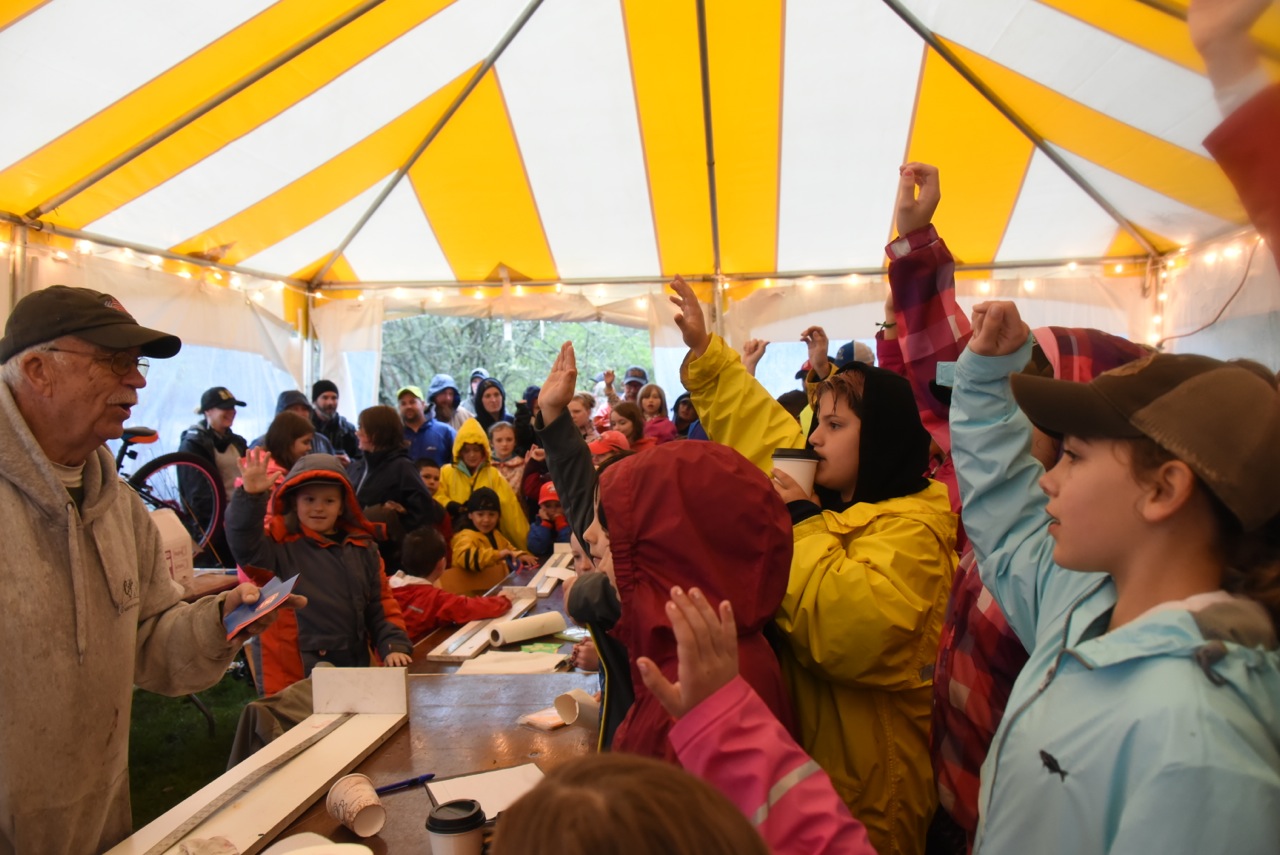 Despite gray skies and spitting rain, spirits were high. Kids alternated between joking with each other and watching their lines. As they made catches, they shuttled to and from the competition tent and their fishing spots.
"They all stuck it out and did a great job, had a lot of fun," Coop said. "And a lot of these kids caught their first fish."
In addition to the main event (trout) kids came in with pickerel, bluegill and catfish. Unfortunately, Charlie, the "monster" eight-pounder brought to the pond on Friday, was nowhere to be seen during the tournament.
Prizes were awarded by age group and overall, along with an award for the largest fish of another species caught.
As Grace posed beside her trophy, which nearly matched her diminutive stature, her father, Paul Cotton, beamed. "It was tough weather, but they stuck it out and stayed focused," he said. "I'm very proud."
Results:
Overall Winners
Grace Cotton, age 9, 16" rainbow trout
Aubrey Warburton, age 8, 15.5" rainbow trout
Molly Sylvia, age 10, 15.25" rainbow trout
8 and under
Aubrey Warburton, age 8, 15.5" rainbow trout
Caroline Cotton, age 7, 14.5" tiger trout
Dreyden Thomas, age 8, 12.75" brown trout
Hailey Smith, age 8, 12.5" rainbow trout
9-11
Grace Cotton, age 9, 16" rainbow trout
Molly Sylvia, age 10, 15.25" rainbow trout
Christian Turner, age 11, 14.875" rainbow trout
Mason Warburton, age 9, 14.5" rainbow trout
Wesley Wlodyka, age 9, 14.5" rainbow trout
12-14
Charlotte Packer, age 14, 15" rainbow trout
Jake Scott, age 13, 14.5" rainbow trout
Corbin Buchwald, age 13, 14.5" rainbow trout
Largest Fish of Any Other Species
Micah Vought, age 14, 14" pickerel