Outgoing town administrator Adam Wilson was elected to a seat on the board of assessors and a $110,000 budget override passed by one vote at the Aquinnah town election Wednesday.
Mr. Wilson ousted longtime assessor Michael Stutz by a vote of 75 to 57. The board of assessors has been at the center of town hall turmoil in recent months, with the board and selectmen feuding over authority and control and tensions spilling over in town meetings.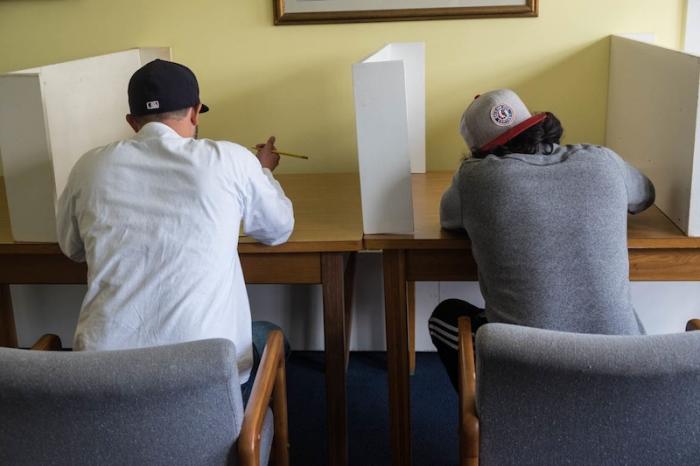 The $110,000 general override to Proposition 2 1/2 squeaked through by a vote of 66 to 65.
About 38 per cent of registered voters in the Island's smallest town cast ballots on Wednesday, 135 out of 353 voters.
"I'm really grateful to the Aquinnah community for electing me and I'd also like to thank Michael Stutz for his years of service," Mr. Wilson said after results were in. "It's been a big thing to have been part of this committee for so many years and I wish him success in his future endeavors."
Mr. Wilson announced last week that he is leaving his job at town hall to work for Dong Energy, which is developing a wind farm south of the Vineyard. He said he plans to continue working as town administrator until July and delay taking his seat as an assessor until then.
Town counsel Ronald Rappaport confirmed at the annual town meeting this week that state law prohibits Mr. Wilson from holding elected office while serving as town administrator, although he could still run for office.
Meanwhile, there is already a vacancy on the three-member board of assessors following the abrupt resignation of Darren Leporte this year. Selectman Jim Newman said last week that his board had advertised for candidates and received three responses.
Mr. Wilson said the selectmen and assessors hope to meet next Thursday and review a list of possible appointments. The vacancy will be filled by a joint vote of the two boards, Mr. Newman said.
Also on Wednesday, selectman Juli Vanderhoop was elected without contest to her second term with 114 votes.
Town clerk Carolyn Feltz was re-elected with 127 votes, making her the top vote getter of the day. Also elected without contest were Marjorie Spitz, library trustee, 115; Sarah Saltonstall, board of health, 114; Peter Temple, planning board (three year term), 102; James Whalen, planning board (three year term), 105; James Mahoney, planning board (two year term), 102; Isaac Taylor, planning board associate, 126.
Heidi Vanderhoop received 21 write-in votes and Roxanne Ackerman received two write-in votes, filling two openings as town constable.
Two nonbinding referendum questions were also easily approved. A question about banning moped rentals on the Vineyard passed with 128 yes and four no votes. A proposal to create a housing bank passed with 106 in favor and 20 opposed. Both questions passed in every other Island town this spring, although Edgartown did not vote on the housing bank question.