With a generous double program that traveled easily from sacred music and opera to jazz and Lady Gaga, the Martha's Vineyard Regional High School Minnesingers displayed their versatility with two spring concerts over the weekend.
Seasoned performers recently back from their April singing tour of Italy, the 16 female and 12 male vocalists had the Performing Arts Center audience on its feet more than once during the two-part program on Saturday night.
Highlights from the first half of the concert, conducted by choir director Janis Wightman with Nancy Rogers on keyboards, included four movements from Leonard Bernstein's stirring Mass, a choral arrangement of James Taylor's Lonesome Road and an uplifting performance of Va, Pensiero, from Verdi's opera Nabucco. The Minnesingers had last sung the Verdi chorus with two Italian choirs at a friendship concert in Verona last month.
Also in the first half, the choir sang a pair of jazz classics from before World War II: Duke Ellington's It Don't Mean a Thing If It Ain't Got That Swing and How High The Moon, with music by Morgan Lewis and lyrics by the Vineyard-connected Nancy Hamilton.
At the end of the choral program, the audience was treated to a brief but energetic performance by the Minnesingers' a cappella offshoot, Sound Wave, before the lights went up for intermission.
After the break, the Minnesingers came back with a whole new look and sound. Flirty dresses and no-nonsense leggings replaced the girls' long skirts and button bodices, while the boys were splendid in red shirts with black suspenders and other costumes designed by Ev Wilson and Chelsea McCarthy.
Bright lights saturated the stage with colors. A disco ball twirled. The second half ranged from full-on, uptempo chorus and dance numbers like Lady Gaga's anthem Born This Way, to intimate solo and small-group performances. Senior Liam Weiland, an accomplished instrumentalist as well as a singer, flat-picked his guitar as sophomore Abby Glaeser and senior Tessa Whitaker wove harmonies around the Stevie Nicks' tune Landslide. Mr. Weiland returned on his own to perform Nahko Bear's optimistic Make a Change.
In a white lab coat with a heart on the breast pocket, a pair of safety goggles pushed back on his head, junior Curtis Fisher struck a lighter note with The Science Love Song, by AsapScience: "Take away gravity, I'll still fall for you."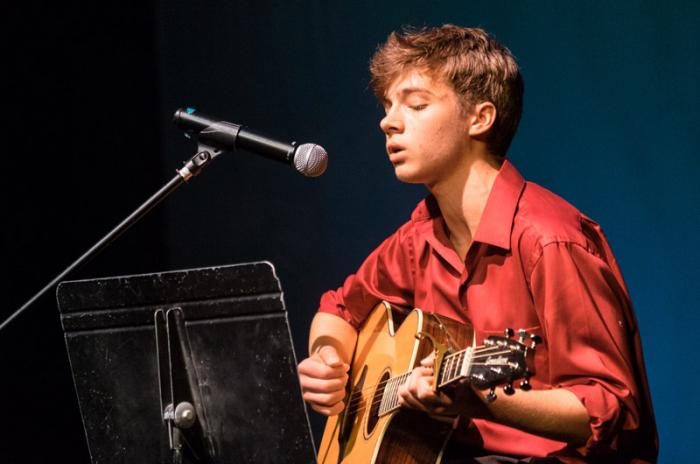 Sophomore Isis Burt delivered a sweetly romantic version of Jerome Kern and Oscar Hammerstein's technically demanding solo Can't Help Lovin' That Man of Mine, from Show Boat.
The title of the Minnesingers' spring concert program was Reach for the Stars: Music to Inspire and Empower, and they cast a wide net. Sacred music was followed by LGBTQ acceptance and anti-bullying themes, while female determination was represented by the Minnesinger girls' scrim-shadowed, fist-pumping performance of Salute, by the British girl-group Little Mix, which ended "You think we're just pretty things. You couldn't be more wrong."
Either half of the two-part evening would have been a satisfying concert on its own. Taken together, the two very different sets showcased the Minnesingers' wide range of strengths and provided a rousing send-off for the singing seniors who graduate next month.