Fish belongs in schools. Jenny DeVivo, head chef at the West Tisbury School, certainly thinks so. In November she began Fish Fridays at the school, partnering with Red's Best, a seafood wholesaler, to provide the school with locally caught, underutilized fish on a weekly basis.
All year long students have been enjoying fresh fish lunches, and on Friday they met the whole fish food chain at the Massachusetts Farm to School's Harvest of the Month seafood celebration.
The interactive event organized by Ms. DeVivo featured booths run by Cottage City Oysters, the Martha's Vineyard Fishermen's Preservation Trust, Island Grown Initiative, the Wampanoag tribe natural resources department and the Martha's Vineyard Shellfish Group. Throughout the day the students learned about sustainable fishing and how the latest lunch initiative supports local fishermen. Students also posed with monkfish, squid, lobsters and more at a photo booth. Then they enjoyed meals that included fresh pollock, mussels and lobster.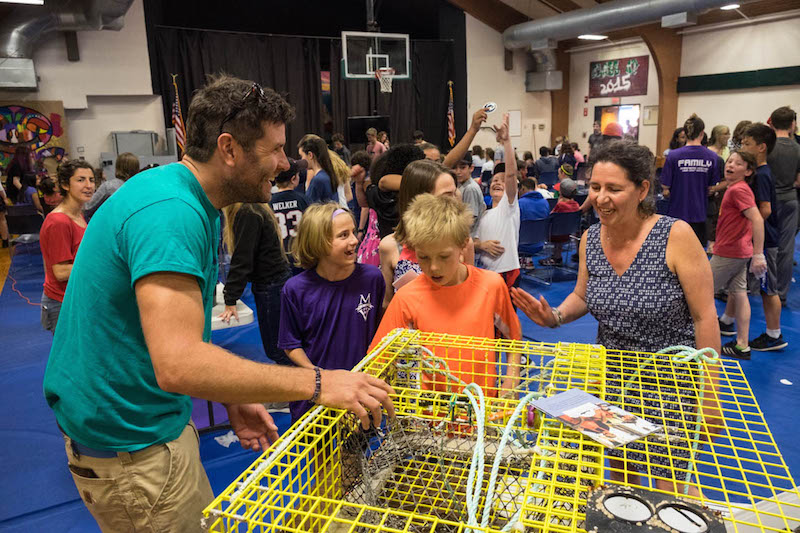 There were also numerous educational opportunities as they watched a demonstration of mussels cleaning algae-filled water, saw how fish create fertilizer that grows the salad greens they eat every day and learned about the efforts of the Wampanoag tribe to track the Island's herring population.
In one presentation, Jared Auerbach, founder of Red's Best, explained the process of how local fish ends up on their lunch trays. He emphasized that the school's demand for fish is "playing a really important part in our thriving local fishing community."
The partnership entails a weekly commitment to purchase a set quantity of fish at a fixed price. The fish­ — whatever is fresh and abundant at the moment — is caught by members of the Menemsha Fish House and then processed by Red's Best and distributed to the school.
Ms. DeVivo described the initiative as "the missing piece to the local puzzle that I had been searching for," supplementing the cafeteria's Island sources for meat, dairy, eggs, vegetables and fruit. As she serves up the latest catch each week, she tells the students the story of who caught it and where it was caught.
"When I tell the story of the fish to the kids, they eat it with their ears, not just with their mouths," she said.
Sydney Emerson recalled a past favorite: "The fish bites are really, really good."
According to Ms. DeVivo, Fish Fridays are such a hit, "The kids love it more than pizza."