The Yard opened — and filled — its 100-seat Patricia Nanon Theatre May 19 with a performance by H.T. Chen & Dancers. Between two pieces by the New York City-based troupe, which for nearly 40 years has explored Asian-American experiences through modern dance, the audience enjoyed a special performance by children from the Chilmark School who were mentored by Chen dancers during Yard residencies this year.
Inspired by photographs and narratives of the Chinese experience in America, the youngsters from the school's combined fourth and fifth grade class choreographed their own original dance, called Bridging East and West: A Railroad Through the Rocky Mountains. The Chen company's Dian Dong and Ari Someya staged the performance, which the children delivered with athletic Chen style moves, slapping the floor with their bare feet.
This show marked the end of the new Winter Yard series, which has enlivened the Martha's Vineyard off-season with events ranging far beyond dance stages, such as modern ice-skating troupe Le Patin Libre at the Ice Arena and Inuit throat-singer Tanya Tagaq at the Performing Arts Center.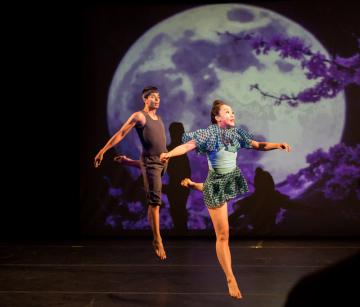 This summer and fall, the Yard Arts main season brings the focus back to modern dance in a panorama of styles including hip-hop, with break-dancer and Guggenheim fellow Raphael Xavier (Aug. 10 and Aug. 12), and contemporary extensions of classical Indian bharatanatyam from the Ragamala Dance Company of Minneapolis (Aug. 17 and Aug. 19).
"We try to create a diverse palette every year, of not only artists but also themes," Yard artistic director and executive producer David White told the Gazette this week.
The season includes works from both the 20th and 21st centuries. Paul Taylor's touring company, Taylor 2, performs three pieces by the influential choreographer July 17, while Ruth Childs revives early dances by her aunt Lucinda Childs June 29 and July 29. The music of Bach underpins New Work for Goldberg Variations, by choreographer Pam Tanowitz and pianist Simone Dinnerstein, July 6 and July 8.
Several other choreographers and troupes are bringing works in progress, some supported by Yard residencies and commissions, to the Nanon Theatre and the Martha's Vineyard Performing Arts Center. After-show artist talks provide audiences with the chance to get deeper into the dances they've just seen.
This being the Yard, founded and dedicated to modern dance, the summer program includes performances that add further disciplines to the art of bodies moving through space. Choreographer, improviser and multimedia artist Jon Kinzel's new work, June 22, is made up of four dancers and a sculptor. His piece includes the construction of a set on the Nanon Theatre stage. On July 25, Yard dancers team up with the art and literary periodical H.O.W. Journal for an evening of dance and literature.
One of the season's most anticipated engagements will bring back the Cuban troupe Malpaso Dance Company, which has performed to sold-out Vineyard crowds in past summers and extended its engagement last year. The Havana-based ensemble will perform August 5 and August 7 with an original score by Grammy winner Arturo O'Farrill, performed by his Afro Latin Jazz Ensemble. Mr. O'Farrill and his group are also playing a Yard benefit August 1.
Another returning favorite, Camille Brown & Dancers, performs the work-in-progress ink July 14 and Black Girl: Linguistic Play, with music by Scott Patterson and Tracy Wormworth, July 22.
"This will be her fourth time in four years," Mr. White said. "We want people here to know these artists, not so much to be an audience for them but to be really familiar with them personally."
Ms. Brown, whose work often draws from social dances in the black community, has been working with Yard support on a trilogy of dances, Mr. White said.
Kids are part of the Yard community too, and pay-what-you-can performances designed especially for young audiences and families include Bonnie Duncan's Squirrel Stole My Underpants, with live music, puppetry and a huge pile of laundry, July 8; a literary event with H.O.W. Journal titled Readings, Rabbits and Rainbows, July 29 and, for teens, the Cambodian-American dancer Sokeo Ros with the street dance group Case Closed! on August 11, followed by a family dance party.
Beyond dance, the Yard also offers concerts, movies, lectures and round table discussions throughout the season. Dates, details and ticket information are posted online at dancetheyard.org.