For some 60 years, Clarence A. (Trip) Barnes 3rd has been collecting things. He filled trailers, trucks and buildings with unclaimed items from his moving business and from purchasing estates, giveaways and house clean-outs.
Then Rosemarie Willett joined Barnes Moving Company. An entrepreneur and a minimalist, she took one look at the trailers, and trucks, and buildings full of stuff and thought, this has got to go. She created Barnes Estate Finds, an estimated 5,000 square feet of space in the Airport Business Park, filled with Mr. Barnes's more than a half century of selective hoarding.
The second season of Barnes Estate Finds kicks off this weekend with a two-day sale at their location on 14A street in the business park. There will be six weekend sales from May to October, each with a new batch of stuff.
Ms. Willett feels that Barnes Estate Finds fills an important niche on the Island.
"There's no real resources for people on the Island other than the thrift stores which only have a limited capacity, and doing estate sales at their house which isn't always practical...there was just a need for an outlet."
The Barnes Estate Finds warehouse is the type of place where one can find a classic car, a picnic basket or a handmade rocking horse. And that's exactly what Ms. Willett did find the other day, walking through the vast aisles, pointing out which items could do with a refinish (she knows a guy) and which pieces are on consignment, like the marble topped chest of drawers by John Thayer.
She paused to inspect the handwritten instructions taped to the wooden rocking horse. "That's something that you can't really put a price on. It's so hard to know because you can see someone actually took the time to make something for a child they cared about." She looked closer. "He needs a tail, he's missing his tail."
Just like any yard sale, Barnes Estate Finds includes haggling, and the thrill of discovering a treasure (be it a Shaker chair, or a stately doll house). But unlike many yard sales, it has been monitored for quality. You can sit in the chairs, sleep in the beds, and drive away in the cars. 
"You're not just going to a yard sale and there's three tea cups that don't match," Ms. Willett said. "It's also not all priceless antiques. In here, we've got soup to nuts you know, $5 to $5,000."
Ms. Willett hasn't always been into restoration. In fact, she is more of a business woman. Originally from Chicago, she moved to the Island 21 years ago to partner in opening the Sweet Life Cafe. Then she worked with Robert Skydell to open Fiddlehead Farm market and catering.
"I like creating things, getting them going, established, and then seeing other people do well with them," she said.
Five years ago, she joined Barnes Moving and Storage. It was supposed to be a winter job, just something to pass the time before she found her next venture. But months passed, then years, and suddenly she was running Barnes Moving with Jeremy Laffin.
"I was probably going to do another food project after Fiddlehead. I was not intending to get involved in a moving and storage business and a furniture sale, that was not the goal," she said with a laugh.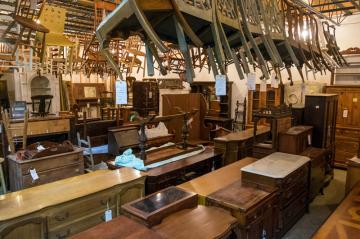 So far, she's emptied out two trailers and couple of box trucks. She estimates there's about 25 left. Then there's hours of online research to identify items of high value.
Ms. Willett also has plans to open the old antique shop that Mr. Barnes owns on State Road, next to the mini golf. They hope to have it open by the end of June.
This weekend, among the items for sale, there's furniture from the old Sea View Hotel and the old Chilmark Store. Ms. Willett doesn't know the stories behind every item, and has to rely on Mr. Barnes' memory for information about many items.
"If anybody wants to hear a story about anything in here, they can come and find Trip, he'll tell them a story," she said. When asked if the story would be true, she declined to comment.
The Barnes Estate Finds sale is Saturday and Sunday from 9 a.m. to 3 p.m. It is located at 14 A street in the Airport Business Park. Purchase items online barnes-estatefinds.com.