The Martha's Vineyard Museum restoration project has officially begun. Golden shovel in hand, Lucy Hackney broke ground on the site on Saturday in a tribute to her husband, the late Sheldon Hackney, who was chairman of the museum when the former marine hospital was acquired.
Amid a celebratory crowd , museum staff and board members, Tisbury selectman Melinda Loberg and chamber of commerce executive director Nancy Gardella delivered remarks from the front porch of the future museum overlooking the Lagoon Pond in Vineyard Haven.
Executive director Phil Wallis described the process as "like a journey up a mountain, and we've made it to such a great plateau. We're not there yet, but we're on our way."
He noted recent accomplishments that have led to this point, including more than $15 million raised, approval of the project by the Martha's Vineyard Commission at the end of April, and the recent $225,000 grant from the Massachusetts Cultural Council.
"We're on the move. This is about all of you, all of us. It's the Island's museum, and we're launched," he said.
Mrs. Loberg said Tisbury is eager to partner with the museum in the project.
Ms. Gardella called the event "a pivotal moment in our history for our Island." She said the project will contribute both jobs and a sense of place and community.
Barbara and Chris Murphy, longtime residents with ties to the museum — Mr. Murphy is a board member — also offered remarks.
Mrs. Murphy said the museum was for "our history . . . all of us from off-Island originally, but now here, citizens who care and wish to learn and remember what came before us."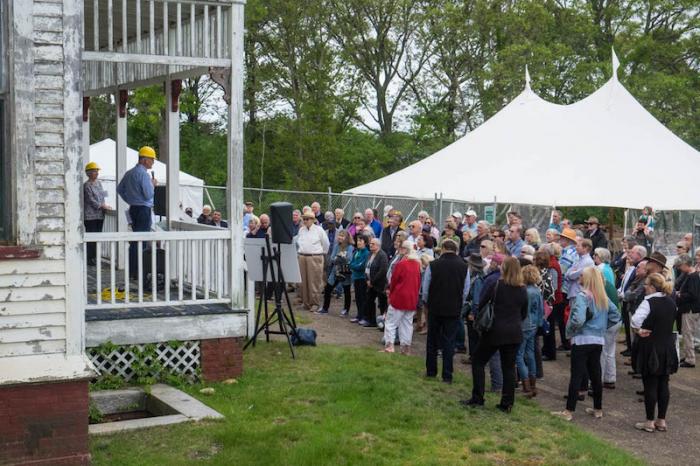 Board president Stever Aubrey called the Memorial Day weekend timing of the event fitting, since the former hospital, built in 1895, was used by soldiers, sailors and their families through World War II.
He added that 120 years ago, the Vineyard Sound was the second most traveled seaway in world, emphasizing the hospital's global significance.
The $24 million first phase of the project will involve tearing down the 1938 brick addition to the original hospital, restoring the 1895 building and then constructing a glass pavilion for the 1854 Gay Head Lighthouse Fresnel lens and a vehicle and vessels building. The second phase will entail building the exhibition wing.
Just before Mrs. Hackney broke ground, Mr. Wallis read from a text by the late Mr. Hackney: "We don't need to behave like our predecessors, but we need to understand who we are so that we can become who we want to be."