Oak Bluffs and Tisbury fire departments deployed firefighting boats to battle a blaze that consumed two sailboats on the Oak Bluffs side of Lagoon Pond Wednesday afternoon.
The two fiberglass boats were moored together at the time of the fire off Lagoon Road. Reports of the fire came in at about 1 p.m.
"Both of them were fully involved when we got there," said Oak Bluffs fire chief John Rose. "It got going really fast, it involved both boats really quickly."
A plume of thick black smoke was visible for miles, and the smoldering fires inside the two vessels took more than an hour to extinguish.
There was an all-out response from Island fire departments and police, including the Oak Bluffs police and fire boat, the Oak Bluffs harbor master, fire departments and police from Oak Bluffs and Tisbury, and the Barnstable county sheriff's marine unit.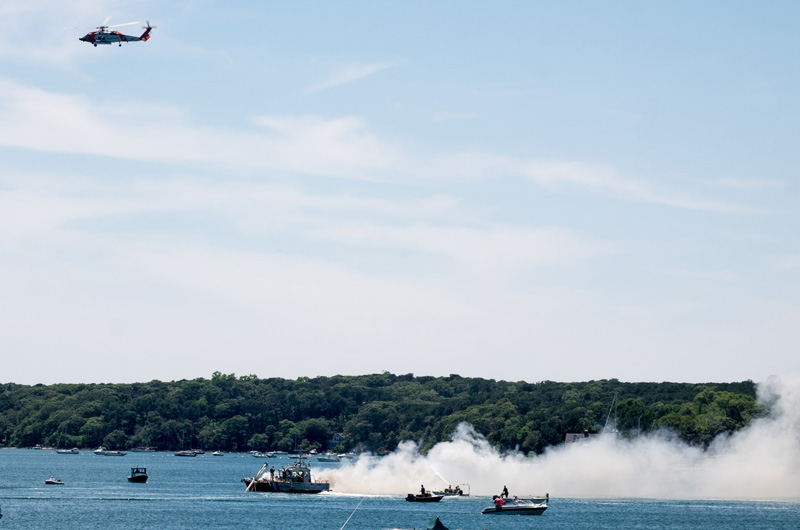 Firefighters transported cans of firefighting foam from shore to the on-water fire scene. Chief Rose said the environmentally-friendly foam allowed crews to use less water to put out the fire, reducing the risk of sinking the burning hulls and possibly creating a pollution hazard or navigation danger.
Chief Rose said he is in the process of tracking down the owners of the two sailing vessels.
Tisbury firefighters put a pollution prevention boom around the burning boats, but Chief Rose was hopeful pollution will be minimal.
"It was just debris, there was no sheen on the water," Chief Rose said. "The sailboats usually carry a small amount of fuel, and that probably burned off in the fire."
Shellfish wardens in Oak Bluffs and Tisbury were not taking any chances, however. On the advice Oak Bluffs warden David Grunden, the Massachusetts Division of Marine Fisheries will close the lower Lagoon to shellfishing until an assessment can be made.
"We just don't know what's in the water," Mr. Grunden said.
Shellfishing will be prohibited at least through Saturday, July 8.