Conrad Neumann's new book, Up-Island Poems, is a short lyrical diary of a poetic soul who went out and came in with the tides, an oceanographer who traveled the world to define and refine his career and returned to his Island birthplace to rest, to fish, to tell tales.
Poetry is an outgrowth of a life lived differently. From a childhood nurtured by the sea and woods, Mr. Neumann found himself most of the time on the road less travelled. Who else could grow up in Menemsha learning all about the glaciers that formed it and the fish that swim by it, attend Tisbury High School, transfer to Bayside High in Queens, go to Queens College and Brooklyn College, sail the world's waterways, dive off the Alvin (that Human Occupied Vehicle that plunges into depths of observation where no living soul had gone before) and dream up poems?
Mr. Neumann, 83, is back again for another Menemsha summer. He and his wife, Jane, who runs a table of fine wares at Chilmark's flea market, live mostly in Durham, N.C., near where he spent his professorial career at UNC in Chapel Hill. His sister, the other Jane (Slater), writes the Chilmark column for the Gazette. For decades she was the proprietor of Over South, an antiques shop in Basin Road. She closed it last year. This is her brother's first book of poetry. At this writing, it is only available in the shops of Menemsha. After this writing, it should be popping up elsewhere.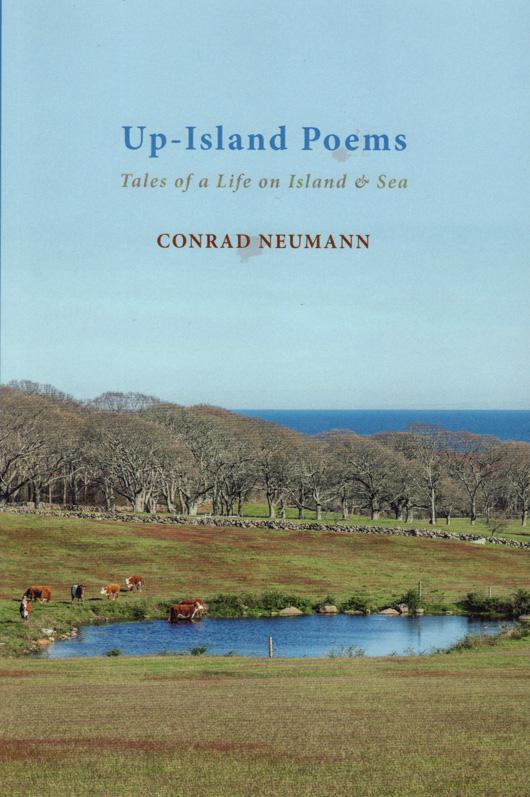 "These are old Island poems," Mr. Neumann said on a recent afternoon on his enclosed porch. "They started as a few words, then the rest flowed, filled in themselves, like I was just a scribe. It comes through you like a dose of salt."
He has the need to tell stories. "Years ago I asked an old Island doctor why I kept talking and telling stories. He told me 'You're nervous and should hang out with other nervous people.' Guess he felt it might make me talk less because I'd see the error of my ways or wouldn't get a word in. He called it oral hypertension. I turned it into poetry."
Lately, knee deep in retirement, there's been a burst. "Poems were coming on like hen's eggs — laying one after another," he said.
Mr. Neumann's introduction to poetry came from his grandfather, Churchill Dwight Gilmore, a man who read Longfellow to his grandchildren at bedtime, and who is brought to life in the poem Grampy.
Mr. Neumann's roots go deep into Chilmark's soil. His grandmother's first cousin was Lucy Vincent. "My mother swam here each summer with intellectuals and artists from New York," he said. "That had a big influence."
His mother saw a future for Conrad that involved more than fishing. But first he would have to get off the Island. As luck would have it, Conrad's father was a New Yorker. Young Conrad and Jane were sent to live with their aunt in Queens so they could attend Bayside High, which upon graduation would grant them a free education at a city college, provided their grades were up to snuff.
Before he went off to Queens College, Conrad visited his high school guidance counselor, who tried to dissuade him from oceanography by saying there was no such career. "He flipped through his plastic notebook and saw no job between Obstetrician and Optometrist."
But Conrad recalled the sage advice offered by his Island fishing mentor, Carlton Mayhew: "Keep your own counsel." Off he went into the wet and wild blue yonder.
He hopped from Queens to Brooklyn College to take a geology program, then got his masters in oceanography at Texas A&M. His first real job was with the Woods Hole Oceanographic Institution aboard the old Atlantis I, analyzing the circulation of the Red Sea. A career of sailing around the world on research vessels and acclimating to foreign ports opened his eyes and helped in the maturing process.
"I could read the sea," he said. "That's part of my nature like being able to see a poem. The surface of the earth is a beautiful movie."
He became an exponent of Mark Twain's maxim: "Travel is fatal to prejudice, bigotry, and narrow-mindedness." Mr. Neumann has managed to maintain his sunny innocence without losing his sense of fair play, his hope for social justice, his smarts. A life at sea also buoyed his humor.
"It's hard to look at yourself and all that's around you without a sense of humor," he said. "People tell me that's what's keeping me alive. I'm one of the few people who tell jokes in the hospital."
Whether conjuring up a poem in the quiet of his mind, mooring his little fishing boat near the fish markets or chatting on a bench in front of the general store, Mr. Neuman is instantly recognizable around Menemsha. Talk to this tall fishing pole of a man for just 10 minutes and you are friends.
In keeping with living differently, he is proof you can go home again.