The Tisbury school building committee will stick with the plan to build a new three-story school on the current school site, despite some community backlash.
At a nearly two-hour meeting Monday night, the committee heard opinions on both sides of the issue from more than 40 people, including parents, teachers, community members and representatives from town boards.
In the end the committee determined it did not need to revote the 11-5 decision it made on June 19 favoring new construction over renovation and expansion at the school.
"Right now, our vote stands," said committee chairman Colleen McAndrews."The vote we took on June 19, we will move forward with the MSBA [Massachusetts School Building Authority] process." She continued: "It doesn't mean the concerns that were raised by some of our committee members are going to be ignored or disregarded, because they will not going forward, I can guarantee that. The conversation will continue and we will work as hard as we can to come up with something we can all live with."
The Monday meeting was called to air ongoing concerns, including those raised at a meeting of the Tisbury planning board last week.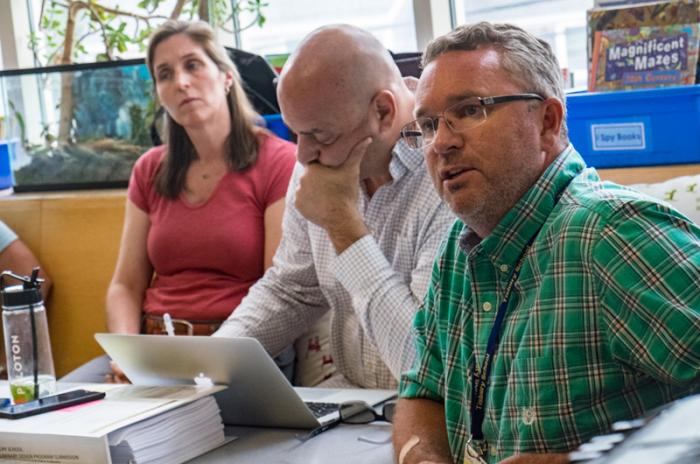 "I am concerned that our town leadership is not publicly able to support our process, and this is giving the impression that the town is hedging on our decision," Mrs. McAndrews said at the outset.
Discussion bounced back and forth between the rights of the children and the responsibility for preservation. Parents and teachers appeared to be aligned in support of the new building.
The new three-story building is expected to be 79,000 square feet (as opposed to an 80,400-square-foot addition/renovation) allowing for two 900-square-foot classrooms per grade level. Principal John Custer said the expanded space is necessary to continue to provide needed services, including special education, an expanding English language learners program, world languages and a maker's space. The added space will also alleviate the congested lunch rotations the students currently deal with.
Emily Solarazza, a parent of an upcoming third grader and kindergartner, asked the committee to honor the June 19 decision.
"This is what we want, we want the new school," she said. "People were losing sleep, including myself, before the last vote and were very relieved that people are thinking of our children as we make this transition."
She said she was particularly concerned about displacing students into trailers during a renovation. "People have also been saying, including myself, that they would consider school choice in a heartbeat to not be part of that," she said. 
Daniel Seidman, a planning board member who sits on the school building committee, said he was unaware of a provision offered by the MSBA for renovations that allows for smaller room size. He said that should have been further explored as it could save money and questioned the need for 900-square-foot classrooms.
"A good teacher is going to educate in whatever size space they have, if they can't do that, they shouldn't be a teacher," he said.
Cost remains a heavy concern for taxpayers and the selectmen as the estimated $45 million project continues forward. The town has been approved for a 41.26 per cent reimbursement rate on all eligible costs, leaving the town responsible for approximately $33 million.
Project architect Peter Turowski said the cost will be more predictable with a new construction over a renovation addition.
"The cost estimates as they now have been developed . . . that is about $3 million less total project costs for the new construction option," he said. "That is due to a number of factors, efficiency being one, the cost of modulars which is not reimbursed by the state being another," he said.
Owners project manager Richard Marks from Daedelus said keeping to the schedule is important for the process. He said he already had to cancel a conference call with the MSBA last Thursday to wait for the outcome of the Monday meeting.
"The inflation factor here is $200,000 a month . . . . so the more we study the more we'll cost, that's just a fact of life," he said. "You guys have been doing studies since 2012, I think. It is time to move forward . . . there is still another four-month of design to take place before the budget is set and before we are locked in to the total cost. The time is not yet over for people to look at the design and to give input. We're going to have several more forums about the design."
The building committee plans to host an open house at the school in August.