Water sparkled all around at the Friedman estate overlooking the Oyster Pond in Edgartown Thursday evening as Vineyard House celebrated its 20th Water Tasting by the Sea fundraiser.
It was an evening to look back and also forward for supporters of the Island's only sober living community.
"In 20 years, it's gone from a very folksy little water tasting on my front yard in Vineyard Haven to this glorious party," honorary director Julie Norman said, recalling the early years of the fundraiser. "There were just three of us running it. It was so small and everyone knew each other, so it's quite amazing how it's evolved."
As the event has grown, so has the organization and its reach. Nearly 500 people have benefitted from Vineyard House, today situated on a campus in Vineyard Haven with residential facilities for men and women.
On Thursday evening two former residents spoke moving about the role Vineyard House played in their recovery.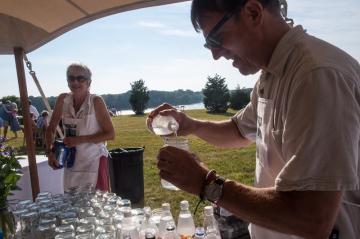 "If I didn't know about the Vineyard House and I didn't have the Vineyard House to come back to … I mean, I have no idea where my life would be right now." one said. "I might not be alive today."
Board member Mark Jenkins said: "Vineyard House has done amazing things and we've seen just two of the stories this evening. But we've heard those, and I've heard those, for 15 years now, and it's really an amazing place."
Board president Brian Mackey highlighted the ongoing mission: to provide a safe, sober living environment for people from Martha's Vineyard.
The organization has seen significant change.
"Twenty years ago we were a startup," recalled board member Dr. Charles Silberstein. "We were struggling with every little detail from the safety of the houses to legal issues to setting up a 501(c)(3) to figuring out the rules and how we were going to hire people and where the money was going to come from, so it was intense."
Dr. Silberstein moved to the Vineyard in 1995 from New York and opened his practice in psychiatry. He had experience in treating addiction and saw the need for a residential program for people in recovery on the Vineyard, but there was no funding.
Hazel Teagan, who ran the substance abuse program at the Martha's Vineyard Hospital, had a similar goal.
"At the time there was an active detox at the hospital," Dr. Silberstein said. "Hazel and I worked closely together, and people would come into the hospital and they would get detox, but then there was no place for them to go after they left, and they'd go out into the community where they were using and of course they would relapse and start the whole cycle over again, and so we both had this idea that we needed a place to go."
There was a house next door to the hospital that seemed like the perfect place.
"We went and we found this house and I got the price cut way down because I moved all the furniture out of it," recalled Clarence (Trip) Barnes 3rd, an honorary director.
Mrs. Norman bought and donated the house to support the effort.
"And then we rehabbed it, and then I took the asbestos out, and that's how it all started," Mr. Barnes said.
The program eventually outgrew its space, and money was raised to build a new residential complex in Vineyard Haven that opened in 2014. The campus can accommodate 18 men and seven women.
Mr. Mackey said that since the move to Vineyard Haven, the men's facility has been consistently at or near capacity. The women's house generally operates at about 50 to 60 per cent capacity, he said.
Case manager Dianne MacKellar said residents are a diverse group, ranging in age from 19 to 70. Some are recovering from drug addiction, others from alcoholism.
"There's real passion to support Vineyard House, it's very exciting," Dr. Silberstein said. "It's very exciting to see where we've come from."