Plagued by light air, Saturday's Round the Island race finished less than halfway round the Island.
The annual sailing competition is sponsored by the Edgartown Yacht Club. Only 13 of 56 entrants were able to finish a course that had been shortened dramatically. The rest of the fleet recorded the dreaded DNF (Did Not Finish).
"We controlled every part of this race we could control," said Edgartown Yacht Club commodore Paul Mitchell at the awards ceremony Sunday morning. "We couldn't control the wind. Certainly light and challenging conditions for all the competitors."
Due to the lack of wind, at the outset the race was shortened to finish about halfway across the south side of Martha's Vineyard.
Spookie, co-skippered by Steve and Heidi Benjamin, took several of the top honors including the Venona trophy for best overall corrected time. The TP 52 finished in a remarkable 5 hours 48 minutes.
"We had a good start," said Mr. Benjamin said. "We just tried to keep the boat going the whole time. We were out ahead, and I think the conditions were more favorable for the lead boats."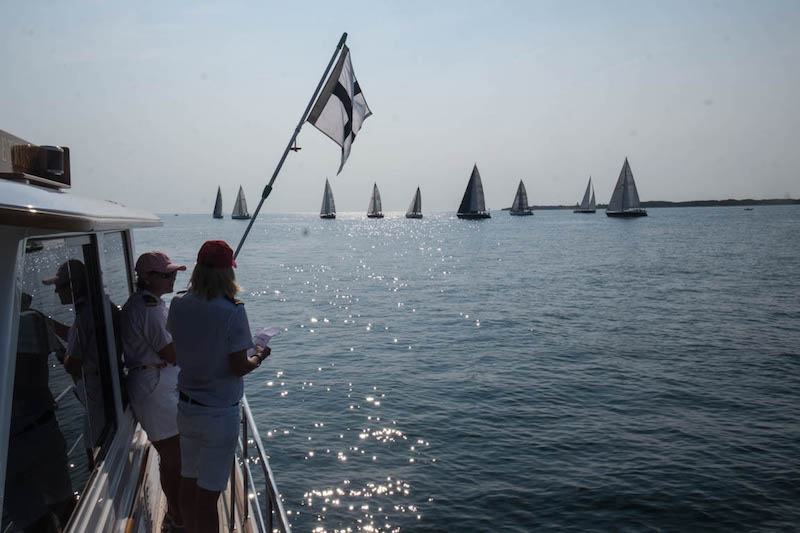 Also taking several honors was Iniki, which was first in the popular double-handed class. The first of just two boats in its class able to finish the race, Iniki was also awarded the Martha's Vineyard Ocean Race trophy signifying the best finish among members of the Edgartown Yacht Club. The winning corrected time was 9 hours 17 minutes.
"Basically we were surfing the tide the whole way around," said Paul Stafford, who sailed double-handed with Ned Brooks. "There was almost no wind."
Hafa Adai, sailed by Eliot Shanabrook of the Marblehead Yacht Club repeated last year's feat as the top finisher in the PHRF B division, finishing in 8 hours 39 minutes, corrected time.
In the PHRF C class, Sparkle Pony persevered to finish in 9 hours 56 minutes, the only boat of 10 in its class able to finish the shortened race.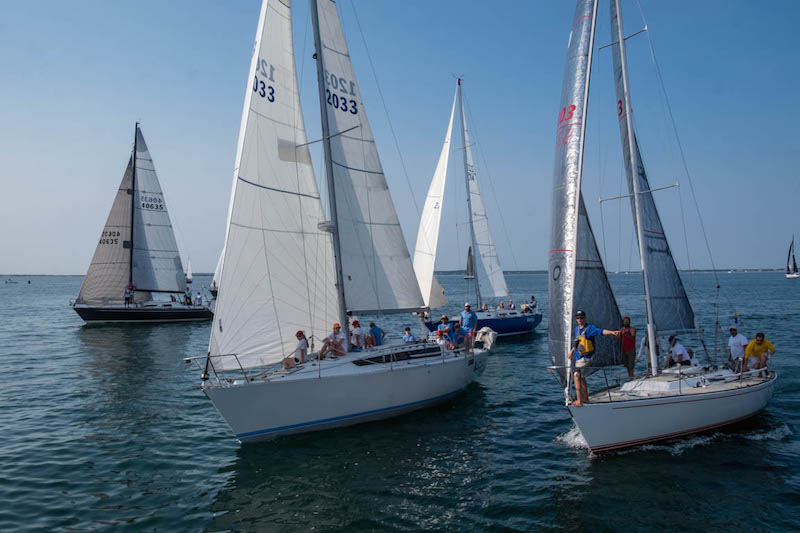 Panesea, a J/42 skippered by Kent Nichols of the Red Brook Harbor Yacht Club was first over the line in the PHRF non-spinnaker A class. Panasea finished in 10 hours, 20 minutes.
Roy Catignani, aboard the Benetau 373 Breezing Up was the least aptly named boat in the fleet, but best in the PHRF non-spinnaker B division. Breezing Up finished in 10 hours 46 minutes, sailing for the Hyannis Yacht Club.
None of the four boats in the PHRF non-spinnaker C division were able to finish the race.
In the IRC class, Gus Carlson prevailed in 8 hours, 44 minutes sailing Aurora out of the New York Yacht Club.