On Monday, I Am Jane Doe will open Documentary Week at the Martha's Vineyard Film Center. The film is a harrowing look at the sex trafficking industry, in particular with young girls in the United States. It is also something of a legal thriller, tracking lawyers all over the country as they try cases against the owners of Backpage, a website which has come under fire for its alleged role in facilitating sex trafficking among women and young girls.
The movie is a double punch in the gut — the subject matter itself and the legal labyrinth that allows Backpage to win cases in court.
The movie arrives on the Vineyard thanks to the efforts of Alexi Ashe Meyers and Rebecca Dince Zipkin, two seasonal residents of Chilmark. As kids, Alexi and Rebecca spent their summers on the Vineyard and say they most likely crossed paths playing at the Chilmark Community Center Camp or eating popsicles and pizza on the Chilmark Store porch. But they really met as adults at the Brooklyn District Attorney's office where they were both lawyers in the sex crimes and human trafficking bureau.
In an interview this week the women spoke about the film and how it sheds light on the alleged role of Backpage in the nether world of sex trafficking.
"The first place I went when I had a case at the DA's office was Backpage," Alexi said. "You search the phone number, a key word, and you would always find something."
Backpage is a classified advertising site, much like Craig's list, and was owned by Village Voice Media until 2012 when the company cut ties with the site. It includes a personals section which is allegedly a vehicle for sex trafficking but shielded under federal law, section 230 of the Communications Decency Act (CDA) which provides third party immunity to such sites.
When Alexi saw I Am Jane Doe, she immediately contacted the director, Mary Mazzio.
"I kind of just cold called her," she said. "Rebecca and I just thought bringing it to the Vineyard and to this crowd where there are so many intellects, we thought the discussion would be incredible. So I cold called her and said do you want to come to Martha's Vineyard for a screening? She's Boston-based and jumped right in."
Following the film there will be a panel discussion with the director, Alexi and Rebecca and two lawyers in the documentary.
Alexi and Rebecca began working in the Brooklyn DA's office essentially right out of law school. Rebecca's mother was a professor at Brooklyn Law School and has an extensive background in criminal law, in particular helping women who are victims of gender-based violence. When Rebecca decided to become a lawyer she at first sought out other avenues to differentiate herself from her mother's work.
"But I never found anything else that I was passionate about the way I am passionate about this," she said.
Alexi did an internship in college with the Somaly Mam Foundation which fights sex trafficking mostly in Southeast Asia. After college and law school she wanted to get more involved, and consulted Rebecca's mother one summer day on the Chilmark Store porch.
"Rebecca's mom had worked closely with the Brooklyn DA's office so she suggested it to me, to really learn how this problem is in our back yard and is so prevalent in New York and Brooklyn."
Both women felt that in the future they would turn to advocacy work in this field, which they have since done, but first they wanted to understand fully the legal system and how it works in these cases.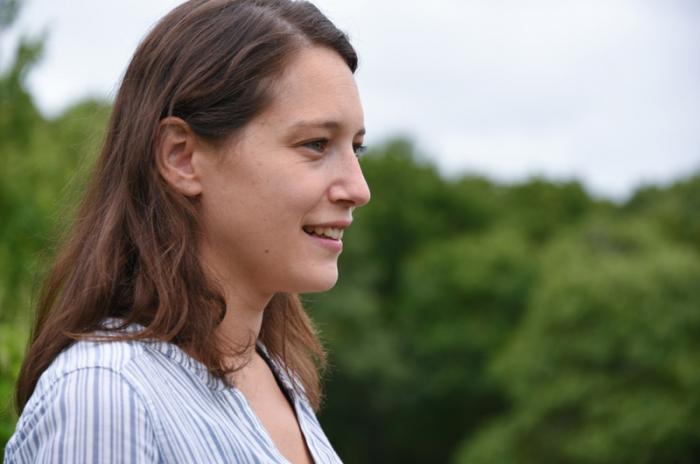 "I think it's really important to see what the criminal justice system is like from the inside and really understand what people go through when they are either victims or arrested for crimes before you can understand the problem on a local, national or global scale," Rebecca said.
One of the main hurdles they found is that because prostitution is an illegal act, the women being sold as sex slaves were also the defendants. This was not the case with underage girls, who are shielded from arrest by the Safe Harbor Law. But even in cases where young girls are being sold several times a day, prosecuting the perpetrators can be difficult.
"It's a lot easier to convince someone when the perpetrator keeps the girl locked in a room, but they also use a lot of mental abuse and threats," Rebecca said. "A lot of times the girls will go home to their families every night and they will say if you don't come back and work for me every day I will kill your family."
In addition to being afraid, many of the young girls do not want to turn in their pimps out of misguided loyalty. The relationship often starts with a trafficker targeting a young girl he feels is lonely and looking for a boyfriend.
"I've heard an anecdote that a trafficker will be in a mall looking for his next victim and go up to a group of girls and say you are all so pretty, and the girl who says no I'm not, that's their next victim," Alexi said.
A few years ago Rebecca decided to make the move from prosecuting cases to working on the advocacy side. She went to work for Sanctuary for Families, a nonprofit organization that helps women who are victims of sex trafficking, domestic violence and other forms of gender violence. This spring she recruited Alexi to join her.
At Sanctuary for Families the women say they wear many hats, working on legal campaigns related to sex trafficking, immigration issues as many women are undocumented immigrants, and on college campuses with victims of sexual assault. Both agree that while prosecuting cases had its allure, "the law and order of it" as Rebecca referred to it, the advocacy work is more rewarding.
"I prefer what we are doing now," Rebecca said. "It's a lot more fulfilling when you are working with survivors and you are bettering their lives personally, which you aren't able to do when you are working for the state."
Alexi agreed: "It was really hard for me when a case was over to say goodbye and good luck and not know the next steps. I wanted so badly to be giving them services while also prosecuting their case. And so I'm not surprised that I now find myself as a service provider."
They both spoke to the ability now to work on systemic change rather than as Alexi said "just little bandaids which is what a criminal case often feels like."
Part of this systemic change is advancing legislation in New York that would in part enact harsher sentences on perpetrators of sex trafficking, but it has been a hard road. The legislation was recently voted down and the two women will now take another year to prepare it again. One strategy involves raising awareness about the issue, and I Am Jane Doe is a perfect vehicle for these New Abolitionists, which Alexi was named for her work in the field of what is often referred to as modern day slavery.
"We are inducting Mary into it when she's up here, making her a New Abolitionist which she definitely deserves," Alexi said, referring to the film director. "It means you've done meaningful work in the realm of human trafficking."
Both women agree that their jobs are emotionally wrenching and affect how they look at the world. Alexi admits to becoming a cynic, but she also feels she has no choice.
"It is hard, but it would be harder for me if I wasn't doing something about it," she said.
I Am Jane Doe screens on Monday, July 31 at 7:30 p.m. at the Martha's Vineyard Film Center in Vineyard Haven. An opening reception begins at 6:30 p.m. The documentary film festival runs through Friday, August 4. For tickets and a complete list of films, visit mvfilmsociety.com.