Little has changed about Island Entertainment, Martha's Vineyard's only video store, since it was founded in 1986. It's just that everything else around it has.
Thousands of DVDs, spines bleached by the sun, are displayed on aisles in the compact storefront in Vineyard Haven. A letterboard hanging on a pale blue wall lists upcoming releases. Behind the rental desk sit a 30-year-old computer and a dot matrix printer that's nearly as old. Both items are still key to Island Entertainment's daily operations.
Though she spends her days in this shrine to the past, owner Anne Evasick is acutely aware of the tug of the present.
"Things have been winding down over the years," she said. "We do like 300 rentals a week, and we used to do 300 rentals a day."
The business was founded 31 years ago by Bob Dutton. Its first location was on Union street. It later moved to 395 State Road but downsized in 2012 to a smaller space across the street at 426 State Road.
"Back in the day, it was all about late fees," Ms. Evasick said. Rentals used to go out for one night. Nowadays, it's $5 for a three-night rental. Late fees are more of a reminder than a hard and fast penalty. Ms. Evasick says she often doesn't bother charging them.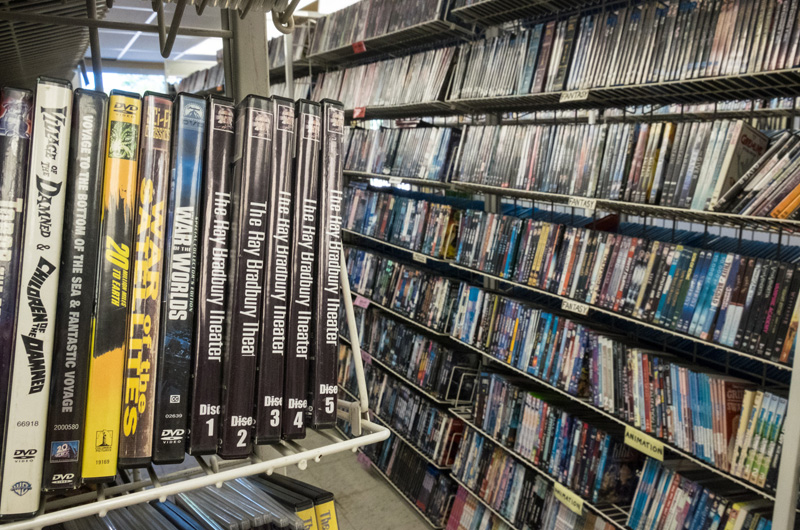 "In our glory years we rented to Princess Diana, we rented to Jackie Onassis," Ms. Evasick said. And on a rainy day, there would've been lines out the door. She estimated that now about 30 people will come into the store per day. She said the customers consist of mostly older people, but families are a key contingent as well.
Ms. Evasick suggested that being on Martha's Vineyard has helped the store outlast the changing times.
"A lot of the rental houses still have DVD players in them, and everyone's internet connections aren't necessarily fast enough to be streaming stuff."
The store does have a loyal client base, both year-round and seasonal. "I've watched families grow up here," Ms. Evasick said.
The Drogins are one such family. They've been renting at Island Entertainment since 2001. Frankie Drogin said that when her children were growing up, they went to the store almost every day to get a video to watch after mini golf.
"It was just a part of their summer," Ms. Drogin said. "It's harder now... we have a Roku, and there's Amazon Prime and HBO. But I'm still determined to keep on coming. Just walking through the aisles and just seeing something that you know that you won't find on Netflix right away, you won't think of it until you see it. And the curation is so good."
Lori Shaller is another dedicated customer. She's been coming for the past 21 years. She has a very practical reason for patronizing Island Entertainment—her current setup doesn't allow her to stream to her television. But she also has a deeper motivation.
"In this age, where you can have recommendations made to you through Amazon... it's not like Anne and those guys over at Island Entertainment. Because they really do know you and they really will talk it through with you and tell you whether or not you should be watching this," she said.
"I'm not an algorithm at Island Entertainment," Ms. Shaller added. "I'm a person."
And it's in this aspect of her business where Ms. Evasick comes into her element. "Give me some parameters and off we go," she said.
But her voice is also tinged with melancholy. "I don't think that renting videos is something that's on people's radar anymore. It's the technology, it's not the product. It's just the technology that the people have outgrown."
She added: "The industry itself doesn't help us, because you can usually stream something two weeks before the DVD comes out."
Still, the store acquires all the latest releases on DVD. Ms. Evasick says these are her most sought-after rentals. And while Island Entertainment doesn't have VHS titles on the shelves any longer, Ms. Evasick says she has a whole VHS catalogue upstairs. Her policy is not to get rid of any titles, so they have plenty of not-available-on-DVD videocassette tapes in stock. Ms. Evasick estimates that these rentals comprise less than one per cent of her overall business. But just last week she rented out The List of Adrian Messenger, a John Huston Film made in 1963, and The Road to Wellville, a 1994 comedy by Alan Parker, both on VHS.
"It's hard to think of it as just a business, because to me it's so much more," Ms. Evasick said. Each day she keeps up her vigil behind the rental desk, often with a film on in the background. On Sunday afternoon she switched on the TV and popped in the second DVD of the Beatles Anthology.
She started viewing the first on Saturday on a quest to answer a question that happened to occur to her. She wanted to figure out the opening chord to A Hard Day's Night and had a hunch that the group discussed it in the anthology.
"That kind of thing happens all the time, which leads me down this rabbit hole of movies," she said.
She acknowledged that she could have Googled it and found the answer quickly, but said it wouldn't have been the same.
"I had this on, and I had people coming in, and everyone started trading Beatles stories. You know, we had people just queued up here, just watching it, and telling stories of where they were when the Beatles were on Ed Sullivan, and all kinds of good stories."
The DVD started playing. Women in the audience wept and fainted as the Beatles performed.
Island Entertainment is located at 426 State Road, open from 10 a.m. to 7 p.m. Monday through Thursday, 10 a.m. to 8 p.m. on Friday and Saturday, and 11 a.m. to 7 p.m. on Sunday.