Crowds flocked to the 60th annual Friends of the West Tisbury Library book sale last weekend, and many who attended returned home to stock up their shelves for another year.
Library director Beth Kramer said it had been the best sale to date, with sales totaling around $12,000 on Friday and $7,000 on Saturday. In keeping with tradition, all books were half price on Sunday and free on Monday.
Last year's sale grossed about $22,000. All proceeds support the library.
Susan Wasserman, who heads the annual sale, said a rainy Saturday helped swell the crowds.
Thirty-six volunteers this year went to work as soon as school let out for the summer, setting up tables in the school gym and finding a place for each of the 30,000 books that were donated throughout the year. (About half of the books arrived in the final month before the sale.) Two volunteers also work year-round to sort through the books left in the library's two sheds in the school parking lot.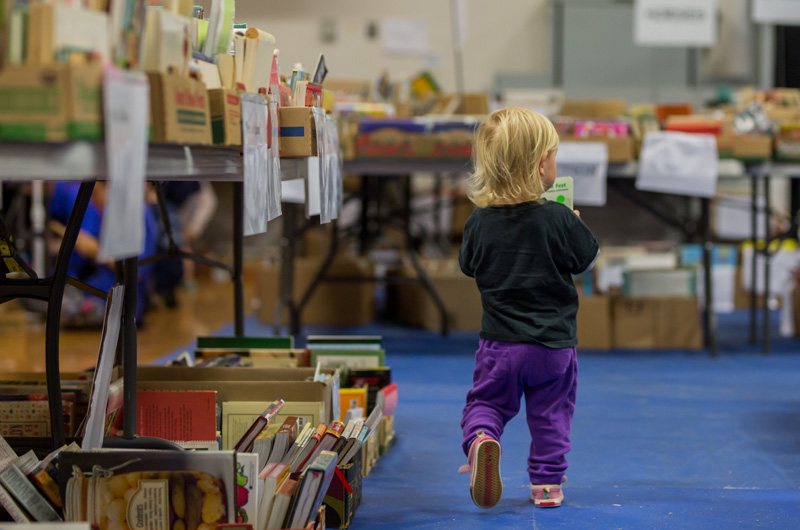 The book sale has come a long way since the days when a single book shelf was set up at the Grange Hall. Eventually, the sales outgrew the Grange and moved to the West Tisbury School cafeteria. When they outgrew the cafeteria about 15 years ago, they moved into the gym.
Oversized paperbacks this year outnumbered the other categories, with three tables stacked three books deep, and four books deep underneath. "It's what people read," Mrs. Wasserman said.
A section on Martha's Vineyard (including Island authors and books written about the Vineyard) is also a favorite, said Ms. Kramer, adding that a best-of-show table, featuring especially interesting (and generally more expensive) books, also draws attention.
Each year's worth of donations might yield 10 or 15 rare books that the library will evaluate through a dealer. Mrs. Wasserman noted a box of books from the 1800s, and a first edition of a poetry book by Sir Walter Scott that arrived this year. But value doesn't always come with age. One year, a volunteer found $95 tucked into the pages of a book.
Throughout the day on Sunday, visitors made their way to the school and left with their arms full of books. And on Monday afternoon the whole cycle began again.
"This is a tremendous act of generosity," Mrs. Wasserman said, noting that the books come from all over the Island (and even some from the mainland), and that at least some will end up back on the tables next year, after people return them to the sheds.
"It's a very nice idea — that this is all a community," she said.