On Monday, a van with a sliding glass door pulled up to the new barn at Featherstone Center for the Arts. Allen Whiting and an assistant hoisted a painting several feet long — a sweeping seascape in turquoise and brick red — out of the van and through the gallery doors.
It was drop-off day for Big, the inaugural show for Featherstone's new Art Barn that opens Friday. The exhibition will feature large-scale works from more than 50 Island artists. A reception and ribbon-cutting will be held from 6 p.m. to 8 p.m.
The opening of the new barn marks the culmination of more than a year of work at Featherstone, the unique center that among other things serves as a public hub for arts education. Situated on a former farm off Barnes Road in Oak Bluffs, Featherstone has been a home for artists of all ages, from potters to painters, for more than two decades. Maker spaces for artists have long been housed in a series of buildings on the old farm, many of them ramshackle. Last summer a major, anonymous philanthropic gift of nearly $3 million allowed Featherstone to accelerate long-term plans to rebuild the campus. The result is a new 2,400-square-foot pottery studio with ample work space and outdoor gas kilns, and the 6,200-square-foot Art Barn. The barn includes two classrooms, a kitchen, conference room, office space — and the gallery.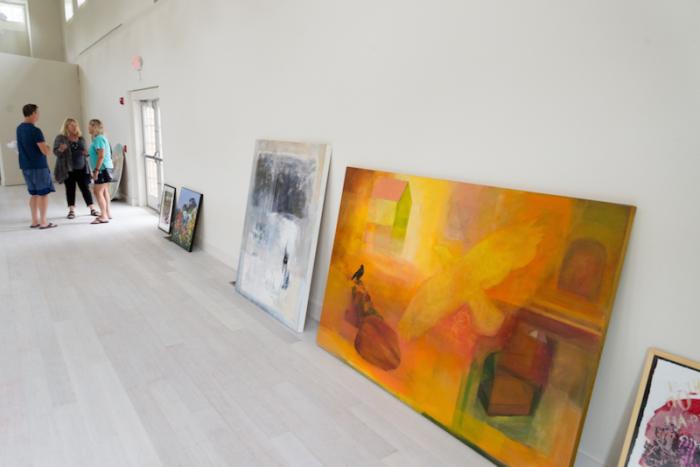 On Monday, many of the works that were dropped off for the show had to be carried in by a small team. But Peggy Turner Zablotny had her piece tucked neatly under her arm. While the theme of the show is Big, signifying big work, the big new space and big hopes for art on the Island, Ms. Turner Zablotny's work seemed small.
But looks can be deceiving. The artist, known for her botanical collages, had simply rolled her 10-foot-long print into a scroll shape and placed it in a box. When the invitation to participate in the first show at Featherstone's Art Barn went out, artists around the Island started dreaming.
"At first I wanted to make it billboard-sized but I thought that wouldn't be fair," Ms. Turner Zablotny said. She said the largest piece she had previously made was 45 inches long. Her new piece, a floral collage in gradations of orange, yellow and dark blue, was printed specifically for this show.
At a small table in the center of the room, Pam Flam was talking logistics with fellow Featherstone building committee cochairman Anne Besse-Shepherd. The two were part of the four-woman team, including Julia Mitchell and Leslie Baker, that organized both the recent art sale fundraiser and the Big show. The art sale raised $37,000 for the Art Barn from donations from Island artists that were sold below value.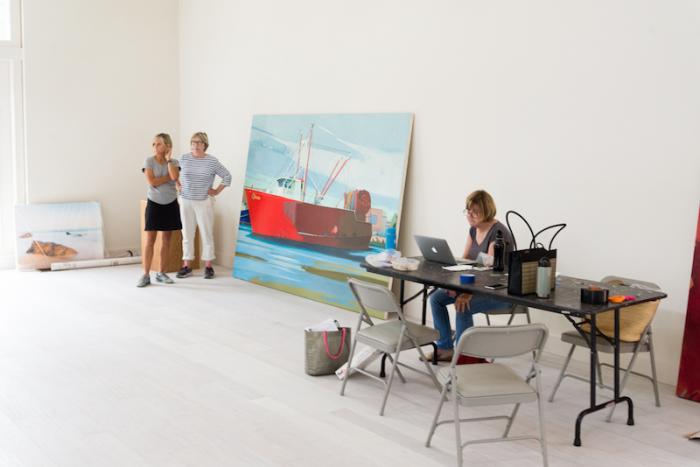 The art sale's contributors knew the donation of their work would come back to them in the form of an improved gallery, said Ms. Flam, a textile artist and former board member for Featherstone. She contacted a professional museum lighting designer to create a unique lighting scheme for the space. Funds from the sale also went toward high-quality hanging hardware.
As the works poured in, Posie Haeger, Featherstone's director of development, showed artists around the space. For many it was the first time they had seen the finished space with its clean white walls and soaring ceilings. Ms. Haeger said the height of the space will allow for tall pieces to share walls with smaller works.
All the artists involved in the Big show have a connection to Featherstone, whether as teacher, student, donor or otherwise. Artist Michaele Christian made her monotype print contribution on site.
Standing outside the barn, Featherstone executive director Ann Smith had warm words of praise for the group of women who began meeting nearly a year ago to organize the Big show. She watched them open the double doors for an incoming painting. "This is why we wanted to build it and the artists have responded in such a great way," Ms. Smith said.
The next step before the opening night and ribbon-cutting would be to stage the work, which the curators would do together. Gallery manager Kate Hancock would have the difficult job of wielding the 10-foot ladder, Ms. Smith said.
The show will stay up until Sept. 20. On Sunday, September 24 a new show of Vineyard Gazette photography called Eyes of the Island will open and remain up through Oct. 18.
As the day went on, many more artists came to drop off paintings, prints, sculptures and photographs.
Cindy Kane, a mixed media artist, brought in two round paintings, both large-scale and richly detailed. "An artist can learn so much from seeing their work from a distance," Ms. Kane said. "Many artists don't get to see that in their homes and studios." She described the experience of seeing Rez Williams's painting My Way from down a long hallway at the Martha's Vineyard Hospital. From that perspective, the work takes on new meaning, she said. "There's something so magnificent about that."
While Ms. Kane shows her work both on and off the Island, she and other artists will have the opportunity to see their work from a different perspective in their own community.
"This space is a dream," Ms. Kane said. "It's a dream for the community, for artists, for the people behind Featherstone, for all the possibilities for installations. It's really a gift to the Island."