In an epic 18-hour documentary series, filmmakers Ken Burns and Lynn Novick explore the Viet Nam War, one of the most complex periods of the nation's history, adding the perspective of time and new scholarship through the voices of those who lived through it.
Five decades after the height of the war, some are still fighting collateral battles, and many are still coming to grips with the way the tragic conflict changed America.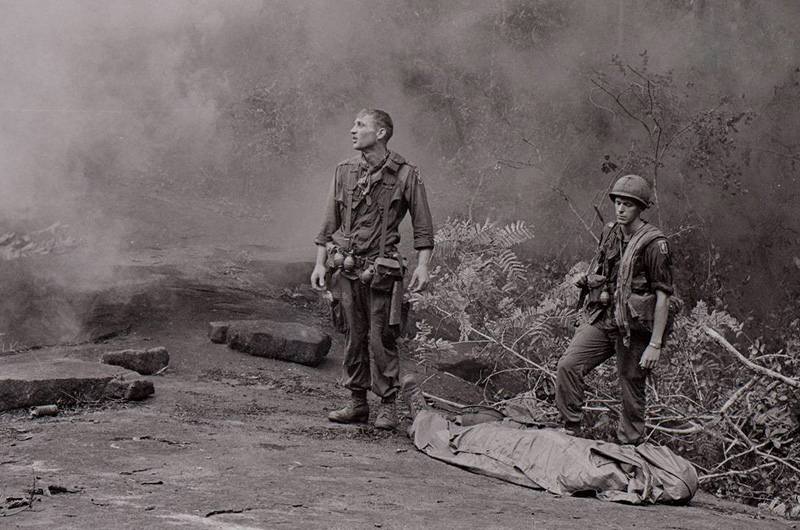 "That's why we made the film, really," Ms. Novick said in an interview with the Gazette while on vacation in Aquinnah. "The people who lived through it are very unsettled about it so they don't like to talk about it. It gets pretty argumentative and toxic pretty quickly. For that generation we hoped we could shine some new light. For the generation that lived through it, who is so fraught and polarized by it to talk about it in a different way, maybe to understand each other a bit more. For the younger generations who know nothing about it, to have access to this extraordinarily important event. It's had enormous impact on our society. It will open up a conversation that really hasn't happened in a deep way."
The series will air on PBS beginning September 17, but The Martha's Vineyard Film Festival Summer Series will screen a preview of the documentary on Sunday, August 13 at the Tabernacle in Oak Bluffs. Following the preview, Ms. Novick and two Massachusetts veterans of the Viet Nam War will lead a discussion. She said with the benefit of new source material, including newly released recordings of the presidents and generals who led the war, a number of revelations became evident in the 10 years it took to make the documentary. One of those revelations was how early the nation's leaders knew the war was going badly, and how long they tried to deceive the public about it.
"There really never was a time that our political leaders had confidence that the war was going well, that we were winning," Ms. Novick said. "It's really shocking to many people who have seen this material."
Another revelation, was the perspective added by the Vietnamese people, soldiers, generals and ordinary citizens, who lived through the war. Ms. Novick traveled to Vietnam three times.
"I feel so fortunate that I had that opportunity, as part of this project because understanding what the war was like in Viet Nam for the Vietnamese, on the winning side, on the losing side, really deepened my understanding of what it meant," she said.
Yet another revelation was the conflict many people have yet to resolve about their participation in the war and the events surrounding it.
"We understood that the country was divided by the war," Ms. Novick said. "But there is a lot more nuance and gray."
Nowhere is that illustrated more clearly than early in episode six of the documentary, when a former combat helicopter pilot recounts the day during the war when a reporter asked him what it was like flying missions and drawing enemy anti-aircraft fire. He said for a brief moment he wanted to shoot the reporter.
"I don't want to tell you what it's like because I don't want to remember it," the pilot said in the film. "That's the insanity it brings out."
The film puts the viewer in the middle of the war, at every level. There is a recording from President Lyndon Johnson's White House as he dresses down a newspaper editor. There are interviews with General William Westmoreland on a Saigon Street where everybody flinches as mortar shells hit nearby. Most frightening of all, the film puts the viewer on the front lines with soldiers in close combat, a constant and terrifying sound track of gunfire interspersed with the voices of soldiers who sometimes questioned what they were fighting for.
"The whole thing stinks," said one soldier, just before rising from his crouch to fire his weapon over a redoubt wall of sandbags.
It also takes viewers to American streets and living rooms, in the days when sentiment began to shift away from support of the war. It puts into context the influential commentary of CBS newsman Walter Cronkite at the end of a Feb. 27, 1968 news program.
"To say we are mired in stalemate seems the only realistic if unsatisfactory conclusion," Mr. Cronkite told his viewers. "It is increasingly clear to this reporter that the only rational way out then will be to negotiate, not as victors, but as an honorable people who lived up to their pledge to defend democracy, and did the best they could."
Service men and women returned that year to an America reeling from the assassinations of Dr. Martin Luther King, Jr., and Robert Kennedy.
A sequence that showed Roger Harris, a young African-American marine in uniform returning to Logan Airport, unable to get a cab to return to his Roxbury home, illustrated the wounds that had little to do with a battlefield. Soon after, Mr. Harris was called to protect Boston streets from civil unrest. He said he was ready to follow his orders, thinking his commanders would be handing out police batons and shields. But the scene showed how the war had come home.
"I was ready to go," he said in the film, "until I saw what they were passing out. They were passing out flak jackets, helmets, M-16s with live ammunition. The same things we had in Viet Nam."
Mr. Harris will participate in the discussion following the screening, along with Thomas Vallely another Massachusetts veteran who appears in the film and also served as a technical advisor. The two men are among more than 80 people interviewed for the documentary, people Ms. Novick said affected the filmmakers profoundly.
"In the face of an epic tragedy like this, which affects so many people in different ways, it's hard to find uplift or redemption of any kind," Ms. Novick said. "But there are several things that have stuck with us and one of them, most profoundly, is the way that people endure and survive these overwhelming events, and find the courage to tell their story.
"That can take years, sometimes decades for people who have been through something like the Viet Nam war. We had the privilege of meeting so many extraordinary people who told us their stories. Some of them took enormous risks, and were just brave and selfless to do that, wanting to share their stories with other people. Two of them are going to be on stage on Sunday."
The Viet Nam War screens on Sunday, August 13, beginning at 8 p.m. at the Tabernacle in Oak Bluffs. Discussion to follow with filmmaker Lynn Novick and war veterans Roger Harris and Thomas Vallely. Visit tmvff.org.