Sen. Edward W. Brooke 3rd was not a typical Republican senator. As the first African American popularly elected to the U.S. Senate, he represented a bipartisanship and commitment to civil rights.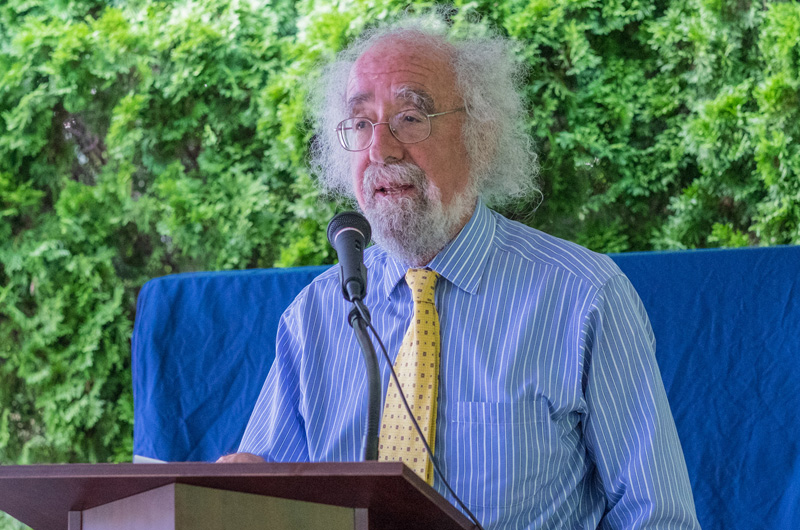 "All the major battles on civil rights, he was out there," the late Senator's former chief legislative director Ralph Neas said at a gathering last week to celebrate Ed Brooke's legacy and raise money for scholarships.
About 50 people attended the event held at Lola's, which also marked 50 years since Mr. Brooke first held elected office.
Senator Brooke died in January 2015 at the age of 95.
At the event last Wednesday, Mr. Neas exhorted the audience to follow his example.
"We're in some daunting times," he said. "Our democracy right now is threatened.
"What we need is the kind of independence, the kind of judgment, the kind of statesmanship and the kind of courage that Edward W. Brooke displayed daily for decades."
Five other friends and former staffers joined in recounting the Senator's life and work.
Michelle Stent described how Senator Brooke got his start as an advocate for civil rights. Serving in the military during World War II, he was appalled at the rampant segregation and discrimination in the armed services and volunteered to defend court-martialed black men. There he earned the moniker "the soldier's lawyer."
Richard Taylor, a Brooke campaign volunteer and the former state Secretary of Transportation, took note of Mr. Brooke's multiple runs for office to advance the cause of justice, including an unsuccessful Senate run in 1952 and a successful bid for Massachusetts attorney general in 1962. He was elected to the U.S. Senate in 1966 and took office in 1967.
"Brooke above all was a man of principle and he was not hostage to the party," Mr. Taylor said.
Former special assistant Caryl Connelly described his efforts to support women's health initiatives, noting that he led the first major breast cancer screening campaign on Capitol Hill, helping some 600 women on the Senate side.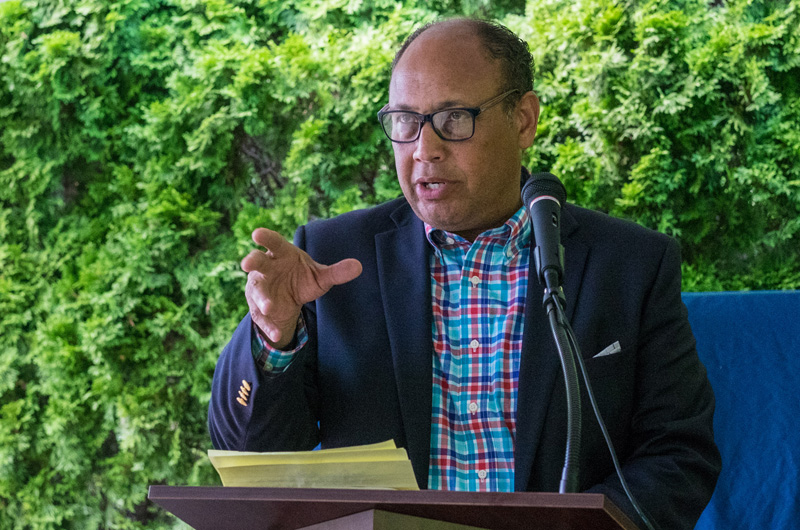 "He was our champion. Each and every one of us," special assistant Vivian Beard said.
He was especially a champion of Martha's Vineyard residents, said Ronald H. Rappaport, a prominent Island attorney, Oak Bluffs native and former legislative assistant to Senator Brooke. Mr. Rappaport described Senator Brooke's love for the Island, where he bought a home in the late 1940s and vacationed throughout his life. Mr. Rappaport listed a few of Senator Brooke's contributions to the Island, including lengthening the runway at the Martha's Vineyard Airport, assisting the swordfish industry and helping to create the Martha's Vineyard Commission.
As much as the Senator loved the Island, Mr. Rappaport said, "The adoration was mutual. The Vineyard was proud to have our own United States Senator live among us."
The event was hosted by the Epsilon Gamma Lambda chapter of Alpha Phi Alpha, a fraternity for collegiate young men of color. Senator Brooke was initiated as a brother in 1937 while a student at Howard University.
The nonprofit charitable arm of the Epsilon Gamma Lambda chapter of the fraternity, the Alpha Phi Alpha Educational Foundation provides at least three scholarships per year of at minimum $1,000 to male high school students of color pursuing higher education.
Alpha Phi Alpha brother J. David Dance said the benefit netted $5,000. He expected additional donations to follow.