While Sen. Edward W. Brooke left a national legacy as a trailblazer and a moderate Republican who cared deeply about affordable housing and equality, he was remembered this week on the Vineyard as the Island's own — a man whose summers were spent at his home on Nashawena Park with family and friends, a skilled tennis player and a community steward and role model.
Senator Brooke, the first African-American elected to the U.S. Senate after reconstruction and a longtime summer resident of Oak Bluffs, died Jan. 3 at age 95.
He served two terms in the U.S. Senate, from 1967 to 1979. He was Massachusetts attorney general from 1963 to 1967, the first African-American to hold that post in any state.
In a statement, President Obama paid tribute to him. "Ed Brooke stood at the forefront of the battle for civil rights and economic fairness," the President said. "During his time in elected office, he sought to build consensus and understanding across partisan lines, always working towards practical solutions to our nation's challenges."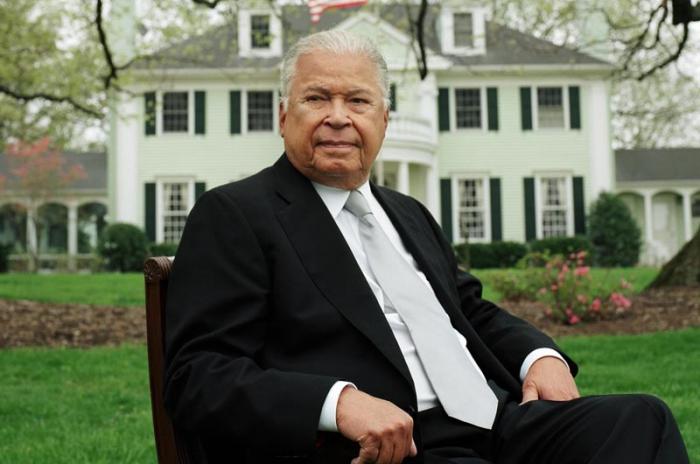 Edward William Brooke 3rd was born Oct. 26, 1919 in Washington. He attended Howard University and served as an infantry captain in World War II. After the war, he received a law degree and a master's degree from the Boston University School of Law. In those days, candidates could run on both party tickets, which Senator Brooke did in 1950. He won the Republican nomination for state representative and lost the Democratic nomination. He continued as a Republican. "I was impressed with the moderate Republicans in Massachusetts," he told the Gazette in a 2007 interview. "They were the progressive party."
In the interview, he recalled the landscape when he was elected.
"They said Brooke is a Republican in a Democratic state, he's a Protestant in a Catholic state and he's a black in a white state, he's a carpetbagger and he's poor," he said.
He added: "I said, 'I plead guilty to all of that, now go out and vote for me.'
"But I never felt overt racism during my whole political career in Massachusetts. I wanted to prove that white voters will vote for qualified black candidates."
After a few unsuccessful races for state office, Senator Brooke was elected Massachusetts attorney general in 1962. In 1966, he was elected to the U.S. Senate. In the senate, he was an advocate for civil rights and affordable housing. He was the first Republican to call for President Nixon's resignation.
Ronald H. Rappaport, an attorney who is town counsel for five of the Island towns, was a summer intern and legislative assistant to the senator in the early 1970s.
"I would say that other than my father, he had more influence on my life than anyone else I can think of," Mr. Rappaport told the Gazette this week. He said it was a source of pride for the Island to have an Oak Bluffs resident as senator. "He was a charming, charming man," Mr. Rappaport said. "He was totally committed to equal education opportunities for all. He was a champion of equal justice for all."
One of his legacies is the Brooke amendment, which limits the amount of rent that people must pay for publicly assisted housing.
"Whether it be the poor or people who had just been dealt a bad hand in life, he was a zealous advocate," Mr. Rappaport said.
"It's a very tough loss for all of us," said Charles Ogletree, a Harvard Law School professor and Oak Bluffs resident, speaking to the Gazette by telephone Thursday. "I think people who had a chance to meet him or to see the work that he was able to do have lost a great giant in terms of his impact on social justice and in terms of race and opportunity and poor people looking for jobs and housing." 
He continued: "He was very much a moderate Republican in the Senate, and that moderation has disappeared . . . particularly in the last decade and most importantly in the last midterm election.
"He wanted to make clear as a senator and a public servant how important it was that people could live in a house, raise a family and not be thrown out of those housing arrangements on the basis of their class or poverty or race, and I think that made a big difference. It's very hard to find people in the year 2015 that are as zealous or as committed as he was many decades ago in trying to push for that legislation," Mr. Ogletree said.
Mr. Brooke lost his bid for re-election in 1968 in the midst of a contentious divorce from his first wife, Remigia. He received the Presidential Medal of Freedom in 2004 and the Congressional Gold Medal in 2009. In 2000, a new Massachusetts trial courthouse in Boston was named after him.
In the late 1940s, Senator Brooke purchased a summer home on Canonicus avenue, and eight years later he purchased a home on Wamsutta avenue, the former Morningstar property. His parents, Edward 2nd and Helen, also summered on the Island.
"I love it here," he said in 1962. "I come here for relaxation and inspiration. I love to put on those khakis and dirty white shoes . . . and get outside."
Senator Brooke worked out of his Island home during his campaigns for political office and set up campaign headquarters in Oak Bluffs. But the Vineyard was also a departure from life in Washington, a place where he visited with longtime friends and spent time with family.
Amy Goldson, a Washington, D.C., lawyer, and seasonal Oak Bluffs resident, said he was a close family friend, a "handsome, debonair man" who was a role model.
"Throughout my childhood and growing up he was a very big presence in my life," Ms. Goldson said. "Just being able to see the kind of influence that he had in life, as a human being but importantly as the only African-American senator . . . growing up seeing someone in his position coming in and out of the house, being a regular person, always open and friendly with everybody really helped shape my life."
Ms. Goldson's mother, Emily Robertson, went to college with Mr. Brooke, and the two families were close, Ms. Goldson said.
"The Vineyard always meant so much to him," Ms. Goldson said. "The Vineyard was a place where he could be Eddie Brooke, he could be himself, he spent time with his old friends, his friends from college.
"For him the Vineyard was a place for family," she said. "The real thing is, he never forgot his friends, and I think that the Vineyard really just meant so much because that was the place where they could always reunite."
The senator was known for his tennis skills and he presided over the annual Oak Bluffs tennis tournament. The Brooke home, where the Cottagers held their annual fashion show, was said to have the Vineyard's only real ballroom.
His summer home on Wamsutta was sold in 1987, though the senator and his family continued coming to the Island. In later years, friends said, Senator Brooke came to the Vineyard less often.
Remigia M. Brooke died in 1994. He is survived by their daughters, Remi Goldstone and Edwina Petit, his wife, Anne, and their son, Edward 4th. While Senator Brooke loved the Vineyard, he also recalled that when he first came to the Island in the 1940s, segregation was "rampant." Black people were not allowed to go to the Edgartown Yacht Club or to the country club to play golf, he said.
In the late 1950s, he tried to convert his home into a licensed private social club, but the petition was denied by the Oak Bluffs board of appeals. "I did it because some of the people who come here cannot go to the other clubs, cannot go to the yacht clubs," he said at the time. "That was the prime reason in setting up the club."
Yet his love for the Island endured, and he often weighed in on Vineyard issues. In the early 1970s, he convened a meeting at Edgartown town hall to address efforts to improve the Martha's Vineyard Airport. He spoke against the absence of air mail service to the Island in 1972. He went to bat for the swordfishing industry and supported legislation that created the Martha's Vineyard Commission.
The adoration was mutual. During his time in office, Gazette headlines called him the Vineyard's senator. In the summer of 1967, Senator Brooke was honored with a special ceremony on the Island. More than 2,000 people filled the Tabernacle, with more gathered outside.
Gov. John A. Volpe introduced the senator. "I believe that before his present term expires, Ed Brooke will be numbered among the truly great men who have represented this state in the Congress," Governor Volpe said.
The senator spoke about subjects including the Viet Nam war and rioting.
"I have been coming to this Island for 21 years," he said. "I have always regarded it as a place of peace, and I have come here when I had problems to face and I have studied them as I walked the beaches. But I can't enjoy the Island this year. I can't enjoy it as long as there are riots in other parts of the country . . . Half the Negroes in this country live in poverty, and I want to help them, and also those white people who also live in poverty. Poverty does not discriminate because of color. Some people may feel that I am holding a brief for rioting. What I want is peace and good will restored in this nation."
Mr. Ogletree said he hoped there would be another tribute to the senator, a statue or monument for "a 20th century pioneer in Massachusetts and somebody who served everybody."
A tribute, he said, would "make people understand what it meant to have somebody like him in Congress, and the difference he made for people who were . . . largely unknown, citizens of the Vineyard and other parts of Massachusetts."