Four hundred years ago, in 1619, the first people enslaved by white Europeans arrived in America. Textile artist Carolyn Crump depicted the grim voyage and its human cargo in a quilt titled 20 and Odd.
It is an unexpected medium, perhaps, for a subject so grave, but it isn't an ordinary quilt. The hull of the cloth ship extends forward as though it's sailing out of the wall. Twenty quilted bodies are woven into the horizontal fabric planks of the ship. A 21st person jumps to his death in the water.
The quilt is the centerpiece of the exhibit And Still We Rise: Race Culture and Visual Conversations, which includes more than 40 quilts and is on display at the Mariposa Museum and World Culture Center in Oak Bluffs.
"It defies everything that someone would think about a quilt," said the show's curator Dr. Carolyn Mazloomi of 20 and Odd. "The construction materials on the quilt are not just fabric. There's paint, there's wood, there's plastic, there are found objects."
Other artists used feathers, printed images, stamping, shells, leather, beading and metal chains. In varying approaches, the quilts together illustrate 400 years of African American history.
Artist Cynthia Lockhart honors Levi Coffin, the president of the Underground Railroad, with an explosively colorful and abstract compass rose. Dindga McCannon celebrates the first all-female, all-African American flight crew in 2009 with a quilt called, Why Did It Take So Long?
The quilts offer lessons on people who have shaped American history: The Buffalo Soldiers; Garrett Augustus Morgan, inventor of the traffic light and other things; Lucy Terry Prince, the earliest known African American poet, and Ida B. Wells, journalist and activist.
One quilt called Trayvon Could Be My Son is a photographic portrait of a baby wearing a hoodie sweatshirt. He holds a package of candy and a can of iced tea in his arms, the same items 17-year-old Trayvon Martin is said to have carried on the night he was killed by a member of the neighborhood watch in a suburban neighborhood of Sanford, Fla., in 2012.
"African American people have a long history of making story quilts," Dr. Mazloomi said. "Here is a show that presents a way to learn visually about African American history and have a conversation about race in this country, which is a most difficult, difficult conversation to have."
Ms. Mazloomi founded the Women of Color Quilters Network in 1985. The show, which is supported by the National Endowment for the Arts, first opened in 2012 and included 97 quilts. The quilts have been displayed all over the country, and the Oak Bluffs exhibit begins a New England tour with the Mariposa Museum.
"I feel the show is more relevant than ever. It's more important than ever," Dr. Mazloomi said.
Museum director Karla Hostetler said she looks at the Oak Bluffs exhibit as a pilot for future presence on the Island. She said the museum's leadership chose Oak Bluffs because of its importance to African Americans.
"We thought, where could we bring this to get it in front of as many people as possible in a place that is historically significant?" she said. "Oak Bluffs has been for over a century a model of an inclusive community."
Ms. Hostetler said there have already been several guests to the exhibit who had personal ties to the quilts. One quilt made by Margene G. May depicts two American generals, one of whom was one of the first African American graduates of West Point. Ms. Hostetler photographed the 357th African American graduate of West Point, Michael Miner, next to that quilt when he visited the gallery.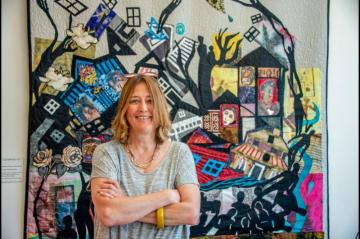 Another quilt by Ed Johnetta Miller honors the famous sit-in protests at the Woolworth's lunch counter in Greensboro, N.C. Marva Tidwell and Stephanie Tidwell, the wife and daughter of the late Ponce De Leon Tidwell, a civil rights activist who joined the sit-ins, visited the exhibit as well.
On a recent afternoon, Dr. Delores W. Duckett of Queens, N.Y., a summer resident of Oak Bluffs, wandered the gallery. Looking at the quilts, she remembered her childhood in Jacksonville, Fla., in the 1950s and 1960s.
"I can remember when my grandmother quilted, and that was what we slept under," she said. "They were not decorative quilts. My grandfather worked for the Seaboard Railroad and they were cotton materials they used in the cleaning of freight cars, like dishcloths."
She remembered the blue and white cloth, the printing of the railroad company, the way they were sewn together by hand.
"The quilts are, it's very personal. It reaches out to you in a very personal way," she said.
The Mariposa Museum is located at 57 Circuit avenue. The exhibit will be on display through the end of August. More pictures at https://vineyardgazette.com/photography/exhibit-african-american-quilts-weaves-together-craft-culture-and-400-years-history.