Blue skies greeted students around the Island for the first day of school. Principal John Custer of the Tisbury School remarked how lucky they were to have such a beautiful, sunny day. 
"I remember my first day of school as principal back in 2011, it poured torrential rain," he said. "And I thought, this is an omen. So I really appreciate when the day is nice."
A second grader came bounding up the stairs just a tad late for his first day, his backpack bouncing and his father hot on his heels.
Principal Custer greeted the child and ushered him inside, where teachers were taking advantage of the crucial first hour of class time to help their students transition from a summer mind set to a school one.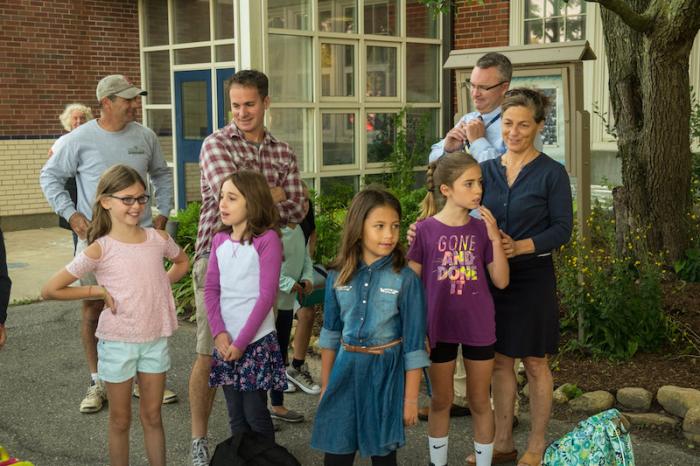 With 310 students starting school today, Mr. Custer said there was a lot of nervous energy in the air. Seasoned parents know that parking can be difficult on the Tisbury campus, and several found creative solutions to the lack of spots. Kids were lining up by quarter of eight, a palpable buzz in the air.
Students lined up outside and teachers were ready with name tags. Mr. Custer greeted students with smiles and high fives as parents snapped pictures.
"Today we see more parents than any other day," said Mr. Custer. After all, it's a big transition from playing on the beach and going to camp to getting back into the school swing. Looking back on the first half hour of school, Mr. Custer declared it a success.
"It's been a smooth start with lots of excitement," he said.