An inspired Martha's Vineyard Regional High School football team scored two first quarter touchdowns Friday night, and held off Greater New Bedford Vocational Technical High School the rest of the way for a 14-0 victory in the final game of the season.
On an emotional Senior Night, senior quarterback Zachary Moreis threw a 56-yard touchdown pass to fellow senior co-captain Cooper Bennett for the first score, then ran for a 55-yard touchdown, both in the opening minutes of the game.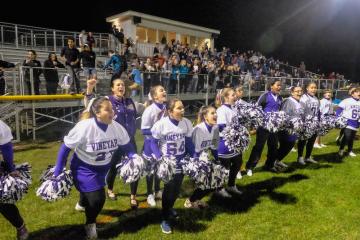 "It was meant to go right, but the boys opened it up on the left," Zachary said about his rushing touchdown. "Saw the hole, took it, got a good block from the wide receiver, and was able to get in the end zone."
On Wednesday, school administrators announced the team would shorten the season by forfeiting the final two games, including the traditional season ending Island Cup rivalry against Nantucket. With a roster severely depleted by injuries and disciplinary dismissals, the school said it acted in the interest of safety for the players.
Head Coach Ryan Kent said the disappointment of ending the season early was on the minds of the players as they took the field for their final game Friday night.
"They had an opportunity to step up and that's exactly what they did," said Coach Kent. "I think there was a little extra incentive, knowing tonight would be the last night, especially for the seniors. They played the way we knew they could play all season. We finally got the job done."
Students and parents left the stands and rushed the field to congratulate the team after the game ended.
The Vineyarders are now 2-7 on the season, and will finish the year 2-9, once the next two forfeits are recorded.