With European-inspired puppetry, French-African dance, hip-hop and mariachi, this year's Winter Yard season is a festival of diverse performing art forms that all have something in common: they have emerged collaboratively from city streets and village squares, rather than formal training academies, to capture world audiences.
The season's first week displayed its breadth. An intimate puppetry performance by Sandglass Theater Jan. 20 was followed two nights later by a high-energy evening with the 13 male dancers of Compagnie Hervé Koubi.
The troupes could not be more different, yet each is steeped in family heritage. Vermont-based Sandglass Theater's Shoshana Bass is extending the work of her father Eric Bass, who founded the internationally touring family company in the German puppetry tradition and built the puppets she now uses in her own pieces.
Born in Cannes, Hervé Koubi learned at age 25 that all of his great-grandparents were Arabic-speaking Algerians. This discovery sent his dance work in a new direction, exploring themes of north African identity, community and exile. The men in his company hail from Algeria, Burkina Faso and Morocco, and their moves draw from global hip-hop and the Afro-Brazilian martial art of capoeira at least as much as from the established dance world.
Both Sandglass and Cie Hervé Koubi also spent time in Island schools as part of the Yard's Making It program, which brings touring artists together with students and seniors for workshops and lecture-demonstrations.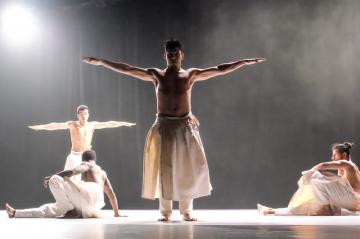 Ms. Bass and her sister Jana Zeller, who also grew up in the family puppet troupe, worked with fourth-graders at the Martha's Vineyard Public Charter School to build and animate their own puppets. They also conducted an adult puppetry workshop with Island residents, using a featureless white puppet to create several short works that preceded Ms. Bass's solo performance at a private art studio Saturday night.
In her piece, When I Put On Your Glove, Ms. Bass honored her father's work with two short, single-puppet pieces on end-of-life themes. In one, a robed monk wordlessly conjured a demon; in the other, an old Jewish cobbler chatted with the Angel of Death, first trying to talk his way out of the situation and then talking himself into it.
With just a few props and gestures, Ms. Bass created touching personalities and believable worlds for each of her characters, leaving the audience as moved by their deaths as if the puppets had been human actors.
Mr. Koubi's company made its school appearances following Monday night's performance at the Martha's Vineyard Performing Arts Center, where his dancers performed the mesmerizing, hour-long Ce que le jour doit à la nuit (What the Day Owes to the Night) before returning to the hall next morning for a lecture-demonstration. A smaller question-and-answer session at the school was planned for later in the week. The troupe also visited the West Tisbury School on Wednesday, teaching seventh and eighth graders some of Mr. Koubi's dance moves.
Before about 150 high school students and staff Tuesday morning, the Koubi troupe danced a 35-minute version of the work, which flows with apparent effortlessness between explosively athletic moves — headstand spins, high-flying backflips, kicks and tosses — and deeply tender moments, often played out in silence or to the music of the Kronos Quartet with the late Nubian oudist Hamza El Din.
Burdened by backpacks and with a whole day of work ahead, the student audience didn't leap to its feet in a standing ovation the way the Monday night crowd had done. But the teenagers' applause was loud, long and vocally appreciative, and they were eager to ask questions about the dance — beginning with "How did they do it?" and "How long did it take to learn?"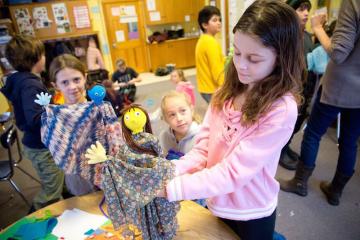 His dancers have passion, Mr. Koubi replied, speaking partly in French-accented English and partly through a translator. "They are street dancers at the beginning," he said.
And they did not "learn" the piece so much as grow into it, he explained, comparing himself to a gardener. "It takes time," he said — seven months, in the case of Ce que le jour doit à la nuit. That's many months longer than most choreographers take to create a piece, he told the students.
After its action-packed first week, the Winter Yard returns to the Performing Arts Center March 10 with the Wondertwins. This South Boston-based duo, identical twins Billy and Bobby McClain, are masters of the hip-hop style called popping and locking, which can resemble the moves of a pair of jittery robots.
What also interests Yard artistic director David White, who has brought the brothers to the Vineyard in the past, is what he called the "audio environment" to which they move. Composed of quick cuts from a wide variety of sources, he said, the soundtrack is "a kaleidoscope of African American traditions," including the voices of Martin Luther King, James Brown, Nina Simone and KRS-1 with Gene Kelly and Fred Astaire adding diversity.
"I think the Wondertwins carry a cultural tradition with them, even as they innovate wildly on top of it," Mr. White said. "They are keepers of a certain hip-hop flame that remembers the roots of it, and of course the roots of hip-hop were in the music and the rebelliousness of the street in the late 1970s and the 1980s."
The final act in the Winter Yard line-up is Flor de Toloache, the four-woman mariachi group based in Brooklyn. In Mexico, where the mariachi tradition originates, band musicians have always been male.
"Flor de Toloache is incredible, in part because they are challenging an all-male tradition," Mr. White said. "These Latina women have essentially said, 'no mas.'"
And this is no novelty act. The group's latest CD, Las Caras Lindas, recently won a Latin Grammy award in the Best Ranchero/Mariachi Album category.
"These are really smart women who are fantastic players on traditional mariachi instruments, and incredible singers," Mr. White said. They're set to appear at the performing arts center April 28.
Both The Wondertwins and Flor de Toloache will also take part in the Yard's Making It educational events, with details to be announced as their visits draw near.
For concert tickets and further information, including video clips, visit dancetheyard.org.