Inside the rustic Martha's Vineyard Rod and Gun Club overlooking Sengekontacket Pond in Edgartown on a recent Monday night, discussion focused on the techniques needed to wrap synthetic hair and tinsel around a hook to make it appealing to a hungry striped bass.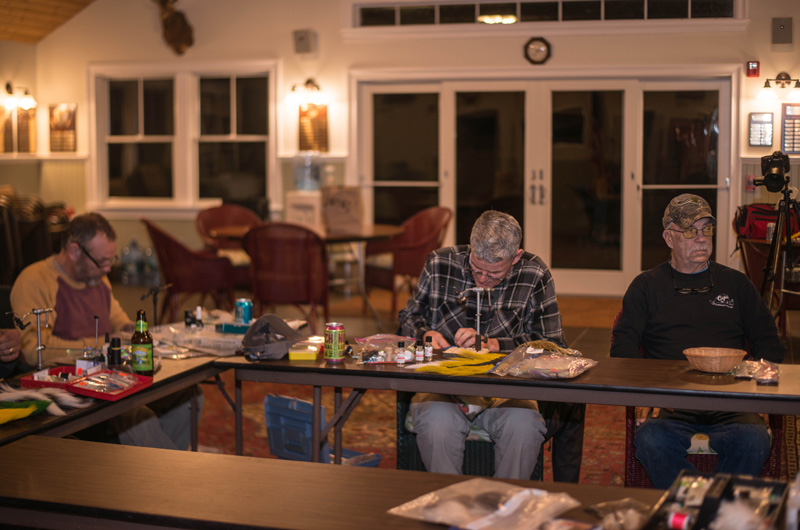 A group of men sat around four long folding tables set in a square. They bantered, asked questions, helped one another and shared in the camaraderie that underpins off-season Island life. Elsewhere, the national conversation was framed by unending political turmoil and tragedy.
The weekly fly tying sessions organized by longtime club member Cooper (Coop) Gilkes provide a welcome winter refuge for becalmed fishermen waiting for spring. The sessions are open to all. Participants of all skill levels follow the lead of one tier who provides instruction about how he or she ties a particular fly.
At the front table, Robert Morrison of Edgartown, assistant shellfish constable, explained the finer points of tying two varieties of squid flies. The group included a lawyer, a heavy equipment operator, a retired administrator, a wastewater plant operator and an artist. Their ages spanned 50 years and encompassed a wealth of fishing experience.
I have known Rob since he was one of a group of well-mannered, fishing-obsessed Island teenagers who could usually be found on the beach or in an Island tackle shop. A derby scholarship recipient, he earned a degree in biology and now works to protect the resources he has valued all his life. Rob spoke with confidence as he described the steps used to tie the Red Can squid fly, designed by his friend and well-known Island charter captain Jaime Boyle.
The nomenclature of freshwater flies is often related to the insect the fly is meant to imitate — the tan elk hair caddis — or its originator — the Royal Wulff is named for legendary fly fisherman Lee Wulff.
In the case of the Red Can, Rob explained, while it would be easy to assume the name refers to the navigational buoy used to mark a channel, it was named for the color of the Budweiser beer cans that helped fuel artistic inspiration. To form and function, add thirst.
Although the modern fly tier uses an extensive variety of synthetic fibers and materials and high-tech glues, the essence of the art has not changed since 3000 BC when Chinese fishermen are said to have attached the feather of a kingfisher to a hook. Fishermen tie flies to fool a fish, and in the process human creativity rises to the surface.
The fly tier considers how the arrangement of materials attached to the hook will perform in the water. There is trial and error. A fly that looks good on dry land may perform miserably when cast and fail to imitate anything but a clump of wet lint.
The best tiers meet the challenge and create a piece of functional art in the process. The height of satisfaction is when a fish affirms its purpose.
The Red Can and its larger cousin the group also tied that night, the Humboldt Squid, are designed to be cast into the roiling waters of the Island's surrounding bars and shoals where striped bass use their broad tails to hold in the strong currents and wait to ambush squid. That opportunity is still months away.
The fly tying sessions began 27 years ago when winter was much quieter. Names of fishermen that would be familiar to an older generation — Billy Norton, Lou Hathaway, Sonny Beaulieu — were at the core of many enjoyable nights. Then as now, it was a casual get together punctuated by fishing stories and laughter.
"It's a chance to catch up with people you lose track of during the busy summer," Rob said. "It's kind of nice to sit down with them in a different setting. You teach and you learn something and bounce ideas off each other."
More than a century ago, Islanders who valued the outdoor experience came together and formed the Rod and Gun Club. There was no Netflix to whittle away the off season hours or a reliance on Facebook to provide a sense of community. I am certain the club founders would feel right at home tying flies Monday night.
Nelson Sigelman writes the Outdoors column for the Martha's Vineyard Magazine and is the author of Martha's Vineyard Outdoors, Fishing, Hunting and Avoiding Divorce on a Small Island.