Torrents of rain from recent storms have caused Vineyard Great Ponds to rise to historic levels, threatening shellfish and surrounding homes, according to Vineyard shellfish constables.
Water levels could climb even higher from a third northeaster arriving Monday night.
"I've never seen it this high," West Tisbury shellfish constable Raymond Gale told the Gazette Monday. "If it gets any higher the whole peninsula will be flooded."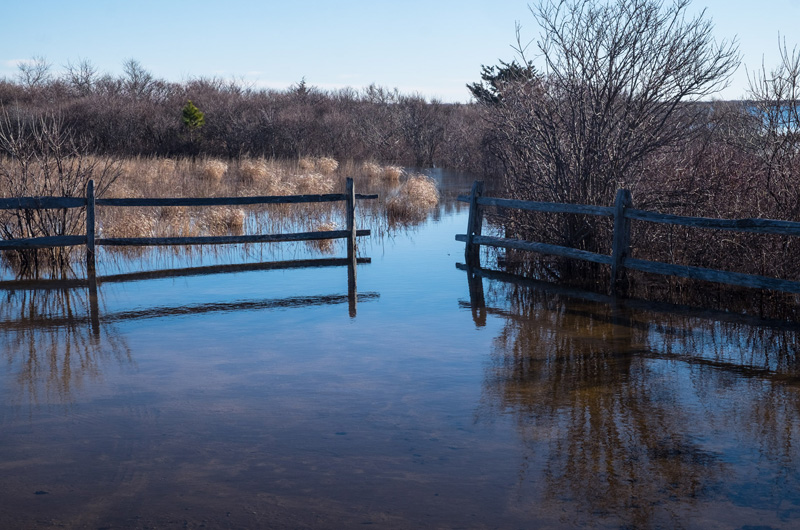 The water at Sepiessa Point landing off the Tisbury Great Pond is currently around eight feet deep, according to Mr. Gale. He said the water is normally five to six feet deep.
After weeks of delays due to poor weather, Mr. Gale planned to open the pond to the sea Tuesday. Now he expects to delay again until a few days after the impending storm and ocean swells cease.
If the water continues rising, Mr. Gale said nature may take care of the job for him.
"If they can't open it for a while it will break open on its own," he said. "You can go down there right now with a couple of guys with shovels and probably break it open."
Pond cutting typically takes place about four times a year, twice in the spring and twice in the fall. An excavation crew digs out a canal that allows the ponds to exchange water with the ocean. Ponds may remain open for a few weeks or several months depending on how much flushing is required.
"It's like clearing the cork of a wine bottle," said Edgartown shellfish constable Paul Bagnall.
Breaching also helps maintain the biology and chemistry of the ponds by raising the salt levels in the water. When the salinity is equalized, shellfish thrive. If cutting is delayed and salinity is thrown off balance by increased fresh water, then the shellfish suffer.
"It's certainly not good right now with the salinity way down," said Mr. Gale of the Tisbury Great Pond.
Typically the pond is closed to shellfishing anytime there is more three inches of rainfall. In February alone, the Vineyard has received nearly eight inches of rain, according to data collected by the National Weather Service.
Mr. Bagnall said he did manage to get the Edgartown Great Pond cut on Sunday, and the breach drained the pond about three and a half inches in one day. He said he would have cut the pond two weeks ago if the storms hadn't passed through the Vineyard.
In Edgartown, Mr. Bagnall said the water level rose about half a foot from the storm. It may not seem like much, but many homeowners of houses right off the water have reported that waters have seeped into their yard and flooded basements.
"I feel for the homeowners out there," said Mr. Bagnall. "We're trying to get the pond open as quickly as possible."