As is tradition at community poetry readings at the West Tisbury library, participants draw numbers to decide the order of the readings. Anyone can read and some choose to read their own work, while others look to the work of poets they admire.
West Tisbury's newest poet laureate, Spencer Thurlow, chose to do both on Sunday, sharing three of his poems and another by Naomi Shihab Nye called Famous.
"She's alive," Mr. Thurlow said of Ms. Nye. "I like reading live poets."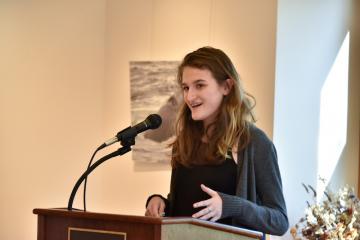 Mr. Thurlow was introduced as the new poet laureate at town meeting earlier this month. He recently returned to the United States after living in Japan for more than three years. There, he translated the poetry of Kiriu Minashita for a book called Sonic Peace. He now works at the Japan Society of Boston. The reading at the West Tisbury library served as the 29 year old's debut in his new role.
Mr. Thurlow's tenure is three years. His principal goal he says, is to "inspire more people to write poetry."
Three former poet laureates of West Tisbury were present: Dan Waters, Fan Ogilvie and Emma Young. Mr. Waters and Ms. Ogilvie both shared poems.
"This is a town full of poets," Mr. Thurlow said. "I've been to a lot of community poetry readings in Boston, and they aren't like this one."
Indeed, the community room was full. Even on one of spring's first sunny afternoons, upwards of 30 people attended, and more than a dozen of them shared poetry.
"Spencer, I'm very, very excited about you being poet laureate," Ms. Ogilvie said before she read.
One of Ms. Ogilvie's poems honored a victim of the school shooting in Parkland, Fla. Nancy Jephcote shared a poem that she said later became a song. High school student Leah Littlefield read three poems to a rapt audience. One was an Islander's take on New York city.
Adam Bailey recited four poems from memory, including Pablo Neruda's Keeping Quiet. The other three poems came from Caroline Kennedy's anthology of poetry for children.
"I saw her once at Chilmark Chocolates," Mr. Bailey said.
Two of Mr. Thurlow's friends from Boston made the trip to the Island for the reading. One of them, Eric Brophy, had never written poetry before, but was inspired during his time on the Island to create a poem in the classical Japanese Renga form to honor Mr. Thurlow:
One Spencer Flanders Thurlow,
Poet laureate
The son of Martha's Vineyard
Boston's envoy to Japan.
After each person read, Mr. Thurlow offered quiet praise, then called for the next person. He drew the number eight, and he read three original poems, one called Vineyard Haven. Part of it reads:
I'd like to hear
a Hollywood goodbye—
but no one in my life just leaves:
everyone passes slowly
like sunlight across a floor—
shadows' patient measure.