After years of planning and debate, Tisbury voters head to the polls today to make a final decision on a $46.6 million new school project.
Polls are open from noon to 8 p.m. at the public safety building on Spring street. Heavy turnout is expected. Town elections warden Mary Ellen Larsen said 113 people had voted before 1 p.m.
"That's quite a few for one hour," she said.
The fate of the new Tisbury school tops the ballot, with a question asking voters whether to allow an increase in taxes of more than 2.5 per cent to fund the school.
The project passed 316-99 at town meeting earlier this month, where a two-thirds vote was required. A simple majority is required at the ballot box. The town has secured $14.6 million in funding support for the project from the Massachusetts School Building Authority, pending approval from voters.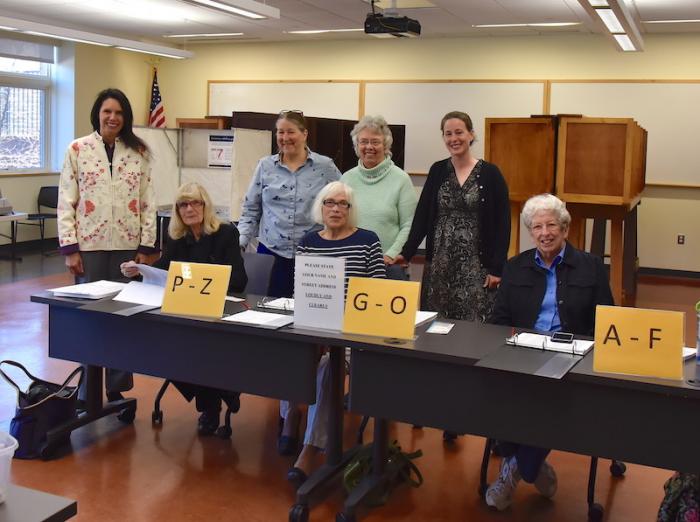 The issue has divided the town and dominated community conversation for months. Caroline Little declined to say which way she voted, but she did say it was a very difficult decision.
"I didn't know how I was going to vote until the pen was in my hand today," she said.
Voters streamed in at a steady pace on a sunny spring day, often stopping to greet one another in the parking lot. Across the street from the emergency services center, children played on the playground and on the soccer field at the Tisbury School after a half-day at school. Several people gathered to hold signs encouraging a yes vote.
"We've gotten lots of thumbs up, lots of smiles and waves," said Janet Cummings, mother of two Tisbury school students.
Emily Taylor voted yes on the school question. She handed her "I Voted" sticker to her two-year-old daughter, Vianna Baird. Vianna held it on her thumb.
"The decision was easy," Ms. Taylor said. "I went to the Tisbury school, and I hope my daughter will also attend. It is much needed, and it's important to the youth of our community to have a new school."
A few voters said they could not support the school, but declined to give their names. They cited concerns about the increased taxes associated with the project. Taxes in Tisbury are expected to increase more than $100 per $100,000 of property valuation and stay elevated for 20 years due to the school cost.
Tisbury school principal John Custer said he was "anxious, anticipatory, and hopeful" about the outcome.
Jimmy Rogers, who is running unopposed for a seat on the board of selectmen, also cast his vote.
"The turnout's been great so far," he said. "I hope everyone exercises their right to vote."