Over the past few years, the all-female mariachi group Flor de Toloache has conquered more than two centuries of musical machismo, capturing a 2017 Latin Grammy award for Best Ranchero/Mariachi Album — a category traditionally controlled by men — with the decidedly contemporary Las Cara Lindas.
This genre-defying ensemble has also appeared on recordings by Paul McCartney, Dan Auerbach (Black Keys) and Chicano Batman, while fashion designer Kate Spade featured the Brooklyn-based group in an ad campaign for her summer, 2017 line.
Saturday night at the Martha's Vineyard Performing Arts Center, Flor de Toloache won hundreds of new fans with a spellbinding concert that had the Island audience clapping, singing and even ululating along with the four women on stage. The concert was the finale of the Yard's Winter Yard series, which this year has focused on folk-based art forms including European puppetry and American hip-hop.
Dressed in form-fitting black mariachi suits with silver buttons and chains on their trousers, matching red flowers clipped in their dark hair, the smiling members of Flor de Toloache owned the Oak Bluffs stage from the moment they took it.
Flor de Toloache play mariachi the way Argentinian Astor Piazzolla played tango, making the tradition their own with deep reverence, virtuoso mastery and fearless creativity.
Their Island program included original songs in English and Spanish, a medley of jazz standards, two hits by the late Tejano singer Selena and even a pair of 20th-century rock covers: Nirvana's Come As You Are and Led Zeppelin's Kashmir.
Earlier in the week, the group performed some of the same material at the Performing Arts Center in a daytime show for students.
"We reflect what the new generation can connect to," said co-founder Mireya Ramos, in a talk with the audience following Saturday's concert.
All of Flor de Toloache's touring members are formally trained in classical or jazz performance, and they come from a panorama of Latin American backgrounds.
Born to a Mexican father — a mariachi player from Michoacán — and a Dominican mother, Ms. Ramos was raised in Puerto Rico, where she studied Suzuki method violin. Fronting the group on guitarrón, the big-bodied Mexican bass guitar, Ms. Ramos also thrilled the audience with soulful singing and an astonishing vocal range.
Conservatory-educated violinist Noemi Gasparini, whose Mexican mother married an Italian musician, was raised in Paris and speaks four languages — none more eloquently than violin. Her solos, along with a passionate duo when Ms. Ramos took up her violin as well, drew roars of approval from the Vineyard crowd.
Dominican-American trumpeter Julie Acosta studied classical trumpet in the Caribbean-music hotbed of Miami before embracing mariachi in Flor de Toloache. Ms. Acosta was the hype woman for Saturday's show, urging listeners to clap and sing along and teaching the audience how to do the "gritos" (yells), the shrill interjections often heard in mariachi music.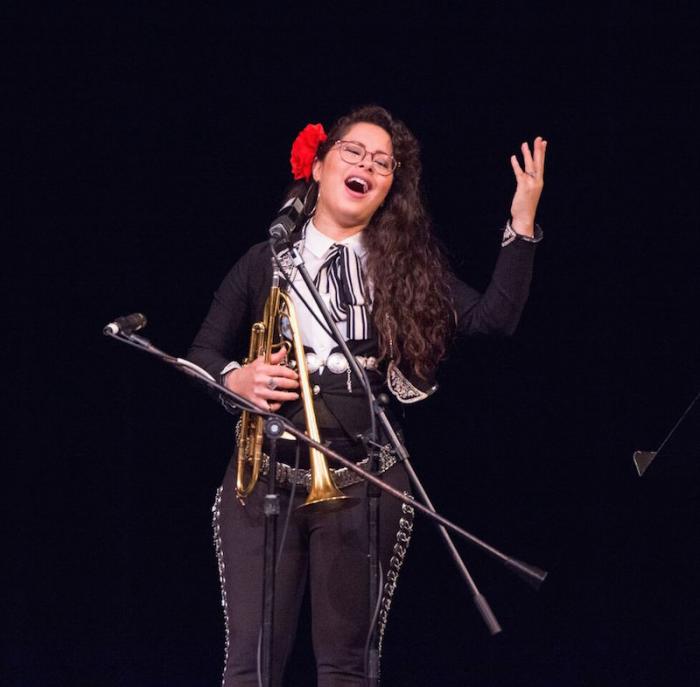 "It sounds like a cry and a laugh," Ms. Acosta said, demonstrating.
"It's like a 'yee-ha!' for Mexicans," Ms. Ramos explained.
The group's newest member, Nancy Sanchez, is a Mexican-born, Los Angeles-based jazz singer and music teacher who joined for the tour while founding member Shae Fiol is on maternity leave.
Ms. Sanchez played the viheula, a Renaissance-era instrument from southern Europe that is shaped like a small guitar, double-strung like a mandolin and strummed like a ukulele.
All four musicians also sang, often combining their voices in gorgeous harmonies. Before long, the audience was singing as well: "For those who don't speak Spanish, the trick is to open your mouth very wide and smile," Ms. Ramos said.
During one of the most rollicking parts of the show, a woman and a young boy danced down the aisle, unable to keep their seats any longer.
After Flor de Toloache's encore — the 1937 ranchera Guadelajara, which has been covered by artists as diverse as Lucha Reyes, Elvis Presley and Desi Arnaz — the audience came to its feet in an ovation as Yard artistic director David White asked for a rating from 1 to 10.
"Twelve!" called several voices, amid continuing applause.
Following the concert, most of the audience remained for a question and answer session with the band. Listeners were curious about everything from how the band was formed (male musicians in New York had been unfriendly and overbearing, Ms. Ramos said) to the way the guitarrón is tuned.
Mr. White also teased the possibility, in a future season, of bringing the ensemble back to the Vineyard at full strength. At home in New York, Flor de Toloache often fields eight to 12 members.
"I think that next time, we'll bring them all," he said.