Aquinnah voters re-elected selectman Jim Newman to a sixth term at the annual town election Wednesday.
Mr. Newman won a three-way race for the seat with 80 votes. Elise LeBovit received 71 votes and Jay F. Theise received 17 votes.
"I was surprised at the outcome ," Mr. Newman said Thursday morning. "There's a clear message given that there's discontent about rising taxes. The message is more important than the winning."
He said he hopes to work with his opponents in the future, and suggested the selectmen hold a public forum to address concerns about rising taxes.
The other two candidates said they were glad they ran. "I'm happy that I got this close," Ms. LeBovit said after results were announced.
Mr. Theise echoed a similar sentiment. "I'm satisfied that I did what I thought was important," he said. "I have a brain, I'm here, and I'm available. I'm happy to participate."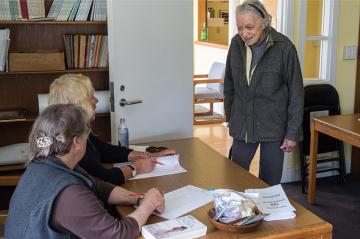 Voter turnout was strong in small Aquinnah, with about 48 per cent, or 169 out of 355 registered voters, turning out to cast ballots through the wooden ballot box that dates to the early 1800s.
There were no other contested races on the ballot.
Voters also approved five ballot questions, including a general override. A proposal to change the town board of assessors from elected to appointed passed 98 to 66. The proposal was also approved at a special town meeting last year.
A $325,000 Proposition 2 1/2 override to pay the town's share of costs for the up-Island school district passed 90 to 75.
The remaining three questions asked whether the town should adopt provisions under state law to make senior tax deferrals more generous. All three were easily approved.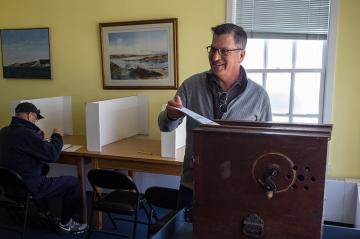 Macey Dunbar said there was a line to vote around lunchtime. "It was a couple people, but that's a line in this town," she said.
Six ballot counters were on hand. Poll worker and former town clerk Carolyn Feltz said there was rarely a time when there was no one voting. "It's like a mini-reunion," she said.
Voters were offered free gingersnaps and lemonade.
Kayla Darcy was the last voter to cast a ballot through the old-fashioned ballot box. She brought her four-year-old daughter, Kylee, who always comes along to the polls.
"My mom told me to come," Ms. Darcy said. "The school vote was very important."
Gabriella Camilleri was the top vote-getter, elected as the new town clerk with 150 votes. Also elected without contest were Marsha Shufrin, board of assessors, 129 votes; Berta Giles Welch, planning board, 134; James A. Glavin, board of health, 132; and Sarah Thulin, land bank commission, 123. Faith Vanderhoop received 16 write-in votes for library trustee.