What began as a rebellion against bland insti tutional décor has led the Martha's Vineyard Hospital to assemble a permanent art collection of close to 700 works, by some 200 contemporary artists with ties to the Island.
At the hospital, art is almost everywhere you look, in the corridors, patient rooms and waiting areas. The main lobby displays paintings, collages, wood works and sculpture, while the show in the emergency waiting room includes light-hearted pieces such as Kate Feiffer's 140 Characters in a Tweet and a quartet of cartoons by Paul Karasik.
"We've tried to have some humor because people have to sit here for so long," said curator Monina von Opel.
Other areas of the hospital have their themes as well. There are multiple portrait galleries, with subjects both human and animal in an assortment of media. In the vaulted Community Research Room off the main lobby, Margot Datz painted a luminous, two-story mural of marine life.
Ms. von Opel has also created galleries for drawings and sketches. "I love drawing, because it's the beginning of the process and you really see the hand of the artist," she said.
Founded in 1921, the hospital began collecting art in 2010 as it emerged from a $48 million construction project. Board members Timothy Sweet and Edward Miller revolted at the thought of decorating the new, 90,000-square-foot building with generic hospital wall art ("throbbing sunsets and bobbing boats," in the words of Ms. von Opel, who is married to Mr. Miller).
Instead, they began contacting local artists for donations. Photographers Alison Shaw and Jeff Serusa and painters Kib Bramhall, Harry Seymour, Jeanne Staples and Allen Whiting were among the earliest to give their works, Ms. von Opel said.
The collection grew quickly, to 300-plus pieces in 2013 and more than twice that today. While Island images abound, they never dominate a mix that includes celebrity portraits and album-cover shots by Guy Webster, mixed-media works by Laurene Krasny Brown and book illustrations by Ms. Brown's husband Marc Brown, creator of Arthur the Aardvark.
The only requirement for consideration is a connection to Martha's Vineyard, which casts a wide net: a David Levine caricature, an old-fashioned needlework sampler by Carolyn Teixeira and seaweed collages by Rose Treat all have their places on the hospital walls. Among the explicitly Vineyard-themed artworks on display are 20 unusual photo collages by an artist better known for her writing. Priscilla Warner, author of The Faith Club and Learning to Breathe, combines iPhone photos of Island scenes with her own childhood drawings. The resulting images brim with sunny nostalgia.
Another intriguing mash-up is a collaboration between former Gazette photographer Ivy Ashe and Paul Karasik. The portrait of Mr. Karasik is half his own drawing and half Ms. Ashe's photo.
While many of the artworks are easily viewed in the hospital's public areas, others hang in treatment rooms, ward corridors and infusion suites where their audience is limited to patients, family and staff.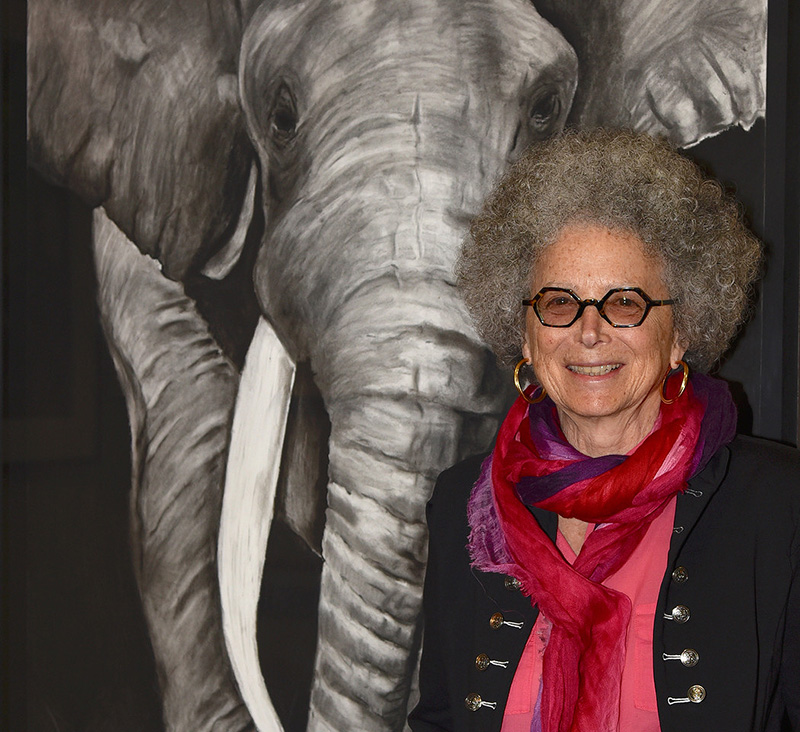 To make the entire collection accessible for all, the hospital has created an online catalog: mvhospital.com/art. Organized by artist, the catalog includes slides of each work and links to find out more.
With iPads connected to the online catalog, art lends a hand in the hospital rehabilitation department. "A patient will choose a painting and then walk to it, rather than go back and forth in the rehab center, which is boring," Ms. von Opel said.
Beyond the hospital community, Ms. von Opel said she sometimes hears from new homeowners who stroll the hospital halls and visit the online catalog to look for local artists.
"They walk about or go online to see which ones they want to follow up on," she said.
Ms. von Opel is the primary scout for the hospital collection, visiting Island galleries and studios to seek out new works. She also attends art shows at the regional high school.
"The art department at the high school is remarkable," Ms. von Opel said. Among the young artists she's discovered there is Gordon Moore, whose drawing Old Hands hangs at the hospital alongside a life study by his father Andrew Moore.
The ultimate decision to acquire a new piece is made by the hospital's art committee, chaired by Mr. Miller. The committee's other members are anonymous, Ms. von Opel said. The hospital pays for framing.
When it comes time to hang the work, Ms. von Opel teams up with Mr. Miller, who measures the pieces, and Mr. Sweet, who attaches them to the wall. "I don't drill," she said.
On the brink of this year's arts season on the Vineyard, Ms. von Opel expects to be busy looking for more pieces to add to the hospital collection.
"We have a lot of walls left," she said. While her wish list is short — she'd love to acquire original paintings by Thomas Hart Benton and Stan Murphy — there is always more to discover.
"Every time I think I've covered the whole Island, something else turns up," she said.