Girls' lacrosse and boys' and girls' tennis teams breezed through their first match-ups of the MIAA south sectionals this week. All were dominant, but later in the week the lacrosse team lost, endinng its post-season run.
Home games and matches are played at the high athletic fields. Tournament brackets and schedules can be viewed here.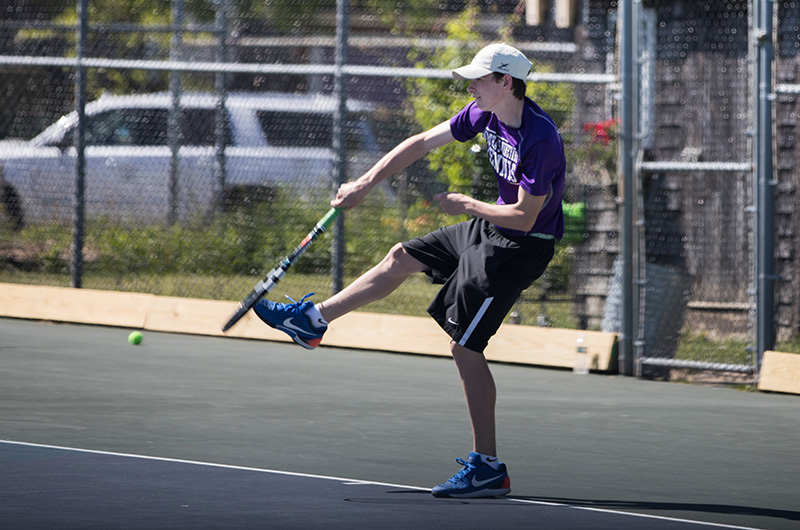 Boys' Tennis
The sixth-seeded boys' team beat Cape Cod Academy 5-0 on Wednesday in straight sets suring home matches at the high school. The team swept all three singles matches, with powerhouse performances from freshman Max Potter (6-0, 6-2), sophomore Chris Ferry (6-0, 6-0) and freshman Eric Reubens (6-2, 6-1).
On the doubles side, sophomores Spencer Pogue and Owen Favreau made quick work of their opponents, 6-0, 6-1. The second doubles team of junior David Krauthamer and senior Garrett Zeilinger followed suit with a 6-0, 6-3 win.
The boys will play next against number three seed Old Rochester in Mattapoisett today at 3 p.m.
"I think we're going to have a very tough match," coach Tony Omer told the Gazette by phone. "They have some strong players, but I think we have a fighting chance."
Girls' Lax
The girls' lacrosse team's season came to an end Thursday afternoon after an 18-3 loss against division two powerhouse Cohasset in the quarterfinals of the south sectionals. The team ends the season with 14 wins and six losses, and two very proud coaches.
"The girls played great," said co-coach Bob Hayman. "They knew they would be challenged and never gave up."
"It was a good season and it was nice having a team that enjoyed being together on and off the field," added co-coach Kurstin Moore.
Junior Addy Hayman led the Vineyarders in scoring during the game with two goals, and for the season with 106 goals. Junior Lollie Bezahler threw in the other goal for the team during the hard-fought loss. Thursday was also the last game for senior Audrey McCarron and Lily Pigott, who Mr. Hayman praised for being good captains and great players throughout their high school careers.
Mr. Hayman emphasized that it's not the final score that matters, but the camaraderie and joy the team feels when they play. He said he's enjoyed watching the girls mature and represent the Vineyard community over the spring season that started just a few months ago.
"It's fun and rewarding to look back at the beginning and see how far we've come," he said.
Early in the week the lacrosse team made their last home game of the season one to remember Tuesday afternoon with a 22-6 rout of 10th seeded Old Colony.
Girls' Tennis
The second-seed girls' team handily defeated 18th-seeded Holliston in straight sets Thursday afternoon in the first round of the division two south sectionals.
In singles play, junior Victoria Scott only dropped one game in two sets alongside stellar performances from junior Kelly Klaren (6-0, 6-0) and sophomore Hanna Rabasca (6-0, 6-1). It was the same story in doubles play as seniors Kat Roberts and Lizzie Williamson finished without dropping a game, and Chesca Potter and Molly Pogue ended the afternoon with a 6-1, 6-2 win.
The team will face seventh-seeded Scituate Friday at 3 p.m. at home.
"I'm very happy with their focus and concentration today," coach Nina Bramhall said after the matches.
"This was a great start to the playoffs, but Scituate should be a good challenge."