For 28 years the Toy Box in Vineyard Haven has provided games, gadgets and gizmos for both the young and the young at heart.
New store owners and West Tisbury residents Kate and Alex Salop are hoping to continue this mission as they purchased the business from longtime owner BeeBee Horowitz just two months ago. While Ms. Horowitz's fundamental premise of "learning through play" remains, a few changes have already been implemented by the new owners, the first being the name of the store.
"It's now the Tisbury Toy Box," Ms. Salop said, who oversees the day-to-day operations of the business. "We wanted to change the name to reflect new ownership, but still wanted to maintain the Toy Box to honor its heritage and to indicate the way it's embedded in the Island."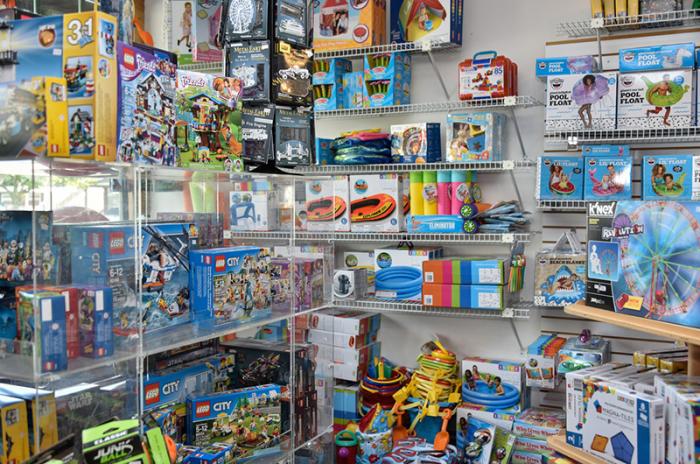 It was fond recollections of family trips to the store that prompted Ms. Salop and her husband to first consider purchasing the business—turning what she once described as a "pipe dream" into a full-blown reality. A Massachusetts native, Ms. Salop spent summers visiting her father-in-law on the Vineyard, before she and her husband relocated their family to the Island three years ago. Her new career at the Tisbury Toy Box differs greatly from her previous work in higher education administration, but she says she's fully immersed herself in the change.
"It's such a career change, but it's been such rewarding experience I think because people are happy buying toys," Ms. Salop said. "I've been meeting so many people and they like to talk and tell me their stories."
Many of those stories also fall upon the ears of Marcia MacGillivray, who has been at the store for the past 26 years. "People come in to see Marcia," Ms. Salop said. "The store means a lot to her, and she has told me she is invested in seeing me be successful which is the most generous thing."
Ms. Salop credits the mentorship of both Ms. MacGillivray and Ms. Horowitz with her ability to keep the traditions of the store alive. The shelves are still bursting with board games, beach toys, animals and action figures.
"You want the kids to have the experience of feeling and touching and looking and exploring even if sometimes they leave without buying anything," Ms. Salop said.
The in-store staff aren't the only ones helping Ms. Salop perfect the businesses' atmosphere. She thanks her 14-year-old and 11-year-old "consultants" at home for testing and critiquing some of the new merchandise. And this season's surprise best-seller? A small, oinking, glow-in-the-dark pig, a toy that underscores the idea that not all items or games need to serve a solely educational purpose.
"I think our sort of guiding principle is sometimes it's appropriate for games to be educational and sometimes it's appropriate for games to just be fun," Ms. Salop said. "We try to make sure that we have an array of toys and a lot of the things we buy, we buy because we think they're pretty great. But we recognize that people have other tastes."
With one Memorial Day weekend rush under her belt, Ms. Salop says she is looking forward to meeting even more generations of customers during the height of the summer season. Those family lineages exemplify how the longevity of the store has helped to mold a larger "Vineyard experience."
"It's so generational," Ms. Salop said. "Time after time somebody has walked into the store and said, 'I brought my kids here for years and now I'm buying for my grandchildren.' We really feel like we're doing something of value for this community that means so much to us."