In a ceremony well attended by donors, volunteers and curious Islanders, the Vineyard Trust dedicated and opened the Carnegie Saturday morning. The new facility is a reincarnation of the town's former library into a visitor's center, gathering place and exhibit of the Trust's landmark properties throughout Martha's Vineyard.
"I'm sure you remember what this building looked like only a few months ago," architect Patrick Ahearn, who worked on the restoration and is chairman of the Vineyard Trust board of trustees, told the crowd.
"The transformation is dynamic and exciting and I think it really is another generation, another lifetime of community involvement and activity. It really gives us a showcase for the trust."
Funi Burdick, executive director and chief executive officer of the Vineyard Trust said the building will serve many uses, including a tribute to Island living, past and present.
"Today we open the Carnegie, Vineyard Trust's most recent living landmark, and pay homage to the Island's rich history, alive today in its sweeping landscapes, historic places, local customs and the diversity of the people who continue to leave their mark," Ms. Burdick said in remarks.
"Through a complex mix of restoration, adaptive re-use, storytelling, historic artifacts and exhibits, the Carnegie provides inspirational reflection of how this Island preserves an authentic way of life, that's defined by land and sea, shaped by people and traditions."
Edgartown poet laureate Steve Ewing read two poems for the occasion. The first was Captain Levi Jackson, an ode to a celebrated Island sailor who was awarded a hero's medal by Andrew Carnegie, the same philanthropist who built the library, for a daring rescue at sea.
The second was Island Song, which is inscribed in one of the exhibits on the lower floor of the building, as a tribute to Martha's Vineyard.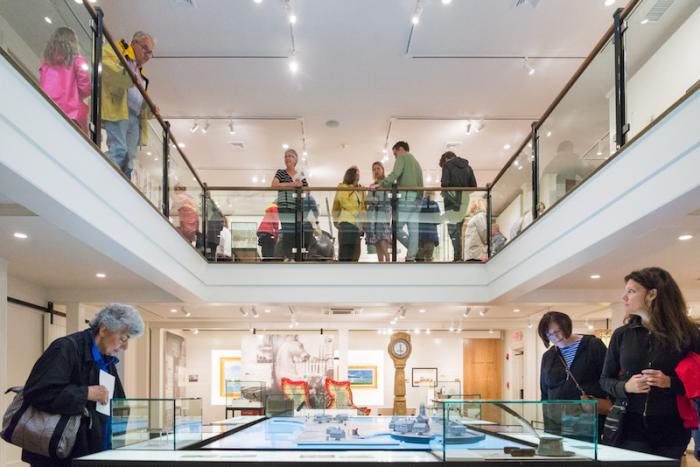 May the peace of island living
settle in your bones
May the lightness of your being
stir memories of your home
May you cherish our first greeting
dear as our last song
May you always feel the blessing
of our island
all life long

The dedication was moved inside the building because of a driving rain outside.
After trust leaders cut a big red ribbon draped across an inside doorway, the crowd streamed through for a first look at the exhibits.
The Carnegie is free and open to the public Wednesdays through Sundays until October.