Ferry passengers disembarking in Woods Hole Friday morning got a welcome most of them hadn't expected, from a cheering throng of more than 40 Camp Jabberwocky campers, counselors and families waiting to board the Island Home to Vineyard Haven.
The cheers intensified as 14 more Jabberwocky counselors came down the boarding ramp in matching camp T-shirts. Alight with smiles, the young volunteers quickly joined the group, exchanging hugs and catching up with the returning campers and their families.
The smell of aerosol sunscreen mingled with the sound of excited greetings on all sides: "Look, it's Hannah! I love your T-shirt! Good to see you! You look great!"
One young camper clung so tightly to a counselor that the two could barely walk.
"Are you ready? Let's go!" shouted an adult camper named Seth, the morning's unofficial cheerleader, as the first wheelchairs rolled onto the Island Home's empty freight deck.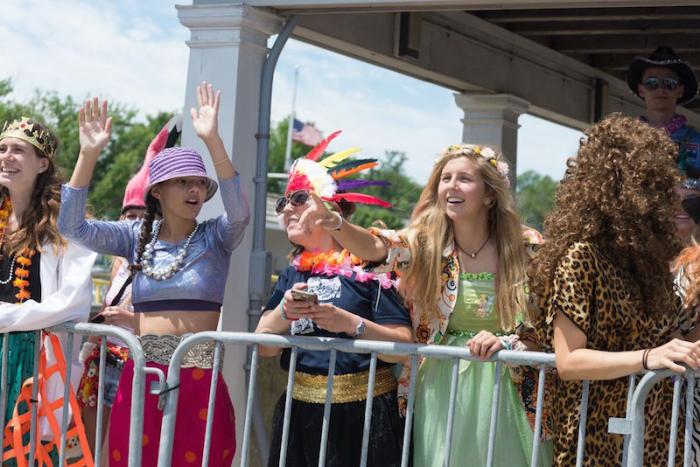 Twenty-seven Jabberwocky campers traveled together to the Vineyard on Friday and five would join them at camp in Vineyard Haven, said session co-director Kristen "Sully" St. Amour, who met the embarking campers in Woods Hole.
Fourteen of the 32 campers in the June-July session use wheelchairs, she said.
"The Steamship Authority is super helpful," said Ms. St. Amour, whose father Joe (Sully) Sullivan is an agent for the SSA.
"They really go out of their way to make sure we get on and off safely," she said. "They really know how to take care of us."
The boat line even provides a separate baggage cart for campers' luggage, she said.
Once the Jabberwocky group—and the rest of the passengers—had boarded, hugs and smiles continued on the snack bar deck as campers were reacquainted with counselors and each other.
Ranging in age from about eight years old to senior citizen status, Jabberwocky campers are diverse in other ways as well, with varying disabilities and backgrounds. Some need assistance to walk, while others are fully mobile; they may have developmental disabilities like Down syndrome, or physical impairments such as cerebral palsy.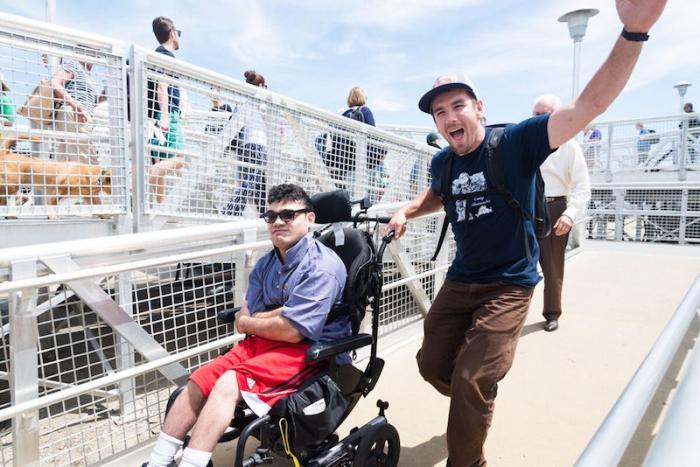 What they all have in common is the camp, which some have attended yearly for decades. Skye Ward of Bennington, Vt., now 21, has been a Jabberwocky camper since he was a little boy. Faith Carter of Whitman started coming in 1975 and will celebrate her 50th birthday at camp next month.
At Jabberwocky, inclusion goes without saying. Campers in the June-July session can look forward to a summer vacation anyone would envy. Kayaking, a Mad Max catamaran sail and a ride aboard the pirate ship Sea Gypsy, drumming on the beach and putting on a play, biplane flights, farm tours, studio arts and dance parties are just some of the activities on the calendar.
Camp Jabberwocky is also among the most beloved participants in the annual Fourth of July parade through Edgartown, with costumed campers and counselors accompanied by marching drummers.
Friday, the fun began in Vineyard Haven even before the ferry docked. Some two dozen Jabberwocky counselors were waiting at the slip, decked in wild outfits and cheering loudly: "Everywhere we go, people want to know, who we are, so we tell them, We're Camp Jabberwocky!"
Campers on deck cheered back as the Island Home pulled in. The costumed counselors ashore sang throughout the arrival. Smash Mouth's All Star was followed by Abba's Take a Chance on Me, while the wheelchairs rolled off the freight deck and more campers followed.
Jabberwocky vans were on hand to haul luggage and anyone who wasn't up for the mile-long walk to the camp on Greenwood avenue. The rest of the group strolled, costumed counselors pushed wheelchairs and others held hands with campers as they chatted their way up Main street and down Greenwood.
At Jabberwocky, there's a counselor for every camper, and everyone works for free. Ms. St. Amour began volunteering at age 15 and is now in her 24th season. She brings her children, aged 2, 5 and 7, to stay with her in a camp cabin they share with fellow session director Johanna "Jojo" Romero De Slavy.
"It's chaos, but it's fun," Ms. St. Amour said. "They love it here. It's nice to show them there's no line between ability and disability."
This is Camp Jabberwocky's 65th season, and the first in which the camp is actively seeking to raise money. Director of development Kelsey Grousbeck says $1 million of the $3.5 million capital campaign will fund improvements to the aging campus, and the rest will go toward permanently ending tuition fees so the pay-what-you-can camp is free to all.
For more information, visit campjabberwocky.org.