Seven years and thousands of hours, dollars and helping hands later, Ted Box's Seeker has finally made it in the water.
"He's done the impossible. This is a big day," said Sandy Broyard, who watched Saturday from shore on Beach Road as two excavators and Ralph Packer's tugboat, the Thuban, pulled the 70-foot scow that had spent three decades as a blueprint in the Smithsonian, three more decades as a master boatbuilder's dream, and another decade as a massive community project, into the Atlantic.
"It's alive," Mr. Box said, as he stood atop the boat's stern, imparting a royal wave to the 50 or so onlookers who had gathered to watch the spectacle. "It's a living thing. All the fitting, cutting, screwing, the thousands of hands of volunteers, they're a boat now."
This wasn't Mr. Box's first planned launch date. He started construction on the boat in 2011, and had visions of launching in 2013, 2016, 2017, and April, May and June of 2018. Mr. Box struggled with inadequate funds and inadequate space to complete the project. He had to move the boat three times and couldn't work for a year because of throat cancer. So, although The Seeker steadily grew in size, received a glistening paint job and three days ago found itself with a rudder, people still approached Mr. Box's claim that he was dead-set on launching Saturday with a healthy dose of skepticism.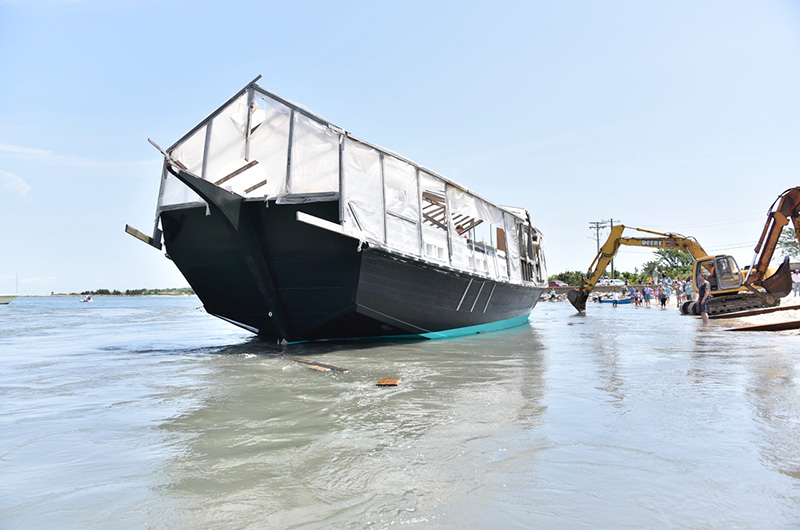 But as curious passers-by stopped to watch the process of moving the 30-ton Beach Road mainstay into the water, that skepticism gave way to unbridled excitement. Mr. Box, and his crew of about 10 helpers, had set up metal beams that extended 45 feet into the water. With each successive push from the excavators and pull from the tugboat, the crowd grew, including traffic stopped along on Beach Road.
"Where's the band!?" exclaimed Tim Winchell, who has worked on the boat with Mr. Box since the two helped lay the keel in 2011.
The Sullivan family had plans to go to the beach, but scratched them when they drove past The Seeker, opting instead for a picnic on the Vineyard Haven shore. They wanted their kids, five-year-olds Henry and Theo, to see history. Or if not history, a beautiful wooden boat come to life. Henry wasn't impressed.
"I've seen a bigger boat," he said. "A cruise ship."
Mr. Box had invited friends from all over the Island to come watch the launch. Bill White, who has studied martial arts with Mr. Box for 30 years, came with his pal Pat Brown. Mr. Box brought Mr. Brown to Martha's Vineyard to work on Robert Douglas's boat the Shenandoah, in 1981.
"I've pretty much never left," he said.
Others knew Ted Box because he had fixed their furniture, guided them through a tango, edited their writing or taught them Tai Chi. Dick Iacavello made shirts with The Seeker's original Smithsonian plans on the back. Ted Box wore his proudly, knowing that those blueprints were finally behind him.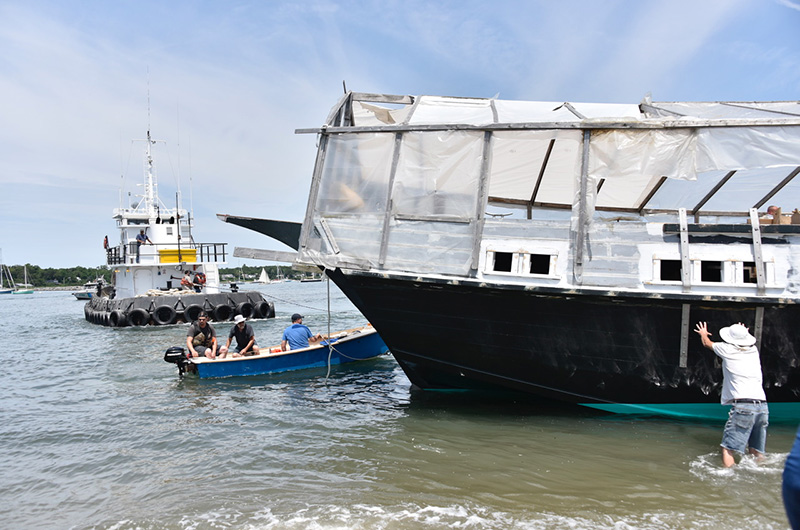 As the excavator gave The Seeker its final shove, and the boat drifted off the metal beams and began to rock in the tide, the crowd erupted in applause. Mr. Box's sister, Tess Korkuch, came from New Bedford to watch.
"I was supposed to christen it," she said. "I guess I'll have to do it from the water."
She gazed with awe as the boat floated westward. "It's beautiful," she yelled to her brother. "Come back! I want to get on."
At Ms. Korkuch's cue, it quickly became clear that the boat wasn't going far. Within seconds of it being in the water, The Seeker made a beeline for Ralph Packer's metal pier. The crowd's excitement gave way to fear, as many spectators ran to the top of the dock to push the boat out into the harbor. The Thubman, still attached to The Seeker, raced over to help, doing its part to muscle the boat away from the sea wall.
Once the crisis was averted, The Seeker faced a bigger concern. Wooden boats always take on water when they are first launched because their boards shrink. It takes time, often hours, before the caulking plugs the holes and the Cypress boards swell. The Seeker was no different.
Soon after it touched off, the boat's green draft line disappeared under water. Its hand pumps proved ineffective, and second by second it slowly, but noticeably, drew deeper into the sea. The Thuban quickly ushered it over to Tisbury Wharf, where Noreen Baker had three boats waiting to get docked. Those boats would have to wait a little longer. The Seeker was leaking.
Eventually, Mr. Box and his crew found two heavy-duty, submersible water pumps to try and remove about three feet of water from the boat's hull.
"That's what we were supposed to start with," Mr. Box said. "But everyone was so busy doing their job getting the boat in the water that, well, you know."
Mr. Packer provided the pumps and the electricity, and also helped surround the boat with sawdust so that when it took on water, the dust would get sucked into the ship and plug its holes.
Two hours later, The Seeker was calmly ushered to its final resting place for the day, Tisbury Wharf.
"I thought it was going to sink," Ms. Korkuch confessed.
Unlike his sister, Mr. Box never feared. "This doesn't faze me in the least," he said. "It's just what you do, you're either cut out for it or you're not. I spent 10 years working on a boat rescue team. This is nothing."
During a moment of relative calm, Mr. Box had time to reflect on the experience. "This thing we're standing on only existed in my imagination," he said. "Every day for seven years I had to ask myself, am I big enough to build this boat? And now, I think I've answered that question."
But another question still remains: where the boat will be docked?
"We're still working on that," he said with a wink.