Back Door doughnut lines snake through the streets of Oak Bluffs. Crowds linger in Menemsha long past sunset. Dancers rock the dock, literally, every Tuesday night in Edgartown.
It's officially August on Martha's Vineyard and business is booming.
Or is it?
With summer at the halfway point, Island businesses have begun to tally the numbers for the first couple months of the season. While some say they have seen a drop or stagnation in sales compared with years past, data from harbors, beaches, and ferries, along with traffic at notoriously congested spots like the Edgartown Triangle, suggest that the summer has been busier than last year. And that's with the busiest month only just beginning.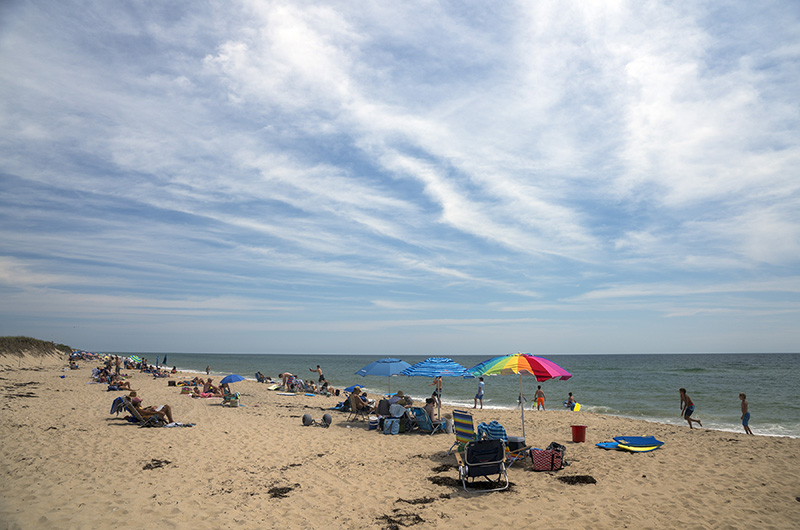 "Numbers are up," Oak Bluffs town administrator Robert Whritenour told the Gazette this week, speaking of harbor receipts in his town. Through June 2017, the harbor brought in $115,543, he said. For the same period this year, revenue from harbor fees is $194,327, nearly a 70 per cent increase.
"It's not a direct comparison because harbor revenue depends on when people pay their fees, but it's been a very busy year . . . we're running on pretty much full capacity," Mr. Whritenour said. According to the 2017 Oak Bluffs town report, 2017 was the busiest year in a decade.
In Edgartown this year, harbor revenues at the end of June were up $91,098 over fiscal year 2017. In a report to the Chilmark selectmen last week, town administrator Tim Carroll reported similar findings from Menemsha. May and June alone saw an increase of $6,000 in revenues over last year.
"But the harbor's empty!" said Chilmark resident Margaret Maida.
"But it's still up from last year revenue-wise," responded Mr. Carroll.
Beach sticker sales corroborate the trend. The Chilmark town hall sold 512 passes for Squibnocket Beach in May and June of this year, compared to 313 last year. July numbers (from July 1 through July 20) are also up, with Squibnocket walk-on sticker sales rising from 173 in 2017 to 263 this year for that three-week time period. While Squibnocket's recent renovation may account for the rise in sticker sales, Lucy Vincent Beach passes have stayed steady with last year's numbers, suggesting an overall increase in Chilmark beachgoers.
Although the Steamship Authority's May and June traffic reports from 2018 look virtually identical to 2017, July numbers have seen an uptick in automobiles making the trip from Woods Hole to the Island. In July alone, the SSA saw about a four per cent increase in car traffic, totaling 1,300 vehicles.
Some car rental businesses credit an increase in vehicle traffic with their seemingly slow summers.
"I'd say it's been less busy than last summer," said Allison Wilson, who has worked at Sun 'n' Fun Rentals in Oak Bluffs for the past six years. Sun 'n' Fun rents bikes, Jeeps and convertibles. Business owner Don Gregory turned in his license for moped rentals in October 2016 for safety reasons. He said he thinks the absence of mopeds may also account for the downturn in numbers.
"It's changed how busy we are, it's changed our whole business," Mr. Gregory said. "But we let people know why it's not a good idea."
Of course there's one variable every Island business owner knows has influence over the success or failure of the summer season.
"I think it really depends on the weather," said Vineyard native Jack Rollins, who began working for the Oak Bluffs Association eight years ago and spends many days manning the tourist information booth at the foot of Circuit avenue. "This July has been good with weather compared to last summer," he said.
Joel Glickman, owner of the Chilmark General Store, echoed the sentiment. "The weather's better," he said. For him, that means higher sales in salads, along with more cold brews, iced coffees and pre-made sandwiches.
"People just want to get to the beach," he said.
For other businesses, like Ryan Amusements and Arcades in Oak Bluffs, more people jumping off the Big Bridge means fewer people playing skeeball. "When it's sunny, everyone is at the beach," said Pete Campbell, who has managed the arcade for the past seven years. "No one's here or at the stores."
Nevertheless, Island business owners and others voiced optimism about sales over the next 30 days.
"August is always busier," said the Rev. Susan Eibner who helps man the popular lobster roll sales at Grace Episcopal Church in Vineyard Haven. Grace Church sold 834 of the award-winning rolls on July 14 of last year, but every Friday in August drew numbers exceeding 1,000, peaking at 1,310 rolls on August 18, she said.
Seth Gambino who owns and operates La Choza Burritos on Main street Vineyard Haven, agreed that August is the make-or-break month.
"August will be the big teller for us," he said "I keep telling my staff that's the Super Bowl month."