Before the clock struck noon in Vineyard Haven on Sunday, a crowd of almost 100 people began to gather for the annual Chicken Alley Thrift Shop Art and Collectibles sale. The event, which started at 1 p.m. and benefitted Martha's Vineyard Community Services, served as the culmination of a weekend's worth of activities. The annual fashion sale took place two days earlier, on Friday evening.
On Sunday eager shoppers lined up under the sweltering afternoon sun, some reclined in beach chairs, others perched on plastic storage tubs. Islander Lolly Hand found a seat atop a purple milk crate.
"I walk to the Vineyard Haven post office every day and often cruise through the thrift shop," Ms. Hand said. "They save the best pieces for this show every year, and I enjoy making a contribution to something worthwhile."
Ms. Hand was joined in line by Suzy Stevens, a friend visiting from Santa Monica, Calif.
"She's been talking about this all week," Ms. Stevens said.
Begun in 2001 by art collector and philanthropist Olga Hirshhorn, the event included a vast collection of framed paintings, photographs and prints for sale. Haggling was not encouraged, since100 per cent of the proceeds benefit Community Services.
"This event benefits the whole range of programs offered by Community Services," said volunteer Mary Tahmoush. "All of the merchandise is donated and specific pieces are set aside throughout the year to be sold at this event."
Treasures of all types could be found outside under a large tent as well as inside the store, including paintings, porcelain tea sets, antique dolls, wooden jigsaw puzzles and fine jewelry.
"What is that?" one shopper asked incredulously, pointing at a python skin wrapped in a thick plastic covering.
"Well, I'll tell you Chicken Alley has everything," thrift shop volunteer Carol Gannon Salguero said, laughing. "Between this and the German 'impale yourself' gate outside you never know what you'll find."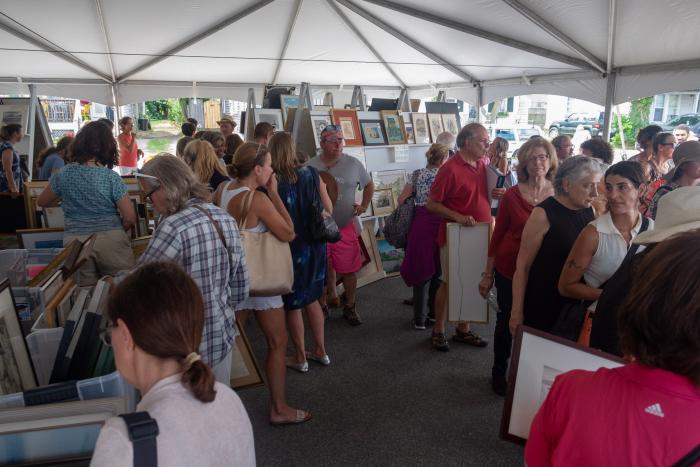 She gestured to the cast-iron gate hung among the artwork in the tent. A paper sign with capital letters was taped to the spikes to keep passersby from getting too close. Nearby, Oak Bluffs resident Dawn Evans stared at a painting inquisitively.
"Does this look like Menemsha?" she asked aloud before plucking it off the shelf for purchase. Within seconds a volunteer filled the empty space with a new piece; an illustration of Audrey Hepburn.
"Some people do come to the sale looking for something specific," explained Ms. Tahmoush. "Like one woman was looking for a piece by Island painter Judi Sunday. But really, there is any kind of treasure you could imagine."
Items sold at the shop throughout the year also help to fund Community Services programs. All donations are tax deductible.
Chicken Alley newcomer Anna Barnes uncovered three treasures on her rounds.
"These are Harry Potter wands" she said of the pencil-length wands, each intricately carved with a different design. At $8 and $10 apiece, Ms. Barnes was thrilled with her find, knowledgeably explaining which wand belonged to which wizard.
"Hermione, Severus Snape and Sirius Black," she said. "I know all this because I'm a Harry Potter nerd."
Moments later another shopper hurried by carrying a life-size Harry Potter boom, one of the Nimbus 2000 variety.
"I've worked in thrift shops all throughout Texas and have never seen a shop where the community has come together like this," said seasonal Chicken Alley employee and Texas native Kristina Wright. "I think the art show really reflects the prominence of the Martha's Vineyard art scene while bringing in a large range of people."