With long lines and delayed mail deliveries, Island post offices have been a scene of frustration this summer on both sides of the counter.
U.S. Postal authorities have acknowledged some of the problems, citing staff shortages and increased volume of packages in the Amazon Prime era. In an unusual public relations move, the postal service announced this week that post offices around the commonwealth would be hosting open houses on Thursday.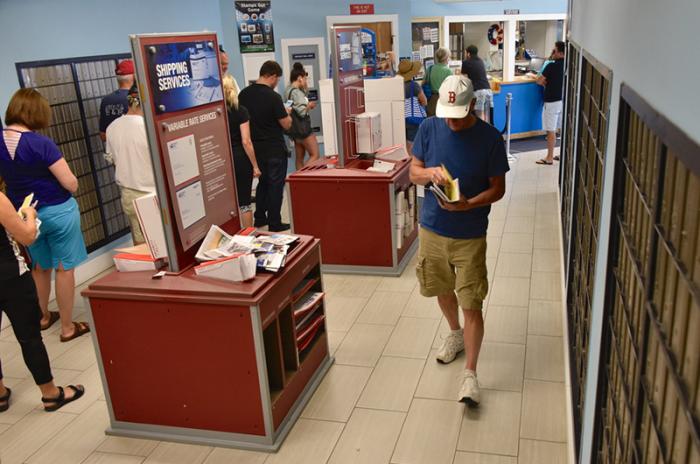 "A chance to meet local staff and get a behind-the-scenes look at our operations," a press release said. "Have a question about packaging, shipping overseas, post office boxes, passports or mailing rates? Our highly qualified staff will be on hand to guide you."
None of the three down-Island post offices officially participated in the open house event, but post office employees said the day marked an opportunity to recruit new staff to relieve shortages.
U.S. Postal Service spokesman Stephen Doherty said in an email that nationally, package volume grew by 102 million parcels in the third quarter of this year.
"Those trends match the volume fluctuations in our local offices, where package volumes continue to escalate," he said.
The influx of seasonal residents on the Island adds additional strain on an already taxed operation. Customers say the problems are most pronounced in the down-Island towns.
In Oak Bluffs, where the postmaster recently retired, there have been staffing shortages. Last month the post office opened on a Sunday to catch up and distribute extra parcels.
In Edgartown problems at the post office, including long waits and undelivered mail, date back for some time.
In Vineyard Haven problems at the post office this summer were briefly a topic for discussion at the selectmen's meeting this week.
"It occurred to me standing in the line . . . as the lines have grown longer and longer, it impacts the traffic in the parking lot," selectman and board chairman Tristan Israel said. "Because people are standing in lines, they're not moving their cars. The cars don't have a place to park, they're going around in circles, and it backs out onto State Road."
Selectman Melinda Loberg said she had heard complaints too.
Mr. Israel emphasized that the problems have nothing to do with the employees.
The board agreed to send a letter to the postal service regional manager in Boston.
On a recent day at Alley's General Store post office, John Alley sat in the mail room surrounded by stacks of packages.
"In the last couple of years, the volume of packages here has increased two or three fold. I had 22 boxes come for one person back in June," he said. An employee walked in and handed him yet another Amazon package.
"People buy everything from Amazon, even toilet paper," he said, adding the package to the pile.
Amazon declined to share specific data about package volume. But the mail delivery companies UPS and FedEx confirmed that e-commerce has resulted in a significant increase in package volumes.
The Martha's Vineyard Commission recently approved a request from the Island UPS store for an expansion of its processing facility in Vineyard Haven. The expansion will add loading bays to allow more trucks to carry packages in and out.
In a letter to the commission, contractor Mark Nicotera said the facility currently uses four 53-foot trailers to service the Island daily, and plans to expand to six trailers to accommodate increased demand.
"We've never needed six trailers before," Luis Montalvo, UPS project engineer at the facility, told the Gazette by phone. "Internet is a huge thing right now, so that's where everyone is ordering."
Mr. Montalvo said the facility has expanded sorting hours from previous summers. Employees sort packages from 7 p.m. to midnight and again in the morning from 7:30 to 11 a.m.
James Tietje, president of Patriot Party Boats, a water taxi and charter boat company based in Falmouth, said his boats carry packages to the Island when UPS is overloaded.
"Sometimes they can't fit everything in the trailers, so sometimes we get the overflow on our boats," he told the Gazette. "We have hundreds of UPS boxes three or four times per week."
While the infrastructure catches up with trends, Islanders continue to practice patience.
At the Vineyard Haven post office last month, Barbara Reynolds walked in to find a slow-moving line that stretched to the door. She said she regularly orders supplies online.
"Packages prevent me from having to go off-Island," she said.
Becky Kelly moved to Island in early June. She waited in line too.
"Amazon loves me," she said. "I get maybe two to three packages a week."
In the Edgartown post office, a man who gave his name as Dan, waited in line with a yellow package slip. He said he has come to expect long waits.
"They should probably have somebody just doing packages," he said.
Despite the influx, John Alley had some advice for consumers: "Buy what you want," he said. "We'll get it to you somehow."