In the summer of 2017, about 60 students participated in Maryland congressman Jamie Raskin's Democracy Summer workshop program. The following spring, those students helped to organize a school walkout protesting gun violence that mobilized thousands.
That kind of wildfire activism is what inspires Mr. Raskin and what motivated Vineyard author Alexandra Styron to write a handbook for young people on protest and engagement. Mr. Raskin and Ms. Styron united forces this week on the Vineyard to celebrate the release of Ms. Styron's book, Steal this Country, and talk about their shared goal to mobilize youth for progressive causes.
"This is a galvanizing moment," Ms. Styron said. She decided to write the book when she couldn't sleep after watching presidential election night coverage on television. "It's been 40 or 50 years since kids actually felt they were important in this process and this is a great moment to teach them. The push to get out the vote and get kids registered to vote is something we haven't seen in a couple generations."
Steal this Country is formatted like a textbook and is divided into the Who (prominent protesters from America's past), What (issues that young people are mobilizing around) and How (strategies for making change).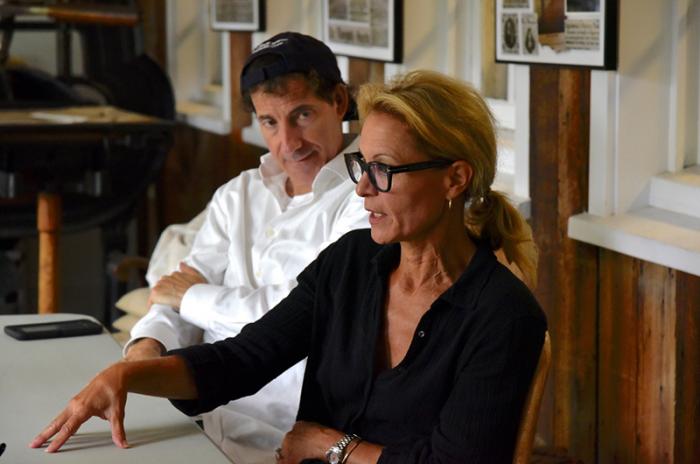 Ms. Styron said she wanted young people to understand that causing social change is a long game.
"It's a marathon, not a sprint," she said. "I think one of the hard lessons and one of the really important lessons of resistance work and activism is that it takes a long time. Look at the Civil Rights movement."
The congressman, whose Democracy Summer program has spread to four states to encourage youth engagement in swing districts, agreed.
"Al's book is all about how it's the work of a lifetime," Mr. Raskin said. "And every political science study shows you've got to get young people engaged right when they're in their teens and you've got to get them voting in their first election if you want them to develop the habits of participation."
Both the author and the congressman said they are optimistic about today's young people, citing the movement that began after the Parkland, Fla. school shooting in February as evidence of their passion and engagement.
"This generation is compassionate and inclusive and largely not interested in the politics of exclusion," Ms. Styron said.
As to the polarization of the American political process, Ms. Styron acknowledged that was a concern.
"We're in a very perilous place, I think, because of that, and there's I think a lot of work to be done to find a way of mediating between the sides, and that probably would be a really excellent goal for somebody," she said. "But not for me."