One hundred six-by-six inch works adorned the walls of the Virginia Weston Besse Gallery at Featherstone last Saturday evening. They ranged from acrylic paintings to pencil sketches, paper-thin photographs to three-dimensional multimedia works, splatter art to finely detailed sparrows, flowers and farms.
But between those differences they all had one thing in common: no signature. That's because this was Featherstone's first anonymous art auction, a fundraising idea the gallery co-opted from a whodunit auction in Jackson Hole, Wyo.
So how does it work?
"We gave artists a six-by-six canvas and told them they could do whatever they want, as long as they didn't sign," Featherstone development director Posie Haeger said.
Featherstone employees then hung the anonymous pieces and viewers had the chance to bid on the ones they liked. When six people wrote their name beneath a particular work, Ms. Haeger would roll a die to determine which name—one through six—would walk away with the art. The selling price for every piece in the gallery was $100.
"It's luck of the draw," Ms. Haeger said. "We wanted to do something that was accessible for everyone."
Artists who contributed works to the auction gained free admission, while others paid a $10 entrance fee. Bidders had to use a discerning eye to try and pick out works from their favorite painters and photographers, while being careful not to break their bank with too many bids. There was no limit to the number of times someone could win, as Randy Parker quickly discovered. He won two of the first five pieces he bid on.
"Their style really appealed to me," he said of the pieces, both of which turned out to be painted by Anne Besse Shepherd. "I had no idea that they were by the same artist," he added. "It was just a coincidence."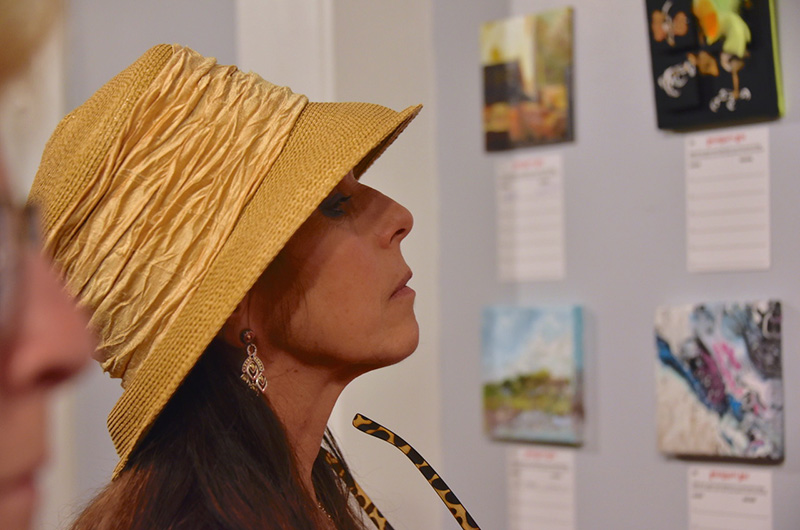 Other artists were easier to pick out.
"I can't deceive anyone," photographer Bob Avakian confessed. His seven nighttime photographs of classic Island haunts, such as The Galley in Menemsha or the Ferris wheel at the Agricultural Fair, flew off the gallery's walls.
"I'm surprised," Mr. Avakian said. "I was expecting to see seven of my photos hanging here tonight, but when I walked in 30 minutes late somebody came running up to me with a photo they'd won, and it was the only picture of mine I saw all evening."
Most of the auction's surprises came from the dice rolls. Louise Clough bid on a painting of a small shack in Menemsha that garnered quick interest among the viewers.
"It's an amazing little painting, so detailed," her husband Marston said. "Whatever it is, it's got the mood."
When the die-roll revealed a four (according to inside sources the most commonly rolled number of the night) Olga Church's jubilation drowned out the Clough's disappointment.
"Oh my God, I won!" Ms. Church exclaimed. After she pulled out her wallet, excitement quickly gave way to panic. "I have to see if I can pay for it. I can't remember how many I put my name on."
Both Ms. Haeger and Featherstone director Ann Smith had their eyes on a textured, baby blue and gold painting with distinctive geometric figures. Island artist Donna Straw didn't need to sign her name for everyone in the gallery to know it was hers.
"When I brought it in, both Posie and Ann said they wanted it, so I knew I'd make $100 for Featherstone," Ms. Straw said. "It was a pay it forward piece for me."
Along with Island mainstays, the show featured dozens of other artists who had never before had their work hung at Featherstone. In total, the gallery represented 70 different artists on Saturday.
"We were surprised with how many people contributed to this who we were not familiar with," Ms. Haeger said. "It's a nice option for people who may not feel totally comfortable entering their work in a normal show and a way to open our doors to a new community of artists."
Ms. Straw agreed.
"This is a great fundraiser," she said. "They should do it every year. It's like picking chocolates from a box. Everybody loves chocolate."