In the words of West Tisbury resident Dr. John Patrick, it was "a fun story of what curious folks can find out with a bit of legwork." And it was the best possible response from the standpoint of naturalists, scientists and wildlife protectors.
John thought he was just going to Long Point Wildlife Refuge for a day at the beach last month, but it turned into so much more.
His adventure began with a change from his normal practice. On this day, he headed east of the beach entrance path instead of his usual west and settled in for some sun and fun. His wife noticed something in the sand nearby that appeared to be a very large bone. John suspected that it could be a skull bone from a whale.
He began an inquiry that eventually extended far and wide. First, he spoke with The Trustees of Reservations staff, who shared that the bone had been there for weeks. Trustees staff had first noticed it in May of last year, but it had disappeared by the end of the season and reappeared this year.
Photos were taken and John shared them on a reputable local habitat and wildlife social media site where qualified, knowledgeable group members (many of whom are professionals) confirmed it was a whale bone as he had suspected. They went further with the identification suggesting it was an occipital bone, the bone at the back of the head where the vertebrae meet the skull.
As an aside, I advise caution using Facebook and other social media groups to help in cases like these. There are some groups where members share misinformation and provide advice that can be both illegal and harmful to wildlife and nature. Be very careful when you get your advice and information from social media sources.
After John, who is a physician, was put on the right track, he did a bit more research and suspected that this bone was from the very endangered right whale, a species for which numerous recent mortalities have been widely reported due to the real concern that this species may become extinct.
With this knowledge, John contacted the New England Aquarium and found his way, contact by contact, to the National Oceanic and Atmospheric Administration, International Fund for Animal Welfare and the Woods Hole Oceanic Institution. John learned that because of the rarity of this species and their endangered status, a database of the DNA of known animals is maintained, and the scientists with whom he spoke did not believe this individual animal was included in that database.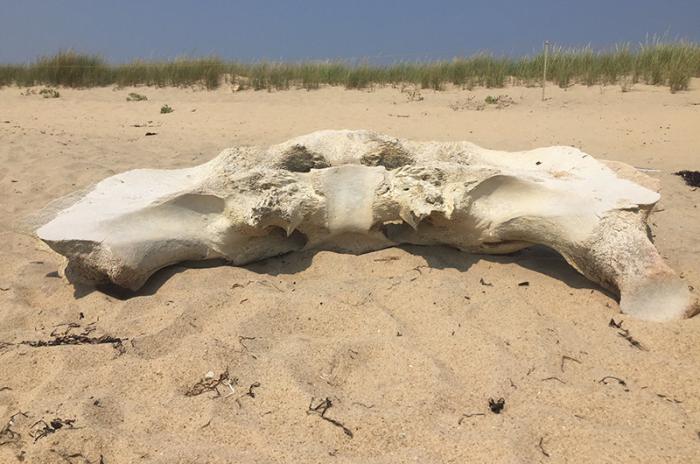 A few of those experts whom he had contacted came out to the Island with John's continued assistance and determined that this animal was not in the database, and therefore was an important discovery and valuable addition to the scientific record of this species. These scientists want to know if the bone had been observed before May 2018, so please let us know if you recall seeing or photographing this specimen before that date.
The lessons of this story are many and provide an opportunity and a reminder about how to really help wildlife. These resources help us be partners and protectors of wildlife. Remember, if you find live, dead or injured wildlife, please begin with calls to wildlife protection resources. Never touch, move or transport unless instructed to by professionals as it can cause further harm and may even be illegal.
For marine mammals, call the Marine Animal Hotline at 866-755-NOAA; for Sea Turtles, contact Wellfleet Bay Wildlife Sanctuary's Sea Turtle Hotline at 508-349-2615 x6104; and if you are not sure whom to call, we can help point you in the right direction at Felix Neck at 508-627-4850. John's story is one that shows the best possible response and is an important addition to the knowledge and record of a very rare species. And though it is true that his find wasn't a whale's tail, it certainly is a heck of a great whale tale!
Suzan Bellincampi is director of the Felix Neck Wildlife Sanctuary in Edgartown, and author of Martha's Vineyard: A Field Guide to Island Nature.