Next month, 21 Islanders in need of an income-adjusted, year-round lease will move into the new Scott's Grove affordable housing units in West Tisbury. The nine units are welcoming residents almost exactly a year after the nonprofit developer Island Housing Trust broke ground on the project and after a rigorous application process through the Dukes County Regional Housing Authority.
At a ribbon cutting ceremony last week, visitors toured the nine light-filled, cedar-shingled units still smelling of fresh paint in the development off the Edgartown-West Tisbury Road.
"It's our biggest [completed] project to date," said Derrill Bazzy, project director for the housing trust, which has 81 completed units on the Island with several more projects underway.
Scott's Grove includes three one-bedroom units, three two-bedroom units, and three three-bedroom units. People making up to 80 per cent of area median income and as low as 30 per cent of area median income qualified to apply, and rents are adjusted based on income. One of the units receives a rent subsidy.
According to application documents, a single person making 80 per cent of the area median income would make $50,350 per year. A family of four would be making $71,900. David Vigneault, executive director of the Dukes County Regional Housing Authority, said he spoke with many people in search of housing who made more than that.
"Regardless of what income you make on the Island, you can't find a 12-month lease," Mr. Vigneault said. "If there had been two or three units at 100 per cent [of area median income] or 120 per cent [of area median income], we would have had 90 more applications."
As it was, Mr. Vigneault said his agency received upwards of 150 informal inquiries and 87 formal applications to rent one of the nine units.
The application process was rigorous. All applicants were asked to disclose salaries and wages including overtime and tips, trust earnings, and some government benefits to calculate gross income. They were also asked to provide information about their assets: banking accounts, stocks, real estate and retirement savings.
After an initial review, qualifying applicants were entered into a lottery and names were drawn to determine the order of housing offers. Applicants were separated into distinct lottery pools based on the size of the family, whether a prospective resident had a disability, and whether the applicant lived or worked in West Tisbury (West Tisbury residents and workers were given preference in six of the nine units). If selected in the lottery, an applicant needed to submit two years of federal tax returns, three months of bank account statements, and five weeks of paychecks among other documents. A background check also included interviews with previous landlords and personal references.
Those who already had an affordable housing application on file with the Dukes County Housing Authority had to fill out a separate one specific to Scott's Grove. Applications were available in both English and Portuguese, and language assistance was available for application completion, but Mr. Vigneault said the extensive amount of required documents often makes it difficult for non-U.S. citizens to qualify. There were two informational sessions in May and June, and the deadline to apply was July 16.
Most of the apartments did not go to the first applicant that came up in the lottery. In one case, an apartment went to the third alternate after the original lottery winner chose to forgo the offer. Three applicants whose names came up did not ultimately qualify to live in the complex because they were determined to be over-income. One person refused the offer because they thought it was too expensive. Another was not ready to move yet. Another said they wanted more room than the apartment offered.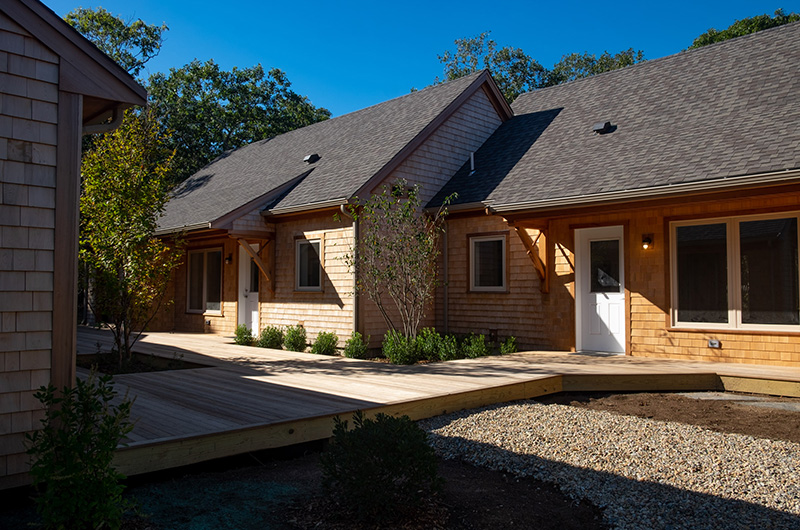 "These are people, they have preferences, they have stuff," Mr. Vigneault said of those who passed on the offer. "Sometimes you look at someone and they're looking at their growing family, and they say, I don't know how we can fit in there."
The total cost of the project was approximately $3 million, housing trust excutive director Philippe Jordi said. The town of West Tisbury contributed $1.4 million, and the housing trust also received a state grant of $900,000 through the community scale housing initiative. The land had been donated to the town 67 years ago by Susan Scott, a town resident who died in 1951 at the age of 70.
The nine units at Scott's Grove are divided into two pods connected by communal decks, which make all the units visitable by people in wheelchairs. One unit is fully ADA-compliant for a resident.
At the ribbon-cutting ceremony architect Treff LaFleche of LDa Architects said those decks are central to the design.
"One of the most important things is the connecting decks. We wanted each of these to feel like a communal enclave," he said.
The oak trees around the site have largely been left undisturbed, and one of them stretches up over the shared decks of the first unit. During the celebration, it lent the apartments a speckled shade.
"We worked hard to save as many trees as possible so when you move in here it doesn't look like a moonscape," landscape architect Michelle Crowley of Crowley Cottrell said. She said doing so required planning and preservation from the beginning of the project.
Kim Leaird and her son Sam Fetters, 14, smiled widely as they watched the ribbon-cutting. They had just toured the three-bedroom apartment they will move into in November. Sam, who currently shares a room with his twin brother, couldn't contain his excitement.
"It was amazing, it's so much cooler than I expected," he said. "I've been hoping for my own room."
The family found out their name had come up in the housing lottery the week prior, after applying in early July.
"It feels like there has been so much uncertainty and now it feels like finally everything is certain," Sam said.