Rainy Day, the year-round gift shop in Vineyard Haven, changed hands last month from owner Heather Kochin to her business partner Bob Scammell and his wife Melissa Scammell.
The Main Street staple opened in 1974 under the ownership of Ann Milstein and her husband Frank Piccione and gained prominence for selling the works of Island artists and craftsmen. Over the years it expanded to become a one-stop shop for Islanders and tourists alike looking for a gift for any occasion.
Reached by phone Wednesday, Ms. Kochin said she'll be staying on as a buyer part-time, but was looking forward to spending more time with her two children.
"I'm enjoying and looking forward to the new position," she said. "I wasn't ready to say goodbye to the customers and the community and the store."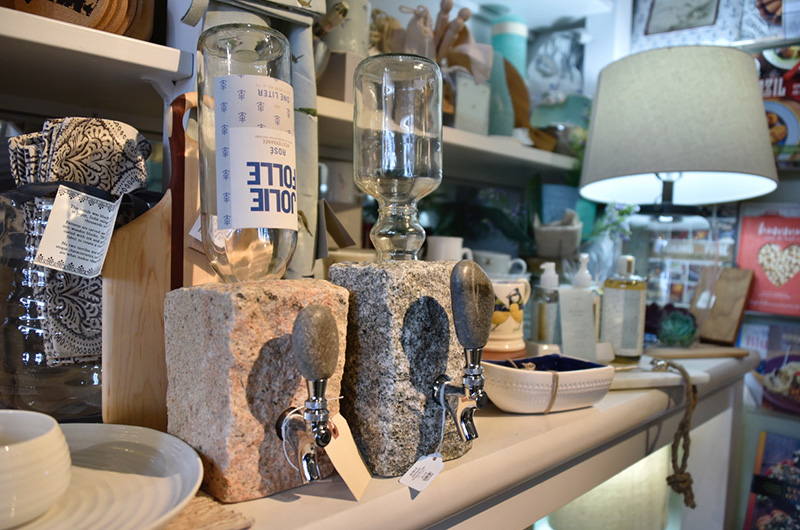 Ms. Kochin said she was proud of her 15 years running Rainy Day and building it into a nationally recognized brand with a curated collection of home goods and products from across the country and Island.
"It feels like an accomplishment to say I grew this business to have a year-round clientele," she said. "I'm just thrilled that the doors don't have to close and the store can continue on as an anchor store of Martha's Vineyard."
The Scammell family are no strang ers to the store that has long been their first stop off the ferry on seasonal trips to the Vineyard from their home in Saratoga Springs, N.Y. Mrs. Scammell said she always dreamed of moving to the Island to help run the store.
"We always knew it as the store with the beautiful window display," she said. "We knew in the future we wanted to be part of this community."
Mrs. Scammell, 52, said the process of changing ownership started four years ago when Mr. Scammell joined Ms. Kochin as a business partner. Mrs. Scammell also started working in the store with her son for a few summers to learn the business.
Last month, Ms. Kochin and the Scammells made the change official and the Scammells started moving into their permanent home in West Tisbury. Mr. Scammell handles the financials while Mrs. Scammell is the face of the business.
"I'm still learning from everybody," she said. "I see myself as the glue that brings everyone's talents together."
Mrs. Scammell said outside of moving a few items around and tidying up, she plans on keeping the store as it is.
"We're not changing anything. It's a great store and we wouldn't mess with that," she said.
Earlier this week, Mrs. Scammell navigated the narrow aisles of the store, pointing out some of her favorite items while holding a witch's hat in her other hand. It was the first day of October, and that meant the Halloween display was front and center, packed high with cat-eye glasses, tattoos and creepy costumes.
"We're in the midst of changing over for fall," she said. "One beauty of
the store is it's always changing. If you see something you like, you better buy it because it could be gone the next time you come." The tour continued past sarcastic socks, starfish soaps and even Whoopee cushions in the humor corner of the store, Mrs. Scammell's favorite. She smiles wide and tells the story of the moment when an Adele song started playing in the store and every customer and employee sang along.
"That's when I really felt like this is where I belong," she said.
She added that customers and Main street business owners have wholeheartedly welcomed her into the community and she plans on being a part of it for many years to come.
"Our biggest supporters are Islanders," she said. "I'm amazed at how supportive people have been. We feel at home here."