For the second time in three years, Rene Da Silva of Vineyard Haven took home the first-place trophy in the annual Gay Head 10K Sunday morning.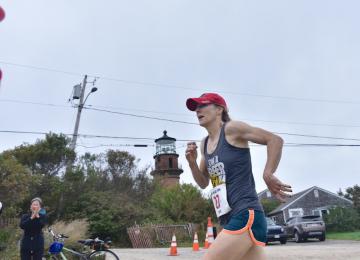 Mr. Da Silva, 32, who won the race in 2015, crossed the finish line well ahead of the pack with a time of 38:46.
Mary (Kellie) Clabby, 50, of Marietta, Ga., was the first woman to cross the finish line with a time of 43:49. She finished ninth overall.
The hilly course started at the top of Aquinnah circle beneath the Gay Head Light and traveled along State Road before turning back up Moshup Trail.
Islanders and shopkeepers at the Cliffs cheered on the 148 runners on a cool, overcast day with blustery winds.
Mr. Da Silva, who ran a mile pace of just over six minutes, approached the finish line with outstretched hands, flashing a peace sign. His wife and two daughters cheered him along the course.
"I'm pretty tired. The wind was tough," he said, noting that his time three years ago was 36:45, his best performance on the course.
Ms. Clabby said she has run the 10K every year since it started as a part an annual wedding anniversary trip to the Vineyard with her husband.
"This is my favorite part of the Island. I just come and soak it up," she said.
She was happy with her performance too. "I did better than last year," she said.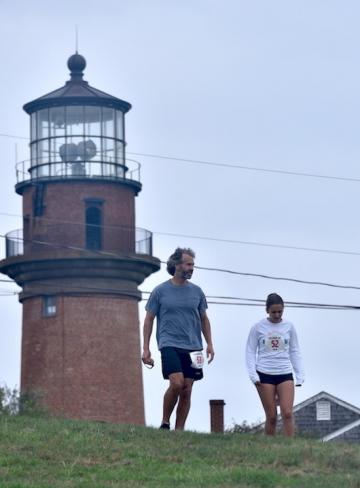 Winners took home a trophy and a one-pound box of Chilmark Chocolates.
A benefit for the Save the Gay Head Light Committee, the 10K race began in 2012 and raises funds for ongoing maintenance and restoration at the historic lighthouse. The light was moved to its present location in 2015.
Race organizer Beverly Wright said she grew up watching the lighthouse through her window, and seeing the high turnout for the race each year is a reminder of how much the community values it.
"It's really great. It takes a long time to establish a race," she said. "Hopefully even more will show up next year. A lot of restoration still needs to happen."
Lighthouse keeper Richard Skidmore said money raised this year will go toward restoring the glass and metal in the lantern room of the lighthouse.
He praised the race and everyone involved as crucial to ensuring the lighthouse remains a beacon of Island history for years to come.
"It's just amazing the effort that is put out each year," Mr. Skidmore said. "It's wonderful to see the turnout and enthusiasm. It makes me proud."
There were may Island runners in the pack, including West Tisbury police Sgt. Jeffrey (Skipper) Manter 3rd. Sergeant Manter finished 138th with a time of 1:11:07.07.
Members of the high school track and cross country team also ran the race.