On a good day, it takes about 15 minutes to get from Edgartown to Oak Bluffs via scenic Beach Road.
World-record holding speed sailor Rob Douglas can do it in about one minute. Granted, he takes a shortcut through Sengekontacket Pond.
These past two weeks, nine speed sailors from across the globe gathered on Martha's Vineyard for the North American Speed Sailing Invitational (NASSI). Divided among three Island locations — Cape Pogue, Sengekontacket Pond, and Katama Bay — the $25,000 purse event included unpredictable winds and a very predictable winner.
"There's a reason why they call Rob the fastest man on water," Morgan Douglas said of his brother and NASSI-winner, Rob Douglas. "He has basically organized and quarterbacked the event since 2011. He only lost two races, and those were to me. It's not an accident."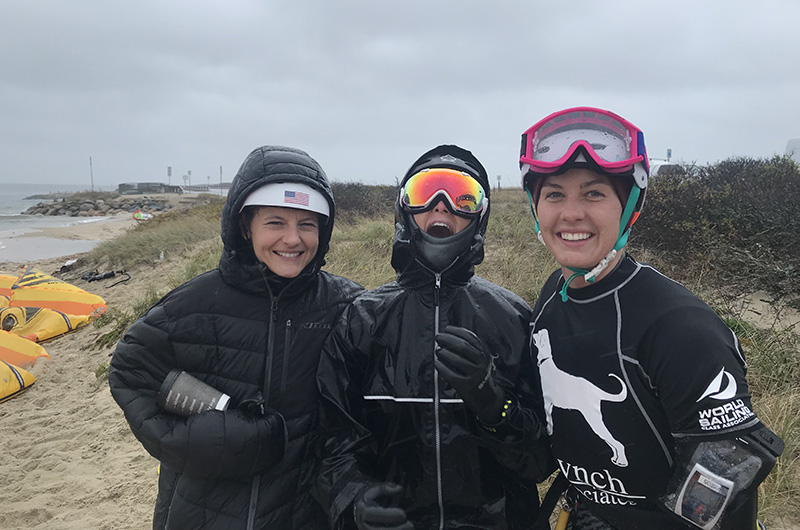 Of the 14 races the past two weeks, Rob Douglas won 12 of them, including setting a new world record. He also had the highest average speed for a 250-meter race, measured at 50.2 knots or 57.7 miles per hour, and reached a maximum speed of 61.9 miles per hour.
"It's great to be able to display the speeds that Martha's Vineyard has in the local waters and to have the Island ranked as some of the fastest water in the world," Rob Douglas said. "It's my home, and when you go against a French guy or an English guy, everyone talks about their local spot. Mine happens to be one of the fastest in the world."
The unique location of Martha's Vineyard off the Massachusetts coast, combined with its plethora of protected ponds and lagoons, makes it an ideal speed sailing destination. Over the two weeks, NASSI organizers assessed the conditions at 7 a.m. every morning and determined which of the three Island spots had the fastest winds. The faster the winds, the faster the sailing. The faster the sailing, the better the chance for a world record.
"Generally speaking, we like it windy," Mr. Douglas said. "The more wind, the more power we have. It's our fuel."
The NASSI is the fastest sailing event in the Western Hemisphere and is the only sailing event in world history to have set average speeds greater than 50 knots on both the port and starboard 250-meter tracks. On Saturday, Rob Douglas set a world record by running the fastest port tack in speed sailing competition history, measured at 57.7 miles per hour. (His fastest speed during the competition of 61.9 miles per hour was in a different category and not a world record).
Other racers, like Chelsea Bruzga, set personal records throughout the event. On Oct. 27, a cold, northwesterly wind with gusts as high as 50 knots created the perfect conditions at Sengekontacket Pond.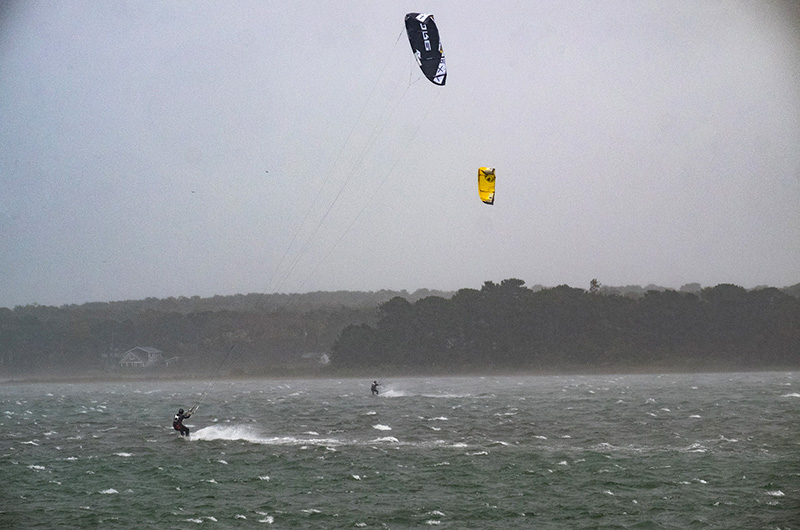 "Good weather for us means bad weather for everyone else," Ms. Bruzga said, shivering in her wetsuit. "These are fun conditions, but what we're doing is really high stakes."
Her speed of 38 knots wasn't just a personal record; it was enough to win the female competition in her first ever speed sailing invitational. Ms. Bruzga lives on Martha's Vineyard and only started "kiting," as the sailors call it, in March of 2017. Ever since, she's been practicing four days a week, even through the winter.
"I had a lot of local support," Ms. Bruzga said. "Every time I came by the beach, people were cheering, telling me to dig deeper, push harder."
While the victor in the male race was a foregone conclusion, the female race was neck and neck between Ms. Bruzga and an experienced kiter from San Francisco, Mandi Browning.
"Mandi and I went back and forth, back and forth," Ms. Bruzga said. "Right up until the last heat on Sunday our points were tied. To be the local girl that won, it was really fun. I've never had more fun competing in anything."
Next up, Ms. Bruzga, who works at Grey Barn when she's not kiting, will compete with team USA at the world competition in Oman, while Ms. Browning is off to Luderitz, Namibia, to try and set a world record herself.
"The desert meets the ocean and the wind whips like snot," Ms. Browning said, describing the old German colonial town on the southwestern African coast. "But there's nothing like the Vineyard."
While Oman and Namibia have manmade speed-sailing trenches, fabricated for world-record setting conditions, the Vineyard is one of the few places on the planet where speed sailors can reach 50 knots in natural conditions.
"That's what makes this place, and this event, special," Mr. Douglas said.