It's early morning and Tracey Olsen is sweeping up the tack room at Woodbe Farm in West Tisbury. She's wearing Uggs, riding pants, two jackets, gloves and a hat. She does not have a heated barn or indoor ring yet still trains horses and teaches riding lessons throughout the winter.
"I'm basically cold from now until April," she says with a laugh.
The tack room is clean. Gleaming saddles and bridles, each matched with a name, line a wooden wall. The windows are dressed with dozens of bright blue and red ribbons from shows. An oak desk has neat piles of papers and is dotted with pictures of Tracey riding several different white horses, which are actually grays — born black and over time their coats turn white.
Her barn, originally built for six horses, now boards 12 in the winter and 17 in summer.
In September, Tracey took five horses to the New England Dressage Association Fall Festival/United States Dressage Federation Region 8 Dressage Championships in Saugerties, N.Y. Two of the five horses — Susan Carlsgaard's horse Royal Pippa and Tracey's horse Silhouette (her barn name is Silly) — were qualified and tested well enough to go to the U.S. Dressage Finals in Lexington, Ky. Although conditions in Kentucky were terrible with freezing rain, Royal Pippa came in fourth in her championship class.
"At her level, she was right behind the top horses in the country," Tracey says. "I'm so grateful when things come together, when it all goes well. With horses, so much can go wrong."
"And I just can't believe that we did all this from this tiny barn on Martha's Vineyard."
Tracey Olsen is a fourth generation Oak Bluffs Amaral. Her father was Nelson Amaral, a master plumber and the Oak Bluffs fire chief for 36 years. Her mother Eleanor helped with the family business and as Tracey says, "is my biggest supporter."
When Tracey was young, her father leased a hunting preserve on Chappaquiddick on Tom's Neck Farm. The family raised chickens, pigs, geese, pheasants and, over the years, had 13 hunting dogs. Tracey was an animal person from the start, but didn't find horses until she was six or seven years old when Mary and Joe Cressy moved to Chappy. They joined the hunting preserve and brought three horses with them, one named Pooh Bear.
"I fell in love. I would brown nose, do anything to ride that pony."
Then, when she was in sixth grade, Annie Hale Long of Sweetened Water Farm took her to Connecticut to meet her trainer Sarah Geikie and watch her ride. "She made the horse skip. All I ever wanted to do was skip on a horse," Tracey says.
She made good on the promise, creating a life that has continually blended in with horses, except for a short time in college when she thought she would become an assistant to veterinarians. After graduating from the Martha's Vineyard Regional High School, she enrolled at Becker College to become a vet technician.
"But it was not my thing. The first time I had to get a cat out of a cat carrier, I was scared to death. In 2000, I came home for Christmas, thinking I'd return to school and figure things out, but Sarah Doyle called and said, Tracey I have just the job for you."
Tracey and Sarah had worked together since Tracey was 15, starting at Blue Heron Farm. Now Sarah was starting her own farm: Pond View. "I was thrilled to be back with the big animals."
Tracey credits Sarah with being her most important mentor. "She has the most incredible work ethic, an aim for perfection fueled by real passion."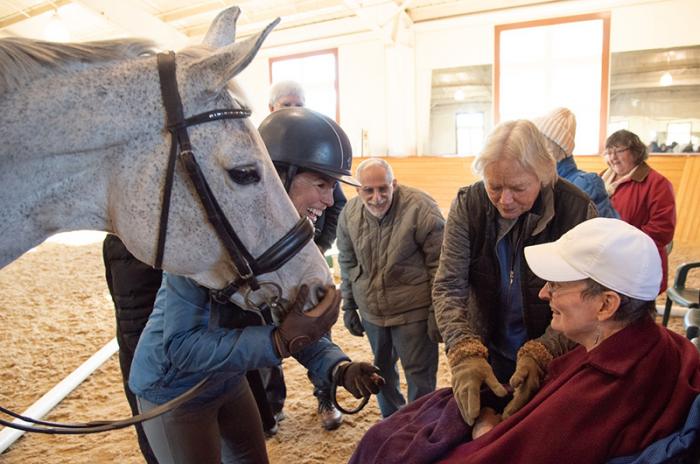 She interrupts herself and looks at her watch.
"I've got to get Reina ready," she says.
This morning, while her farm's practice ring defrosts (she can't risk injuring her horses by riding on frozen ground), Tracey is bringing Reina over to Misty Meadows Horse Farm to do a dressage demonstration for some Windemere residents. Reina was shipped over from Germany when she was two years old, and on New Year's Day she turned 20. Tracey and Reina have been to Nationals once. Her student Bella Thorpe took Reina to Nationals as well.
"Even though she is semi-retired, she is a workahololic. She loves being in the ring."
Tracey takes a layer of blankets off Reina and wraps her legs. In dressage, riders ask the horse to sometimes cross their legs in a walk, trot and canter. The wraps protect the legs from an errant hoof hitting a leg. Her barn hand Clesio Arujo pops out of a stall beside Reina and slips under her cross ties with a wheelbarrow.
"Clesio has worked with me for a year and I am lucky enough to have him for one more. He gets it — the animals, the commitment."
Tracey leads Reina to the trailer and the horse walks right in. Her dog Gus joins her in the driver's seat.
"I also have a Bernese Mountain Dog named Adeline, but he went to work with Keith today."
Keith is Tracey's husband who runs the family's other business, Richard T. Olsen and Son Excavation, with his father.
"Woodbe Farm was Keith's idea," Tracey says. "His vision. He and his family have been so incredibly supportive. I named the farm Woodbe as a way to honor his parents. Ritchie used to have these wooden cows on the grass out front. And someone made a sign that said, Would Be Farm for him."
Tracey pulls in to Misty Meadows. Sean O'Malley greets her and helps bring Reina into the ring as the Windemere residents arrive. Misty Meadows executive director Sarah McKay and trainer Linda Wanamaker offer a warm welcome. While Tracey warms Reina up, the Windemere residents get settled at one end of the riding ring. Within minutes Tracey and Reina are bobbing around the ring demonstrating some of their fancier moves: passage, half pass while trotting and cantering and a few flying changes. They are an elegant pair and make their work look effortless. The Windemere residents sigh and clap.
"How much does a horse like that cost?" one person asks.
Linda Wanamaker answers: "A lot."
"Who trained you?"
Tracey answers as she canters by: "An army and I have an army of support. Our horses have an unbelievable team, from vets and farriers to other trainers on the Island and dear friends like Irene and Bob Hungerford who help out at the farm when I travel. Well, they help out all the time. I could not do this without each and all of them."
She trots around the far end of the ring and comes back to finish her thought. "But to answer your question, Pam Goodrich has been my coach for the last 15 years."
After the demonstration, Tracey reminisces with Margaret Olivera. It seems Tracey has a history or horse story with everyone at the barn. As she drives home, she recalls an incident from 2015, when she was going to compete in the Grand Prix while one of her original students, Olivia Hart, was at Massachusetts General Hospital waiting for a heart transplant.
"I went up to visit," Tracey says. "I knew that she would watch my test. They live stream the shows. I didn't tell anyone, but I had a saddle pad with a red heart embroidered on it for her. So when she watched she would know I was with her. When you work with animals and life, you get to see and feel the extremes. Here I was having this huge career moment while Olivia was literally fighting for her life. I didn't do that well. You have six minutes to try to do something. I could have done much better, but I was awestruck. I had watched hundreds of tests in that ring, but I didn't have enough mileage of being the one in the ring."
Tracey sighs. "Olivia got a new heart the next year. The tough moments are what make when things go right all the better."
She calls her first students the Original Four, who along with Olivia included Sophia Hart, Caitlyn Francis and Taylor Chisholm.
"Caitlyn rode for the University of Georgia, a division one NCAA team."
When Tracey and Reina return to the barn, things are not going right. The arena is still frozen and Lisa Lawson and her horse Fuego are waiting to take a lesson. They go into the tack room to call Misty Meadows to see if they can trailer Fuego over, but the ring is being used. Tracey sits down on the couch in the tack room.
"Well, it looks like we're in a holding pattern. Welcome to winter riding on the Vineyard."
A few hours and a granola bar later, the sun has warmed the ring enough for Tracey to drag it with her tractor. She hops off the tractor as her son Aiden runs up the driveway after being dropped off by the school bus with two girls trailing behind him.
"I taught 35 kids lessons the day before Aiden was born," Tracey says.
Aiden, who is now in the fifth grade at the West Tisbury School, greets his mom and trots down the lane between two paddocks to their house.
"He's obsessed with fishing," Tracey says. "He will only travel with me to the horse shows where he can fish. He didn't come to Nationals with me because there was no fishing."
She laughs. "He also raises bunnies and makes these incredible lures. But in the summer, in the late afternoons, Aiden will sometimes wander over and get on Reina, barefoot and bareback. I call him my barefoot cowboy."
Elizabeth Hoff and Lyla Solway, who both attend the school with Aiden, greet Tracey and ask her about barn chores.
"I feel like it is so important to pass on what I learned to the next generation," she says. "So many people have shared their knowledge with me, raised me, helped me."
She instructs Elizabeth to set up the breakfasts for the horses and asks Lyla to move Woodbe Farm's latest editions — two Icelandic ponies — to another paddock.
"We just got these two Icelandic ponies. They're amazing. They have five gaits. And they only eat hay. I love it. I have been doing this for awhile and there is still so much to learn."
Tracey wanders over to pat Reina's daughter Silly who is in the paddock next to the Icelandic ponies. She named her Silhouette in honor of Reina's line.
"At first I thought she had some contracted tendon problems that were going to make it impossible for her to compete so I didn't put much time into her, but then I began working with her and she blew me away. I don't know what is next. I think about getting sponsored. I think I could. But that means more travel and more time away. I don't know." She leans into Silly and scratches her. "It's just so exciting to think about what could be next."