Camp Jabberwocky is halfway through a $2 million construction project that will give campers and volunteers a brighter, roomier dining hall, a screened porch and a dedicated infirmary.
"We are on budget and ahead of schedule," camp director Liza Gallagher said last week while leading the Gazette on a tour of the renovations, which began after Labor Day at the legendary summer camp for people with disabilities located on Greenwood avenue in Vineyard Haven. The camp celebrated its 65th season this past summer.
The biggest change Jabberwocky campers and counselors will see when they return this June is in the main cabin, where the kitchen and dining hall are located. Built in 1965, the long, single-story building is the camp's central gathering place, where about 100 people share three meals a day all summer. It has been renovated only once before, to add the kitchen.
The cabin's old dropped ceiling is gone and its fluorescent light panels are being replaced by up-to-date fixtures. Exposed beams of reclaimed wood from Washington State support the new, loftier ceiling, which is pierced with skylights.
A short porch roof over the cabin entrance has been extended the length of the building, providing a sheltered place to line up for meals. At the other end of the building, a new screened-in porch with a fireplace is taking shape outside. "A communal place to sit around and be cozy," Ms. Gallagher said.
A set of handicapped-accessible, "zero-entry" bathrooms (airport-style, with no door to handle on the way to and from the stall areas) is being added to the building, replacing the single restroom that formerly served the dining hall.
A second restroom in the main cabin had been converted into a storage closet that also served as an office for Ms. Gallagher and development director Kelsey Cosby. Both storage and office will have their own space once the renovations are completed.
The main cabin will be asbestos-free and also winterized, so it can be used in the off-season, Ms. Gallagher said. Camp Jabberwocky will look to partner with like-minded local organizations such as Island Grown Food, which could use the commercial kitchen to preserve donated food.
"We've been talking with them since this summer about using the space," Ms. Cosby said.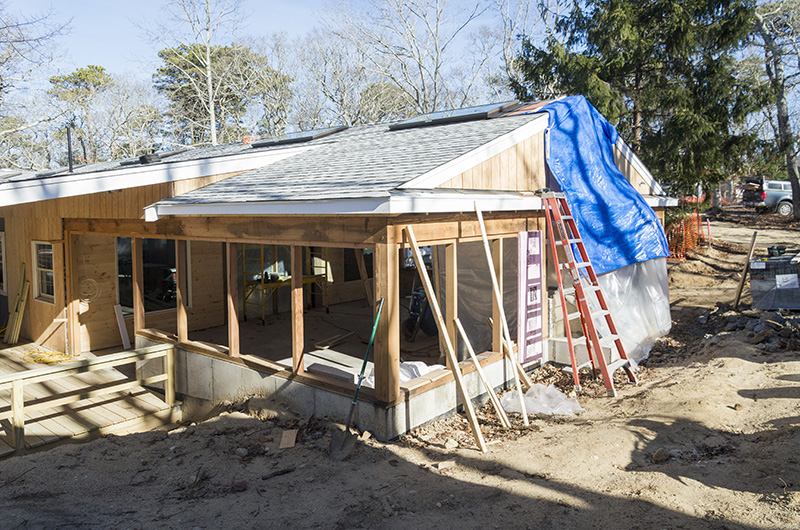 The kitchen is getting new ovens and grills and more counter space to allow for safer preparation of allergen-free foods. A sprinkler system is being installed throughout the building.
Along with the kitchen and dining hall, the main cabin also formerly housed the camp's sick bay, which in conjunction with that single bathroom meant viruses spread easily among the camp community.
"Everybody got the flu," Ms. Cosby said.
From now on, campers feeling under the weather will be cared for in a dedicated infirmary. Formerly a residential cabin, Galumphing (its Jabberwocky name) is being renovated with an exam room, patient beds and bunks for counselors to stay with their campers.
Galumphing was chosen because it is closest to the camp's parking circle, in case of emergencies, Ms. Gallagher said. To make up for its loss as a residence, a new cabin is almost finished. Like other Jabberwocky cabins, it has an accessible bathroom and will house about three campers and three counselors.
Campers will get to vote on the new cabin's name, Ms. Cosby said.
Landscaping work is also under way at Jabberwocky, where some pathways are being renovated to make it easier for campers to move around the grounds.
The work is being done by South Mountain Company, a West Tisbury design and building company. "That was important to us, that we have all local people," Ms. Cosby said.
South Mountain CEO John Abrams spoke warmly about the job, and Jabberwocky.
"Camp Jabberwocky is such a remarkable place, and it has always been," Mr. Abrams said. "It has just gone forward for 65 years through the efforts of volunteers, and this is a place where it's so central to so many people's lives—it's the peak experience of their life."
"The board and the new leadership are so committed to making it even more wonderful," Mr. Abrams continued. "If we can do our stuff for an organization like this and collaborate with them in a way that enhances the experience for all these people—how much more rewarding can anything be?"
For Ms. Gallagher and Ms. Cosby, the reward will come when campers get their first look at the new main cabin in June.
"The campers will lose their minds," Ms. Gallagher said with a grin. "This building is the heart of camp. It's our main space. For it to be beautiful really shows how much we love them."
The campus renovations represent the initial phase of Camp Jabberwocky's first-ever capital campaign, which kicked off in late 2017. Donors have been generous, Ms. Cosby said.
"Many already were longtime camp supporters," Ms. Cosby said. "They'd never been asked for anything so transformative before."
The second phase of the campaign aims to raise a $2.5 million tuition endowment. A week at Camp Jabberwocky costs nearly $1,500, with families asked to pay what they can. The goal is to be "tuition free forever," Ms. Gallagher said.