Tacked to the wall behind the counter of Island Entertainment is a collection of rental slips from the video store's most distinguished patrons. One shows Jacqueline Onassis renting the 1969 British costume drama Anne of a Thousand Days. Another lists five movies checked out by Dan Aykroyd, including Titanic. However, when royalty entered the store, owner Anne Evasick was so star struck she dispensed with the usual protocol.
"We had Princess Diana in the store," Ms. Evasick said. "There was no way to not see her because she was six feet tall. You could see her over the racks. We didn't make her open an account,
but I wish I had."
Despite royal visits and a once devoted following, Island Entertainment will end its run in March after 32 years in business. It is one of the last stores of its kind nationwide.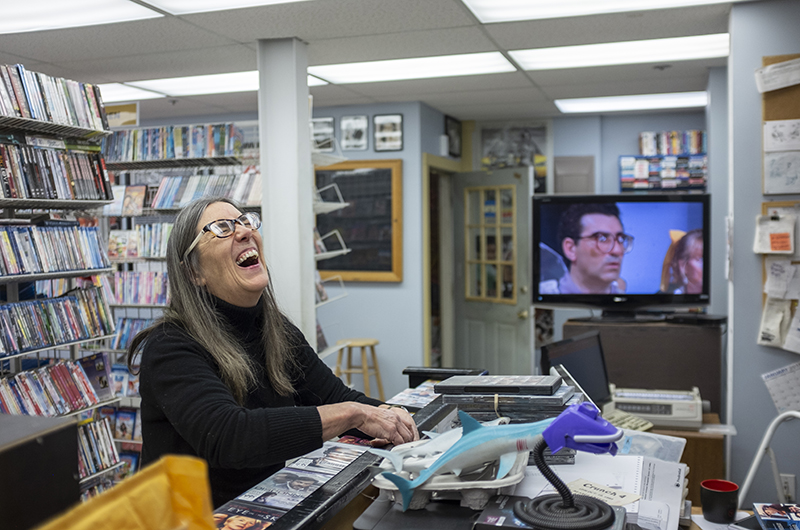 Ms. Evasick pointed to major changes in the distribution business over the years as the impetus for her decision to close, particularly the growing availability of cheap video streaming services.
"It's just not financially viable anymore," she said. "As streaming became more prevalent and the internet on the Island became more reliable, people just started staying home."
Island Entertainment was founded in 1986 by Bob Dutton, and Ms. Evasick was one of the first employees. Business was so good back then, Mr. Dutton soon moved to a larger, two-floor space on State Road, with the downstairs devoted to musical offerings.
After working on and off at the store for more than 20 years, Ms. Evasick bought it in 2008. But with the rise of Netflix she moved to a smaller location across the street in 2013.
"Technology finally caught up with us," she said. "A lot of things you can stream now I can't get them on DVD."
She fondly recalled the "glory days" of the 1980s and 1990s when Islanders made movie pickups part of their weekly routine and the store averaged 1,000 rentals a day.
"The biggest day we ever had we sent out over 2,000 movies," she said. "On rainy days during the summer we would have two computers going and lines out the door."
Ms. Evasick said the first VHS tape made available to rent was Top Gun. Since then Island Entertainment's library ballooned to 30,000 titles, running the gamut of cinematic genres, from Scandinavian thrillers to slapstick comedies.
"It did well because of the selection," she said. "We were able to tailor what we were buying to the people here. We could get more foreign films. Everybody loves their Will Ferrell movies, but we could get some stranger things, too."
The store houses its fair share of nostalgic objects, too, reflecting employees' personalities, including longtime manager Jamie Alley. One wall is covered with photos of every Batman villain that has ever graced the silver screen. An Elvis lamp sits by the front window. Ms. Evasick still uses the same computer and dot matrix printer from when the store opened.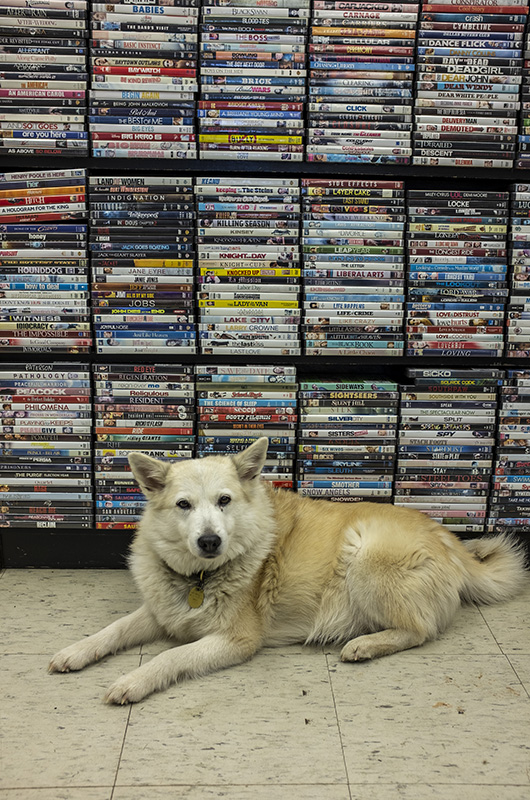 "If we had a roundtable of everyone who had ever worked here . . . oh the stories they would tell," she said, recalling when customers would call the store to settle movie arguments.
"People just don't want to take the time to browse anymore," she added.
Ms. Evasick said one of her favorite parts of the job has been giving movie recommendations. Just last week, after getting a request for a movie with a charming storyline and happy ending, she moved quickly through the aisles knowing exactly what she was looking for and where it was placed. She came back with a stack of DVDs and a big smile. The movie selections included one about competitive jigsaw puzzling, another about animated dogs stuck on a Japanese island and her personal favorite, Brigsby Bear.
"I don't think an algorithm is going to give you that selection," she said.
Ms. Evasick said she's still working out the details of the closing, including whether she will sell or donate her vast collection. She said packing has already begun and she hopes to be ready to say goodbye at the start of March. After that, she'll move to a full-time job at Edgartown Cinemas to continue sharing her passion for movies, just without the late fees.
"I can't tell you how much fun this has been from beginning to end," she said. "I'm just so glad I got to share it with so many people and so many families and so many wonderful employees."